St. Ann Parish has opened its churches for daily and Sunday mass attendance. We are operating on a modified summer schedule (no noon Mass on Sunday).

There is information on this page that will assist you in attending mass in person, should you choose to.
Reservations are no longer required for mass attendance.
Below is a video recorded by Fr. Klevence on June 30. In it, Father reviews some of the guidelines that are in effect at St. Ann Parish for attending mass and receiving the Eucharist.
Some of the main points are below:
No registration required to attend mass
There is a limited capacity, due to social distancing
Mass attendees admitted on a first come, first serve basis, until capacity is reached
You must have a mask to enter the church, and must wear it throughout the mass
Upon entering, you will be asked a few general health questions and will have your temperature taken
Doors will be closed after mass begins; no one will be admitted once mass starts
We are distributing communion at the customary time during the liturgy
If you wish to receive Holy Communion on the tongue, you must come to the priest, not one of the other ministers
Singing is limited to the cantor; please do not sing. (Singing aerosolizes respiratory droplets extraordinarily well, and can spread them up to 13 feet away).
We will pray the Angelus before daily mass and the St. Michael prayer after daily mass
The Church will remain open daily until 11:00, for private prayer, adoration, and meditation
We will have Eucharistic Exposition and Benediction immediately following daily mass on the First Friday of each month. The Rite conclude with Benediction at 11:00 AM.
Volunteers are needed throughout the summer months to assist at weekend masses at both St. Ann Church and OLG Church. We'll need you to arrive 45 minutes before the start of mass. If you are willing to serve at a mass during the summer, please reach out to Alexis Sclama by email.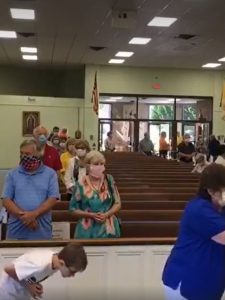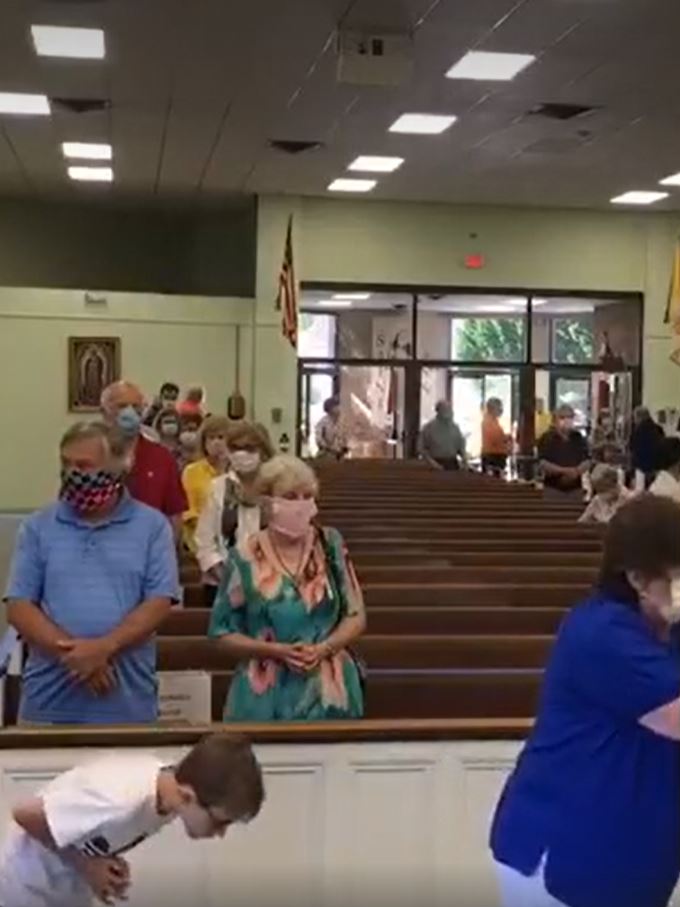 We need to exercise a great deal of care for ourselves, for our families, and for all our fellow parishioners as we resume our mass attendance and reception of the sacraments. Please be aware that mass attendance is very, very different from what we were all used to, before the churches were closed. Just to name a few things:
Those over 65 and/or having a health vulnerability are encouraged very strongly to not attend at this time. The diocesan dispensation from attending Sunday Mass is still in effect.
Seating is limited to ensure proper social distancing.
Hand sanitizer should be used upon entering the church.
Masks must be brought with you and worn to cover both nose and mouth throughout the Mass (we cannot supply masks).
Because seating must be by direction of the ushers, you cannot enter the church once mass starts. Doors will be locked.
Please read the document below. It contains information
you will need to know to plan for and to attend Mass.
Catholic Diocese of Wilmington