"There was a rich man whose land produced a bountiful harvest. . ."
This page provides information to help you participate more fully in the communal worship of the Parish and the Church, particularly the Sunday Mass.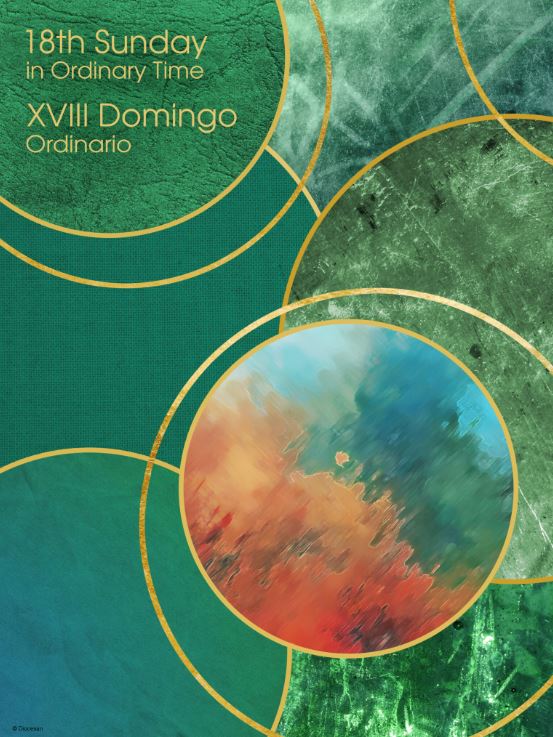 This Sunday is the celebration of
the Eighteenth Sunday in Ordinary Time
July 31, 2022
The Memorial of St. Ignatius of Loyola, which is ordinarily celebrated today, is superseded by the Sunday liturgy.
Saturday August 6 is the
Feast of the Transfiguration of the Lord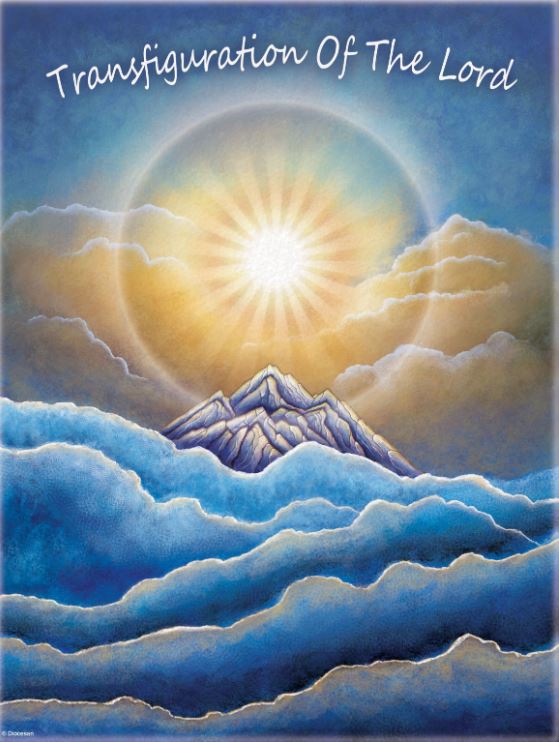 Transfiguration of the Lord
August 6, 2022
In the event of the Transfiguration we contemplate the mysterious encounter between history, which is being built every day, and the blessed inheritance that awaits us in heaven in full union with Christ, the Alpha and the Omega, the Beginning and the End.
August is
Native American Heritage Month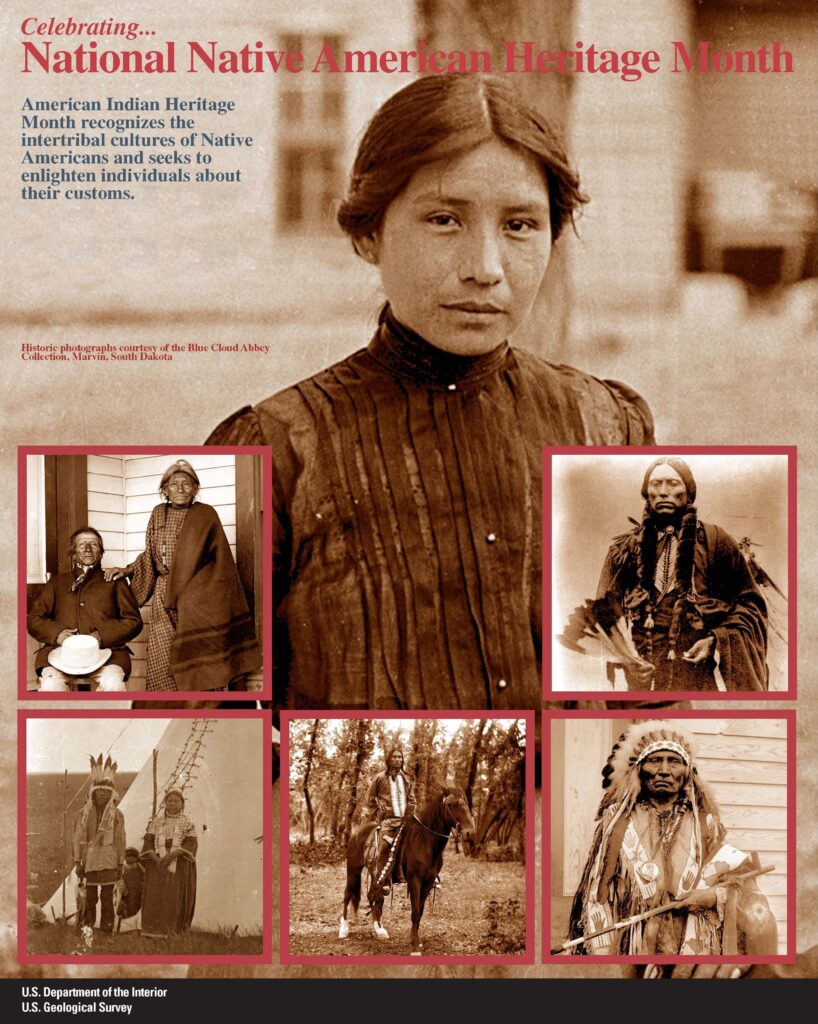 The Pope's August prayer intention is for small businesses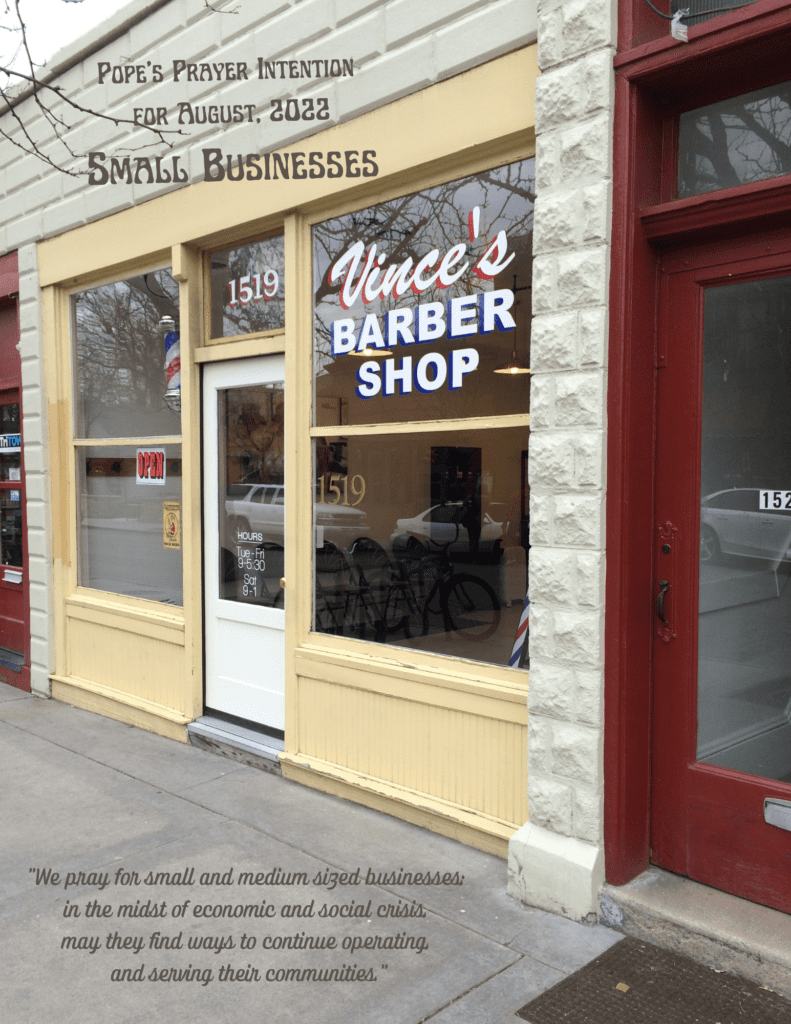 This Weeks Saints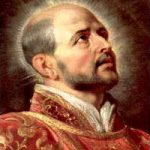 July 31
St. Ignatius of Loyola
___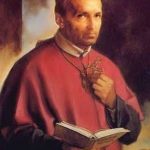 August 1
St. Alphonsus Liguori
___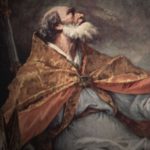 August 2
St. Eusebius of Vercelli
___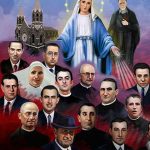 August 3
Martyrs of the Spanish Civil War
___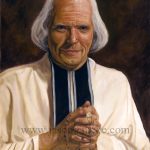 August 4
St. Jean Baptiste Vianney
___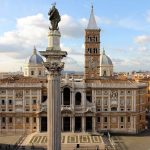 August 5
Dedication of the Basilica of St. Mary Major
___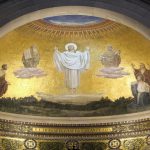 August 6
Feast of the Transfiguration of the Lord
___

Read more about the saints here
Sunday Mass will be live streamed from St. Ann Church, and can be viewed at 10:30 Sunday. Click below to view.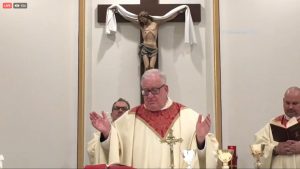 I take a moment to remember
and look forward to Sunday

I think of the place where I will worship on Sunday.
I recall its many aromas
I feel myself within it

I listen
I look

I see
the presider
the readers
the people around me

We will be together, before God, in our faith
Draw near to your servants, O Lord, and answer their prayers with unceasing kindness, that, for those who glory in you as their Creator and guide, you may restore what you have created and keep safe what you have restored. Through our Lord Jesus Christ, your Son, who lives and reigns with you in the unity of the Holy Spirit, God, for ever and ever.
Collect prayer for the Eighteenth Sunday in Ordinary Time
The Readings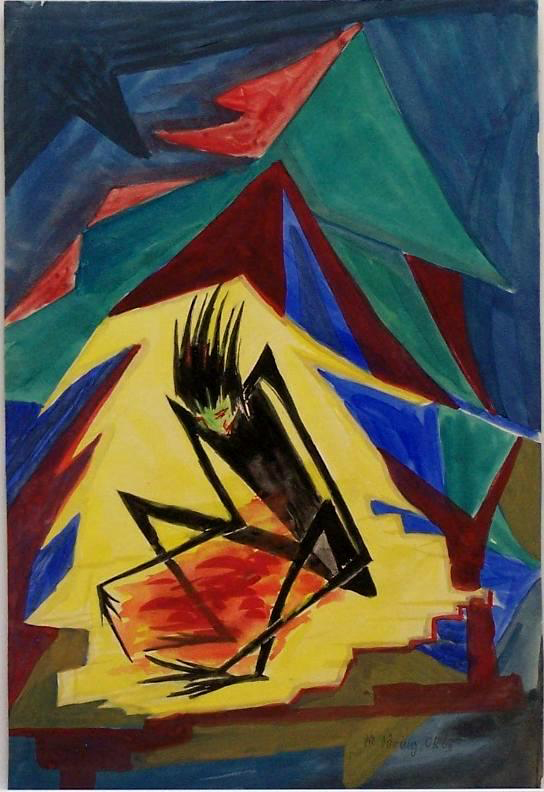 "Thus will it be for all who store up treasure for themselves
but are not rich in what matters to God."
Lectio Divina
What word or phrase jumps out at you in today's reading?
Imagine yourself being a present during this story. What do you see, hear, smell, taste, feel, etc.? Describe everything in detail.
Imagine that you are one of the people in the reading. What do you feel, think, and do as a response to the events?
What does this reading remind you of in your life at this particular moment?
Reflection
What "things" am I clinging to since I see them as necessary to create the right image in society?
Be honest with yourself! What things are you stingy about? And what things are you generous with? Why the difference?
Which people in your life would you need to imitate if you really wanted to "put on a new self…in Christ's image"?
How is our society stacking the deck against the poor?
Practice
Panhandlers are annoying, but they are still our sisters and brothers. As a friend of mine says, it is our job to be generous with them, not to judge them—no matter how we suspect that our gift will be used.
Breaking Open the Word
Eighteenth Sunday in Ordinary Time
Jeff Cavins reflects on the readings for the Eighteenth Sunday in Ordinary Time, and their real core question: "Where is your heart?"
Jeff Cavins is an American Catholic evangelist, author, and biblical scholar. He is the creator of The Great Adventure Bible Study program, and was the founding host of the Television Show "Life on the Rock" on EWTN.
So let us ask whether the First Reading is correct, that our lives are truly "in vain":

Is our life devoted to riches or looking good? No? Then are we dedicated to "the bottom line," to fighting for "enough" (so we will have something to live for)? Qoheleth says we seek these things in vain. Maybe we should listen to him. Maybe we should stop ignoring the poor, for instance.
Fr. John Foley, SJ is an American Jesuit priest who is a theologian, professor, author, liturgist, and a composer of Catholic liturgical music, as a member of the St. Louis Jesuits group. Among his compositions are One Bread, One Body, Earthen Vessels, Come to the Water, and The Cry of the Poor. He is the founder and former Director of the Stroble Center for Liturgy at St. Louis University.
What is social justice?
"Catholic social teaching is a central and essential element of our faith. Its roots are in the Hebrew prophets who announced God's special love for the poor and called God's people to a covenant of love and justice. It is a teaching founded on the life and words of Jesus Christ, who came "to bring glad tidings to the poor . . . liberty to captives . . . recovery of sight to the blind"(Lk 4:18-19), and who identified himself with "the least of these," the hungry and the stranger (cf. Mt 25:45). Catholic social teaching is built on a commitment to the poor. This commitment arises from our experiences of Christ in the eucharist.
"Catholic social teaching is based on and inseparable from our understanding of human life and human dignity. Every human being is created in the image of God and redeemed by Jesus Christ and therefore is invaluable and worthy of respect as a member of the human family. Every person, from the moment of conception to natural death, has inherent dignity and a right to life consistent with that dignity. Human dignity comes from God, not from any human quality or accomplishment."
United States Council of Catholic Bishops
Click on the graphic at the right to discover what the principles of Catholic social justice are.
there on the corner sitting underneath the stop sign at the end of the driveway was a homeless man. Immediately, a thousand thoughts started racing through my mind, which can be summarized as, "What do I do?" The drive out of the parking lot was one of the longest drives of my life. As I drove past the man in his early 30s, my eyes caught his, and the look of sadness and rejection pierced my soul and left an imprint as I rounded the corner. There was Jesus, and I had not the time to offer him a bottle of water or an apple on a hot June Saturday in Texas. That day, Jesus also taught me a lesson, one that I hope never to forget again.
Br. John-Marmion Villa, BSC is a classical pianist and composer; he recently composed the score for a musical about Catholic young adults discerning their vocations. Br. John-Marmion is 43, a former member of the NET (National Evangelization Teams) Ministries staff, a West St. Paul-based youth and young adult ministry, where among other duties, he led worship training. He learned about the Brothers and Sisters of Charity, a community started by Christian singer John Michael Talbot, and in 2016 became a lay member, sharing aspects of their life outside the monastery.
You Can't Take It With You
Friends, all three of our readings Sunday speak of a primordial spiritual truth—namely, the need to detach oneself from the goods of the world. This has nothing to do with a hatred of the world or a puritanical spirituality of flight from the world; rather, it has to do with knowing how to wear the goods of the world lightly. These goods—wonderful as they are—all finally crumble, evanesce, and disappear; they are not our ultimate good, and we are not meant to cling to them as though they were.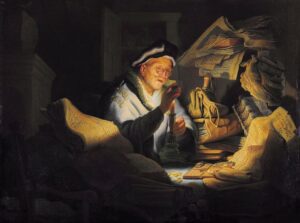 Bishop Robert Barron serves as an auxiliary bishop of the Archdiocese of Los Angeles. He is an author, speaker, theologian, and founder of Word on Fire, a global media ministry. Word on Fire reaches millions of people by utilizing the tools of new media to draw people into or back to the Catholic Faith.
Tom Hoopes is Writer in Residence and Vice President of College Relations at Benedictine College in Atchison, Kansas, where he teaches in the Journalism and Mass Communication Department. A former reporter in the Washington, D.C., area, he served as press secretary of the U.S. House Ways & Means Committee Chairman and spent 10 years as executive editor of the National Catholic Register newspaper and Faith & Family magazine. He writes weekly for the National Catholic Register and Aleteia, reaching a national and international audience.
This Sunday, Treat God Like a King, Not an Errand Boy
The Gospel for the 18th Sunday of Ordinary Time, Year C, like the recent Gospel passage about Martha, and the Gospel giving the "Our Father," is meant to help you avoid mistakes.

I, for one, need the lesson. Badly.

Often in the Gospels, people come up with great questions for Jesus. But not today.

"What must I do to inherit eternal life?" and "Which is the greatest commandment?" and "Are you the one to come, or shall we look for another?" are great things people asked Jesus.

But this week, in the Gospel passage from Luke, chapter 12, "One of the multitude said to him, "Teacher, bid my brother divide the inheritance with me." This is very much like Martha's question two weeks ago, which was essentially, "Make my sister help me!"

Jesus refused both prayers, and helped both see what was wrong with their prayer.
St. Ignatius' prayer for a more just and generous world
In the Gospel on this feast of St. Ignatius, Jesus teaches generosity through the parable of the rich man. Jesus is asked by someone in a crowd, "Tell my brother to share the inheritance with me," Jesus addresses this statement by teaching the principle of generosity. First, Jesus frames his response by directing attention against possessions, already suggesting that the speaker's interest in gaining wealth is not most important. Then, Jesus teaches generosity through the parable of the rich man, often called the rich fool because he does not understand how to live well.
Jaime L. Waters teaches Biblical Studies at DePaul University in Chicago. She is an associate professor of Catholic studies and a regular contributor to America magazine.
Jesus advises us to direct our energies toward God's kingdom
Qoheleth is a master observer of unsatisfying outcomes. He has an eye for the ways that inputs and outputs seem unreasonably related in life. Hard work may yield small results. Pursuing success may make us miserable (see today's first reading). Achieving it may not make us happy either. We may pass from the scene, leaving our acquisitions to someone else to enjoy (also today's reading).

In many ways Jesus took a different view. Yet he made some Qoheleth-like observations. After a disaster in Jerusalem, Jesus told his disciples that the people killed by the collapse of the Siloam tower were no worse than anyone else (Lk 13:4-5). "Vanity!" Qoheleth would mutter.
Kevin Perrotta is an award-winning Catholic journalist and a former editor of God's Word Today. He is the editor and an author of the "Six Weeks With the Bible" series, teaches part time at Siena Heights University and leads Holy Land pilgrimages. He has a masters' degree in theology from the St. Paul School of Divinity in St. Paul, Minnesota, and teaches occasionally at Sacred Heart Major Seminary in Detroit. He lives in Ann Arbor, Michigan.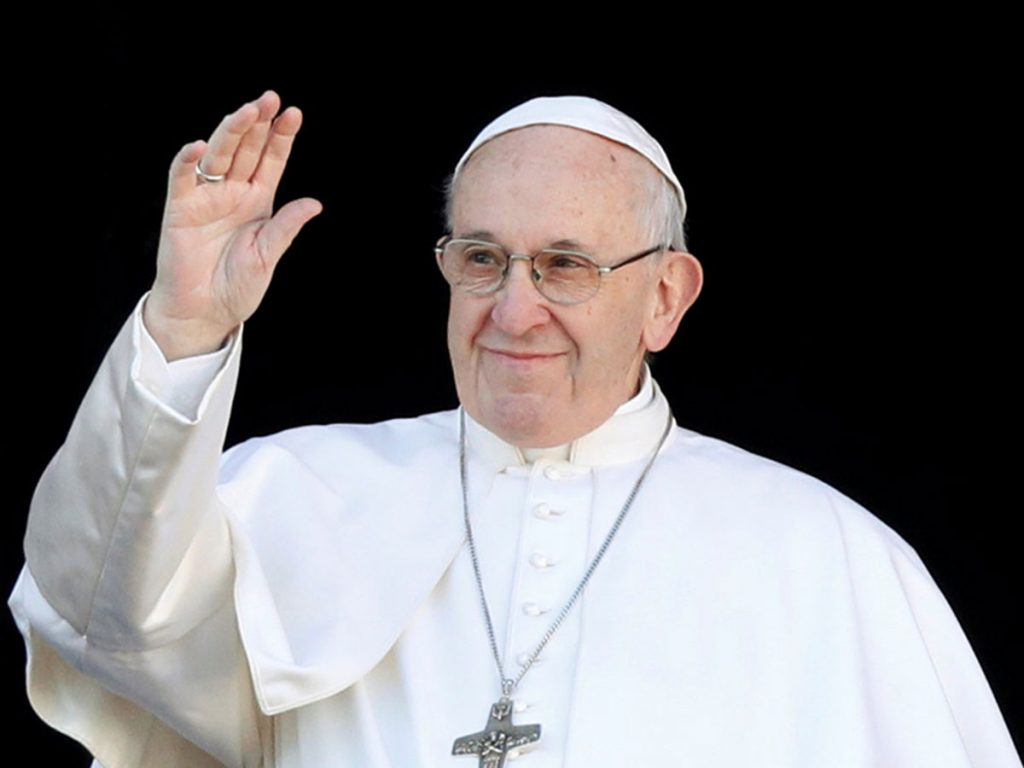 It is understood that this does not mean estranging oneself from reality, but rather seeking the things that have true value: justice, solidarity, welcome, fraternity, peace, all things that make up the true dignity of mankind. It is a case of leading a life that is fulfilled not according to a worldly manner, but rather according to the style of the Gospel: to love God with all one's being, and love one's neighbor as Jesus loved him, that is, in service and in giving oneself. Covetousness of goods, the desire to have goods, does not satisfy the heart, but rather causes more hunger! Covetousness is like those tasty candies: you take one and say: "Ah! It is so good," and then you take another; and one follows the other. Such is covetousness: it never satisfies. Be careful! Love that is understood and lived in [the style of the Gospel] is the source of true happiness, whereas the exaggerated search for material goods and wealth is often a source of anxiety, adversity, abuse of power, war. Many wars begin from covetousness.
Rich man with a bountiful harvest
Pope Francis, Angelus, 8/4/2019