"Hail, full of grace! The Lord is with you."
This page provides information to help you participate more fully in the communal worship of the Parish and the Church, particularly the Sunday Mass.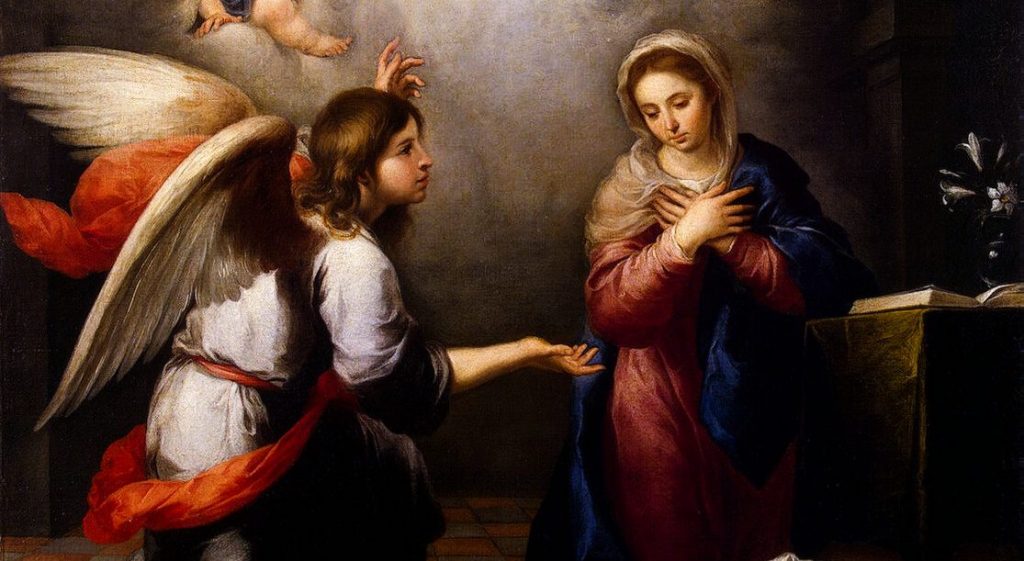 "May it be done to me according to your word."
This Sunday is the celebration of the
Fourth Sunday of Advent
December 20, 2020

The Roman Church has been singing the "O" Antiphons since at least the eighth century. They are the antiphons that accompany the Magnificat canticle of Evening Prayer from December 17-23. They are a magnificent theology that uses ancient biblical imagery drawn from the messianic hopes of the Old Testament to proclaim the coming Christ as the fulfillment not only of Old Testament hopes, but present ones as well.

Their repeated use of the imperative "Come!" embodies the longing of all for the Divine Messiah. The serve as the basis of the Advent hymn, "O Come, O Come, Emmanuel".
Beginning On December 17th, the O Antiphons are listed for each day under the images of the saint of that day just below.
You can click below to access some resources to help you pray with, meditate upon, and more fully understand the Sunday Readings.
This Weeks Saints
Read more about the saints here
December 20
St. Vincenzo Romano
–
O Clavis David

O Key of David and Sceptre of the house of Israel, Who dost open and no man doth shut, Who dost shut and no man doth open, come and bring forth from his prisonhouse the captive that sitteth in darkness and in the shadow of death.
December 21
St. Peter Canisius
–
O Oriens

O Dawn, splendor of eternal light, and sun of justice, come, and shine on those seated in darkness, and in the shadow of death.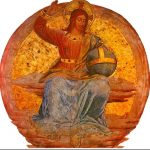 December 22
Tuesday of the Fourth Sunday
–
O Rex Gentium
O King of the Gentiles and their desired One, the Cornerstone that makes both one; Come, and deliver man, whom You formed out of the dust of the earth.
December 23
St. John of Kanty
_
O Emmanuel

O Emmanuel, God with us, our King and Lawgiver, the expected of the nations and their Savior: Come to save us, O Lord our God.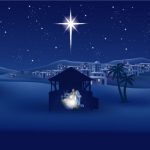 December 24
Christmas Eve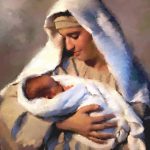 ecember 25
Christmas

December 26
St. Stephen
St. Peter Canisius
Priest, poet, mystic
December 21
Peter Canisius, was educated in Cologne, Germany, studying art, civil law and theology. He joined the Jesuit order in 1543, and traveled and worked with his spiritual director, Saint Ignatius of Loyola. He began teaching theology and preaching in Germany in 1549, and, although he became rector of the university, he continued to work in hospitals and prisons. He led the Counter-Reformation in Germany and his work led to the return of Catholicism to Germany. He wrote a catechism in defense of the Catholic faith that went through 200 editions during his life, and was translated into 12 languages.

Peter excelled as a preacher and often worked with children, teaching them and hearing their confessions. He traveled widely, but while in Switzerland, he received a message from the city's patron, Saint Nicholas of Myra, that he should stop travelling, and he spent the rest of his life there, teaching, preaching, editing books and working to support the Catholic press. He was proclaimed a Doctor of the Church in 1925 by Pope Pius XI.
"If you have too much to do, with God's help you will find time to do it all."

St. Peter Canisius
Saint Mary of the Cross
(Jeanne Jugan)
Foundress
August 29
Jeanne Jugan was born in Brittany, the sixth of eight children. Her father, a poor Breton fisherman, was lost at sea when she was four. Her mother took odd jobs to keep her children fed. Because of the persecutions that occurred during the French Revolution, she taught them the faith secretly.

Jeanne grew up working as a shepherdess and a maid. She took a job as a kitchen maid in the home of a devout Catholic, the Viscountess de la Choue, who took Jeanne with her when she visited the poor. Twice a young man proposed marriage, but she declined his offers, telling her mother, "God wants me for himself. He is keeping me for a work which is not yet founded." She took jobs as a nurse, servant, and companion.

At forty-seven, Jeanne was living in an apartment with two other women. In the winter of 1839, she found Anne Chauvin, an old blind woman, on her step. She tucked the woman into her own bed and slept in the attic. From this time, the elderly poor became the center of her concern. Within two years, she had found the means to begin a twelve bed shelter and hospital for them; a year later, she found an unused building which she used to accommodate forty elderly in need. People called her and the women who joined her the "Little Sisters of the Poor." Jeanne became "Mary of the Cross."

Within a few years, a priest who was helping Jeanne lead the new community inexplicably removed her from her post and sent her to beg for the sisters. A few years after that, Jeanne was told to retire to the motherhouse, where she dwelt for twenty-seven years in obscurity. Although the younger sisters did not know she was their foundress, she taught them, nevertheless: "The poor are our Lord." Jeanne died at eighty-six. Today her sisters serve in thirty-one countries.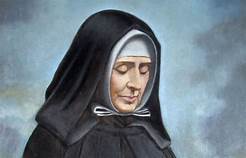 "Love God very much, so that you can look after the aged well, for it is Jesus whom you care for in them."

St. Mary of the Cross
Sunday and daily Masses will be live streamed from St. Ann Church, and can be viewed at 8:30 am Monday through Saturday, and on 10:30 Sunday. Click below to view.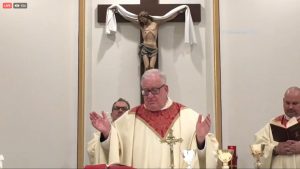 I take a moment to remember
and look forward to Sunday

I think of the place where I will worship on Sunday.
I recall its many aromas
I feel myself within it

I listen
I look

I see
the presider
the readers
the people around me

We will be together, before God, in our faith
About this Sunday
O God, eternal majesty, whose ineffable Word the immaculate Virgin received through the message of an Angel and so became the dwelling-place of divinity, filled with the light of the Holy Spirit, grant, we pray, that by her example we may in humility hold fast to your will. Through our Lord Jesus Christ, your Son, who lives and reigns with you in the unity of the Holy Spirit, one God, for ever and ever. Amen.
Collect prayer for the Fourth Sunday of Advent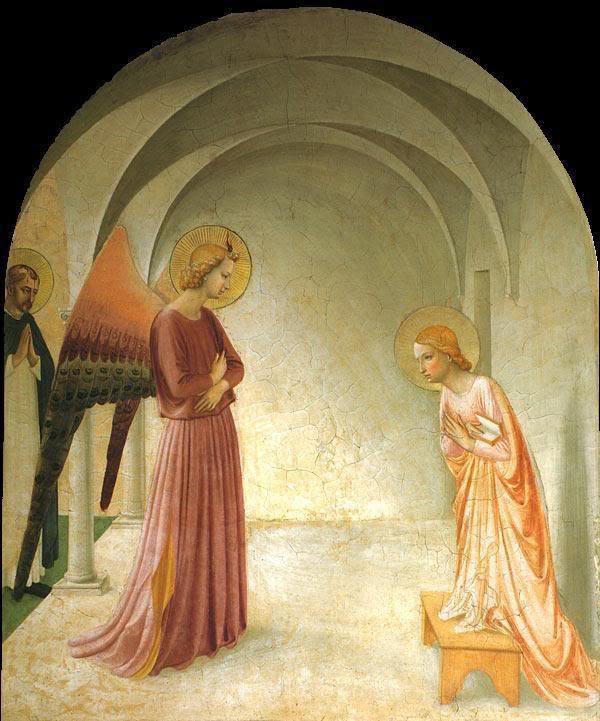 "The child to be born
will be called holy, the Son of God."
Lectio Divina
What word or phrase jumps out at you in today's reading?
Imagine yourself being a present during this story. What do you see, hear, smell, taste, feel, etc.? Describe everything in detail.
Imagine that you are one of the people in the reading. What do you feel, think, and do as a response to the events?
What does this reading remind you of in your life at this particular moment?
Breaking Open the Word
What does God want me to do?
Father Mike Schmitz offers some clarity regarding God's will in our lives. He directs us to the story of Israel's desert wanderings in the Old Testament and the Annunciation to Mary in the Gospels, describing how even the tribes of Israel and Mary had to be content with the uncertainty of God's will at times. Father Mike also teaches how we can discern God's will even in the silence.
Father Mike Schmitz is a priest of the Diocese of Duluth, Minn. He is chaplain of the Newman Center at the University of Minnesota-Duluth and director of Youth and Young Adult Ministry for the diocese. Father Schmitz is a frequent columnist for Duluth's diocesan newspaper and he frequently delivers talks and lectures across the country. Many of his talks are available from Lighthouse Catholic Media, and he has a weekly video series hosted by Ascension Press.
Study the response of Mary to the Lord's invitation. What elements does it contain that we would do well to incorporate into our prayers and into our response to God's call?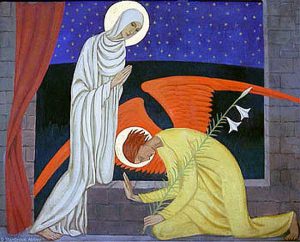 Bishop Barron on the Spirituality of Advent
The readings for this dramatic fourth Sunday of Advent put us in the heart of a deep and abiding mystery: the mystery of God's providence. Just when we are tempted to say, "nothing makes sense," the Bible interrupts us to say, "wait." God works in subtle ways, and often it takes years, even centuries, for God's plan fully to be realized.
Bishop Robert Barron serves as an auxiliary bishop of the Archdiocese of Los Angeles. He is an author, speaker, theologian, and founder of Word on Fire, a global media ministry. Word on Fire reaches millions of people by utilizing the tools of new media to draw people into or back to the Catholic Faith.
Do you see eagerness to do God's will in your own life, in the life of your family, in the life of the Church? Do you see a concern that without God's power we can do nothing?
This Sunday, the Radical Promise of Christmas
On the Fourth Sunday of Advent, Year B, The Gospel has direct application to our lives as we prepare, not just to celebrate Christmas, but to become a dwelling place for the Son of God who wants to make us his adopted sons and daughters.

In the final week of Advent, God asks each of us directly: Will you allow yourself to be remade in the image of Jesus Christ? He wants a thoughtful, honest, affirmative reply.
Tom Hoopes is Writer in Residence and Vice President of College Relations at Benedictine College in Atchison, Kansas, where he teaches in the Journalism and Mass Communication Department. A former reporter in the Washington, D.C., area, he served as press secretary of the U.S. House Ways & Means Committee Chairman and spent 10 years as executive editor of the National Catholic Register newspaper and Faith & Family magazine. He writes weekly for the National Catholic Register and Aleteia, reaching a national and international audience.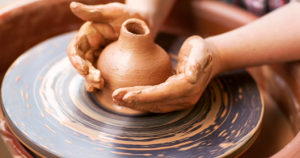 Are we satisfied that we can and should proceed once we have heard God's answer to our questions?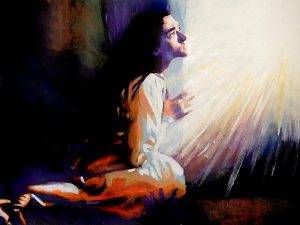 Have you ever had a 'God' moment, a sense of a significant job God has planned for you, and then 'the angel departed'. It was over. Are you living in obedience? Forgetfulness? Laziness? Fear?
Gabriel makes two Annunciations, one right after the other, not just the one. Each is about a child to be born. But, interestingly, as things stood, neither one was feasible. Elizabeth was barren, so she could not have a child. Mary had no husband and she had never had conjugal relations.
But after the Annunciation to him, Zechariah is struck deaf and mute, while Mary, initially fearful, accepts peacefully.
Fr. John Foley, SJ is an American Jesuit priest who is a theologian, professor, author, liturgist, and a composer of Catholic liturgical music, as a member of the St. Louis Jesuits group. Among his compositions are One Bread, One Body, Earthen Vessels, Come to the Water, and The Cry of the Poor. He is the founder and former Director of the Stroble Center for Liturgy at St. Louis University.
What can you do to bless others?
The divine favor given to David and Mary is facilitated by and shared with others. Nathan confirms that the favor given to David will result in his son Solomon building the temple, and future generations will hold the throne. Likewise, Gabriel informs Mary that her favor with God enables Christ to enter the world. Divine selection is seldom about one person; instead, God forms special relationships with select people in order to affect and bless many people.
Jaime L. Waters teaches Biblical Studies at DePaul University in Chicago. She is an associate professor of Catholic studies and a regular contributor to America magazine,
What can you do to bless others?

What is your vocation?

How can you empower people in your community?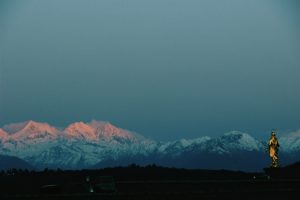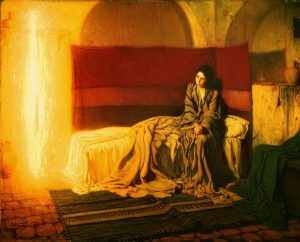 Br. John-Marmion Villa, BSC is a classical pianist and composer; he recently composed the score for a musical about Catholic young adults discerning their vocations. Br. John-Marmion is 43, a former member of the NET (National Evangelization Teams) Ministries staff, a West St. Paul-based youth and young adult ministry, where among other duties, he led worship training. He learned about the Brothers and Sisters of Charity, a community started by Christian singer John Michael Talbot, and in 2016 became a lay member, sharing aspects of their life outside the monastery.
There was no duplicity in her yes to the invitation offered her by the angel. In a similar, but altogether different, fashion, we are presented with a myriad of opportunities to give a small yes to God's invitations … to attend peaceably to the irritable spouse coming home from work, to calm the quarrelsome child, to the rise above the disappointment of chores not being done, to mediation with confrontational coworkers, to respond to impulses towards more time for prayer and a healthier lifestyle, to the creative discipline for quality time with the family.
Can you name a time when it was very hard for you to say 'yes' to God?
Advent reflections from the women Doctors of the Church
As we now turn to contemplate the Gospel readings for the four Sundays of Advent in this spirit, we welcome into our company four radiant women who put all their hope in God's love. They are the women Doctors of the Church: Hildegard of Bingen, Catherine of Siena, Teresa of Avila and Thérèse of Lisieux. While the wisdom of these women is perennial, they are particularly celebrated in 2020 as we mark the 50th anniversary of the title "Doctor of the Church" being bestowed upon women.
Michelle Jones has a Doctorate in Theology and a Licentiate in Spiritual Theology from the Pontifical University of St Thomas Aquinas (the Angelicum) in Rome, and a Master of Theology from the University of Notre Dame, Australia. Michelle has previously worked as a lecturer at Notre Dame, and as the Director of the Centre for Faith Enrichment – the adult faith formation agency of the Archdiocese of Perth. She is a consecrated woman and lives a contemplative life of prayer in rural WA in affiliation with the Carmelite Monastery of Quidenham (UK).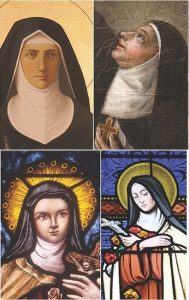 How do you think our society or church are resisting God's call? What can you do about that resistance?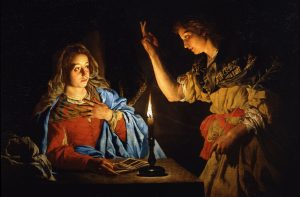 How has God's call and your response already changed your life for the better?

Did that change end up costing you something?
Advent Week 4: Gabriel's words to Mary are a promise that God is still with us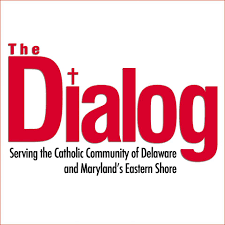 This Advent, I've been intent on peeling back the layers of fear that have accumulated over the past months, the anxieties threatening the small shoot of faith that still grows and whispers, "He is within you, too."

This Advent, we may find greater resonance with Mary. As the Lord is with us, we are called to be with him, always birthing him into the lives of others. Birth, of course, involves labor. It involves risk.
Lindsey Weishar is a Summa Cum Laude graduate of the University of Illinois, where she earned a bachelor of arts degree in English Language and Literature/Letters. In 2018, Weishar received a master of fine arts degree in creative writing from the University of Missouri-Kansas City, where she also worked as an instructor for three years. Most recently, she was an English language and adult literacy instructor in Kansas City. Weishar's writings have been published by Verily, Ploughshares, Young Catholic Woman, and Catholic News Service, among others. She has been a guest columnist three times this year in The Catholic Post. "Matchbook Night," her poetic reflection on time spent in Sicily, was published by Leaf Press and named the winner in the International Category in the Overleaf Chapbook Manuscript Competition for 2017.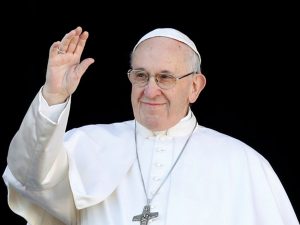 Our Lady also wants to bring the great gift of Jesus to us, to us all; and with him she brings us his love, his peace, and his joy. In this, the Church is like Mary: the Church is not a shop, she is not a humanitarian agency, the Church is not an NGO (Non-Governmental Organization). The Church is sent to bring Christ and his Gospel to all. She does not bring herself. Whether small or great, strong or weak, the Church carries Jesus and should be like Mary when she went to visit Elizabeth. What did Mary take to her? Jesus. The Church brings Jesus: this is the centre of the Church, to carry Jesus! … The Church must bring Jesus, the love of Jesus, the charity of Jesus. … Is it the love of Jesus that shares, that forgives, that accompanies, or is it a watered-down love, like wine so diluted that it seems like water.
Pope Francis General Audience,
St Peter's Square, October 23, 2013