"Whoever does not carry his own cross and come after me
cannot be my disciple."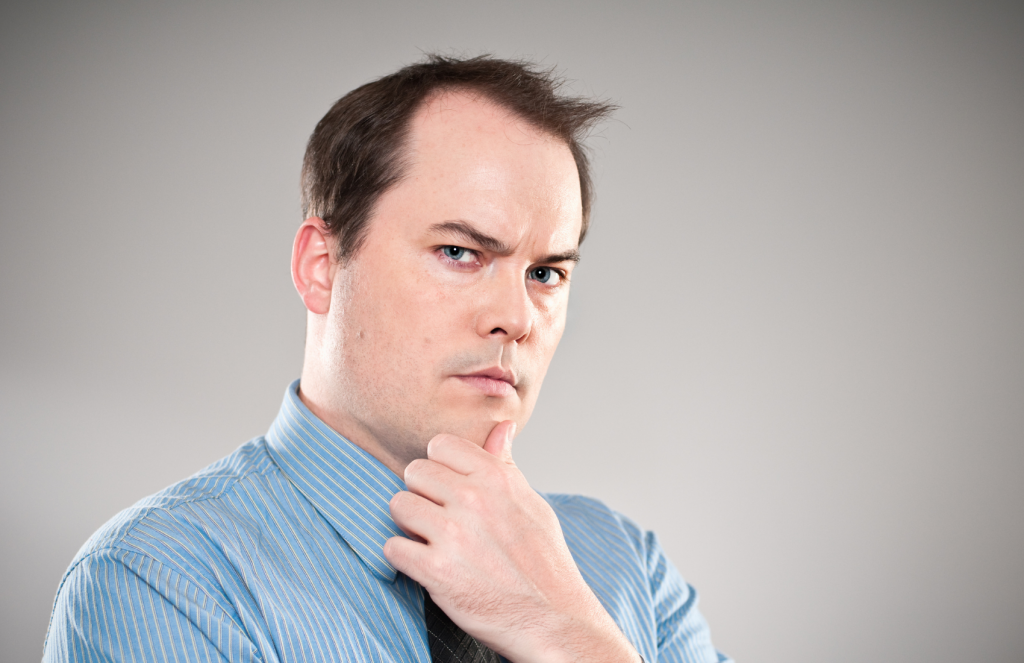 This page provides information to help you participate more fully in the communal worship of the Parish and the Church, particularly the Sunday Mass.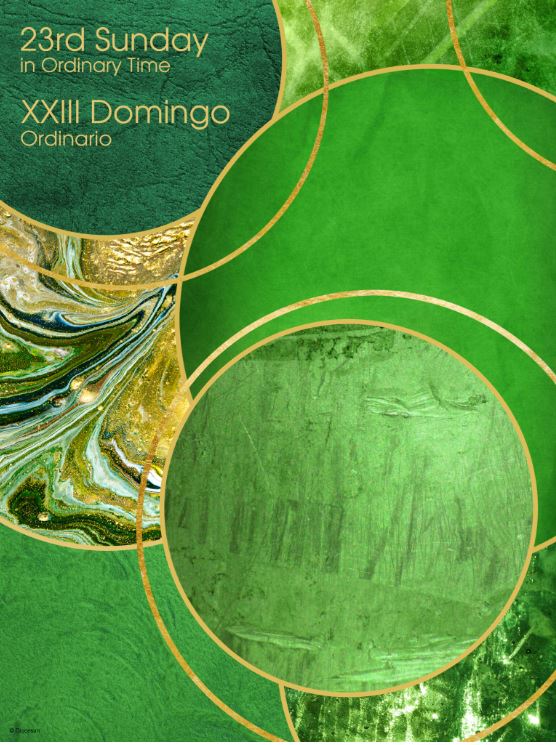 This Sunday is the celebration of
the Twenty-third Sunday in Ordinary Time
September 4, 2022
September 9 is the Day of Prayer for Peace in Our Communities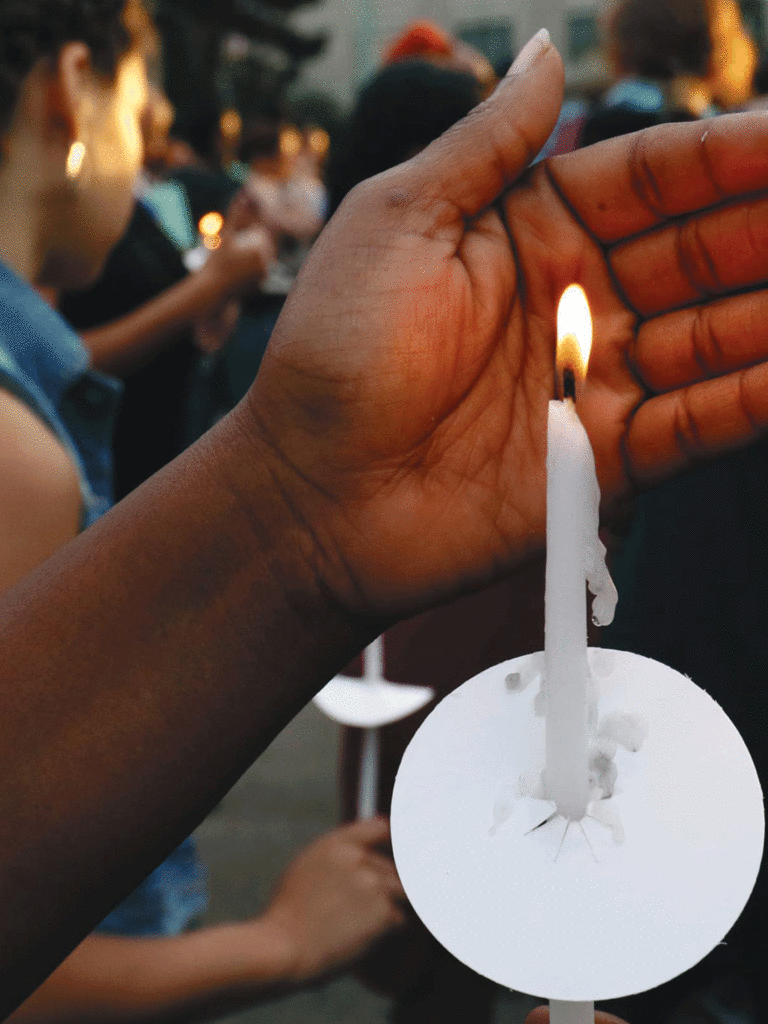 Prayer to Overcome Racism
Mary, friend and mother to all,
through your Son, God has found a way to unite himself to every human being,
called to be one people,
sisters and brothers to each other.
We ask for your help in calling on your Son,
seeking forgiveness for the times when
we have failed to love and respect one another.
We ask for your help in obtaining from your Son
the grace we need to overcome the evil of racism
and to build a just society.
We ask for your help in following your Son,
so that prejudice and animosity
will no longer infect our minds or hearts
but will be replaced with a love that respects
the dignity of each person.
Mother of the Church, the Spirit of your Son Jesus
warms our hearts: pray for us.
Amen.
September 5 is Labor Day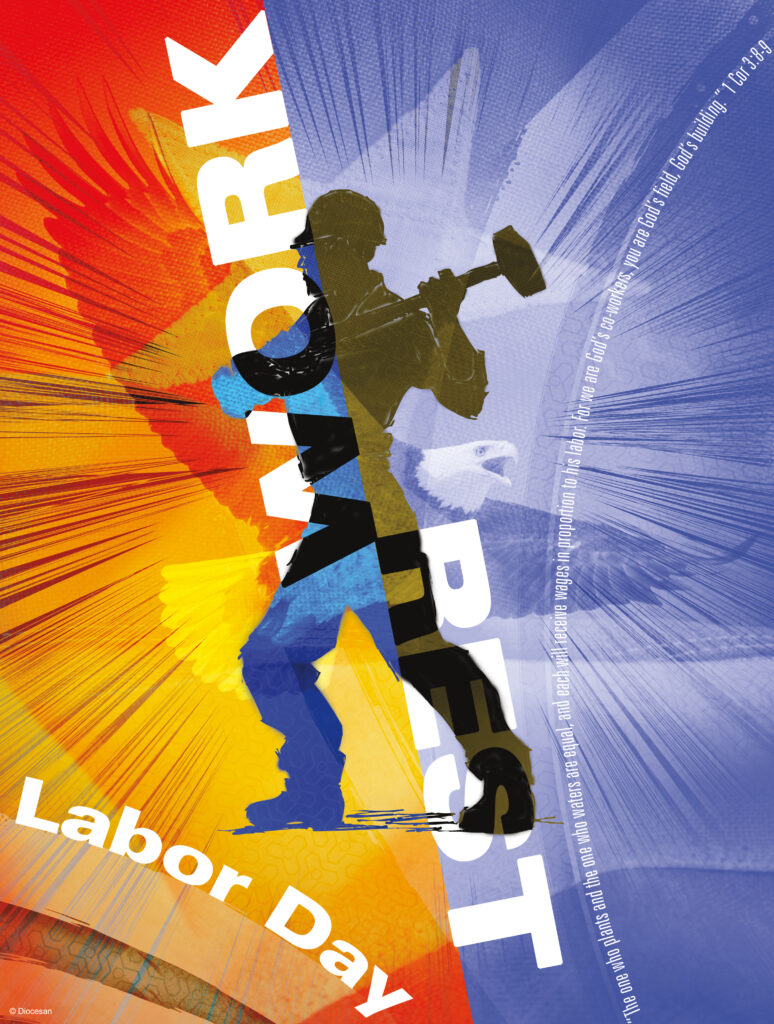 The Pope's prayer intention for September is for
The Abolition of the Death Penalty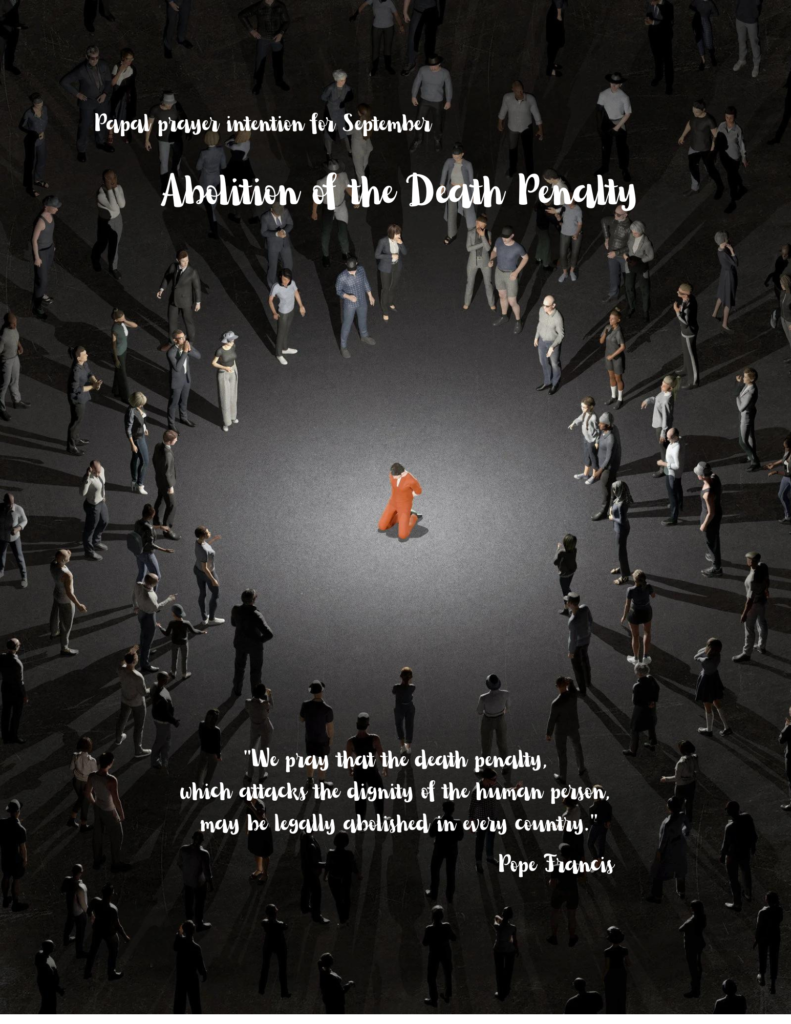 This Weeks Saints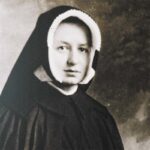 September 4
Blessed Maria Dina Bélanger
___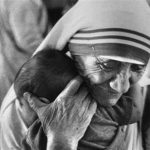 September 5
St Teresa of Calcutta
___
Labor Day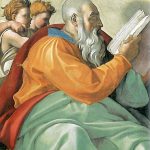 September 6
Zechariah the Prophet
___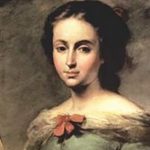 September 7
St. Regina
___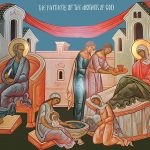 September 8
Nativity of Mary
___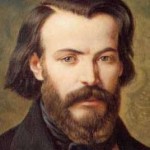 September 9
Bl. Frederick Ozanam
___
Day of Prayer for Peace in Our Communities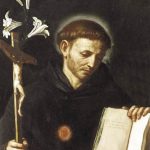 September 10
St. Nicholas of Tolentino
___
National Day of Remembrance for Aborted Children
Read more about the saints here
Sunday Mass will be live streamed from St. Ann Church, and can be viewed at 10:30 Sunday. Click below to view.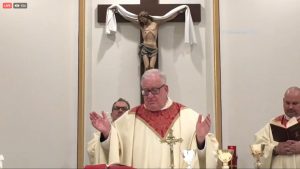 I take a moment to remember
and look forward to Sunday

I think of the place where I will worship on Sunday.
I recall its many aromas
I feel myself within it

I listen
I look

I see
the presider
the readers
the people around me

We will be together, before God, in our faith
O God, by whom we are redeemed and receive adoption, look graciously upon your beloved sons and daughters, that those who believe in Christ may receive true freedom and an everlasting inheritance. Through our Lord Jesus Christ, your Son, who lives and reigns with you in the unity of the Holy Spirit, God, for ever and ever.
Collect prayer for the Twenty-third Sunday in Ordinary Time
The Readings
Background:
Crowds of people are now traveling with Jesus because they're excited or at least intrigued by the things he's been saying and doing. Just because they're with Jesus, however, doesn't make them his disciples. Jesus points out that someone who truly follows him will have to make hard choices. Jesus says that his disciples must hate their family. He doesn't mean that disciples must feel hatred toward their family members, but the word "hate" is probably an oratorical way to say "love them in proportion." Family opinions (such as, "After all, you can be religious without going overboard, can't you?") are not as important as following him. For each of us there comes a time when we are faced with the decision whether we will follow Christ wholeheartedly and without reservations. It is important to consider the cost of putting aside concerns about personal comfort, possessions, and safety, and following him.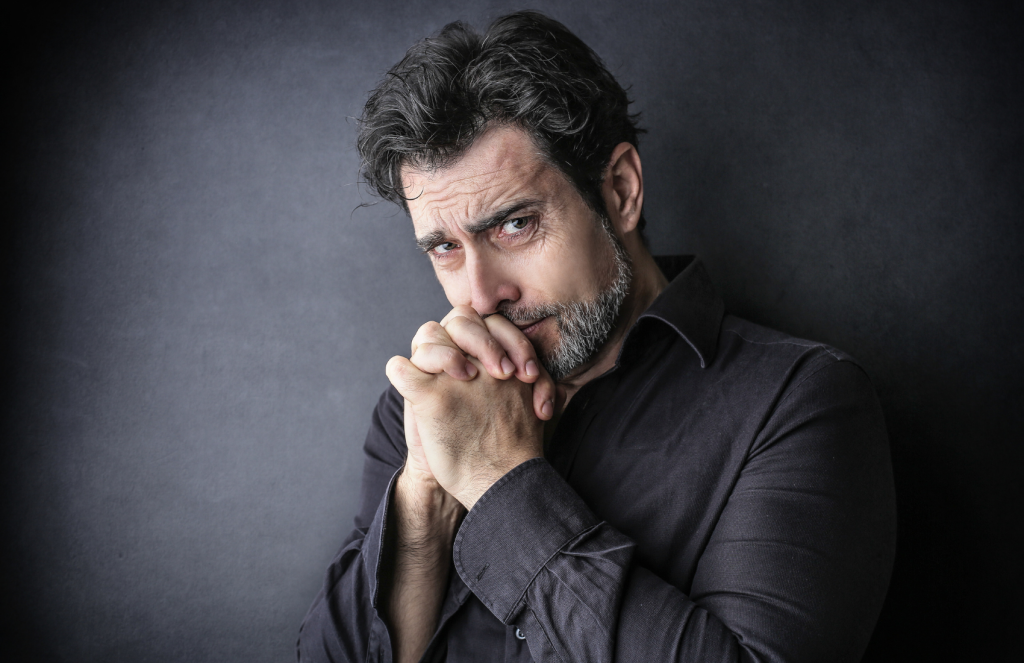 "If anyone comes to me without hating his father
and mother, wife and children, brothers and sisters,
and even his own life, he cannot be my disciple."
Lectio Divina
What word or phrase jumps out at you in today's reading?
Imagine yourself being a present during this story. What do you see, hear, smell, taste, feel, etc.? Describe everything in detail.
Imagine that you are one of the people in the reading. What do you feel, think, and do as a response to the events?
What does this reading remind you of in your life at this particular moment?
Reflection
Have you ever been afraid of having to give up too much if you give yourself too openly to
God?
What kind of freedom comes to you when you are willing to live a simpler lifestyle?
Can you honestly say that Jesus is first in your life? If not, what steps can you take to make him so?
What aspect of life do you struggle with that hinders your wholehearted commitment?
Practice
We have the saying by Saint Mother Teresa: "Live simply, so that others may simply live." What one step can you take to clean out some of the clutter in your life and to live a simpler lifestyle?
Breaking Open the Word
Twenty-third Sunday in Ordinary Time
Jeff Cavins reflects on the readings for the Twenty-third Sunday in Ordinary Time.
Jeff Cavins is an American Catholic evangelist, author, and biblical scholar. He is the creator of The Great Adventure Bible Study program, and was the founding host of the Television Show "Life on the Rock" on EWTN.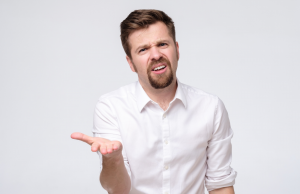 Here is the question we will look at this week: what is life about? To get our values straight. Jesus says he wants you to
1. hate your father, mother, children, brothers, sisters,
and your own life,
2. renounce all your possessions,
3. carry your own cross just as he carries his.
Hang on, don't panic. These sound horrible, but examine them.
Fr. John Foley, SJ is an American Jesuit priest who is a theologian, professor, author, liturgist, and a composer of Catholic liturgical music, as a member of the St. Louis Jesuits group. Among his compositions are One Bread, One Body, Earthen Vessels, Come to the Water, and The Cry of the Poor. He is the founder and former Director of the Stroble Center for Liturgy at St. Louis University.
The Prayer of an Earthen Shelter
When my first child was an infant and I was adjusting to the demands of working motherhood, I got into the habit of beginning each day by inviting God into my weakness. This sounds like a pious spiritual practice, but it isn't. It's a prayer born from desperation. It's not poetic and it wouldn't look pretty on the back of any holy cards. Here it is: "Lord, I have no idea how I'm going to make it through this day. I assume you have some ideas. Let's go with those ideas."
When I read of Christ's admonition to renounce our earthly possessions, I think of this clumsy prayer. My anxieties, my fears, my expectations — these are my possessions, and I cling to them like a child clings to an old, smelly blanket. My stamina, my abilities, my insight, my good intentions — these are also my possessions, but I don't have enough of them. I never have. I never will.
Colleen Jurkiewicz Dorman has been a reporter for the Catholic Herald since 2012. "A priest once told me I committed no sins that could not be avoided by duct-taping my mouth shut, and he was entirely correct."
The Cost of Discipleship
Our Gospel for today is breathtaking, first for what it says about Jesus and second for what it says about us. Jesus compels a choice the way no other figure does. Either he is who he says he is, or he is a bad man. The bland middle way that he is a great teacher simply won't do. In the presence of the one who makes such an extraordinary claim, we have to make a decision.
Bishop Robert Barron serves as an auxiliary bishop of the Archdiocese of Los Angeles. He is an author, speaker, theologian, and founder of Word on Fire, a global media ministry. Word on Fire reaches millions of people by utilizing the tools of new media to draw people into or back to the Catholic Faith.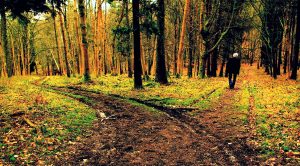 Tom Hoopes is Writer in Residence and Vice President of College Relations at Benedictine College in Atchison, Kansas, where he teaches in the Journalism and Mass Communication Department. A former reporter in the Washington, D.C., area, he served as press secretary of the U.S. House Ways & Means Committee Chairman and spent 10 years as executive editor of the National Catholic Register newspaper and Faith & Family magazine. He writes weekly for the National Catholic Register and Aleteia, reaching a national and international audience.
This Sunday, What Do You Love More Than Family? Work, Entertainment . . . or God?
Jesus sounds like a dangerous extremist when he says we have to hate our family — and even our own lives — to follow him. But he also gives us the perfect analogy to understand why he is not asking something crazy and wrong.
In fact, Jesus is not the extremist, we are, and Jesus calls us out. We already reject our families for things far less important than God. Our ultimate allegiance is often misplaced. Our actions too often say we love work more than our families, our addictions more than our kids, our angry moods more than our spouses, and ourselves above all.
The cost of discipleship is high
In today's Gospel, Jesus teaches about the requirements associated with living out the Gospel. Some of Jesus' teachings here, about "hating" one's family and own life and assessing one's ability to build a tower, might be best read as hyperboles. Yet Jesus draws on images rooted in difficult lived experiences to shock his audience and inspire action. Fittingly and powerfully, Jesus associates discipleship with bearing a cross: "Whoever does not carry his own cross and come after me cannot be my disciple."
Our attachment to earthly things removes us from love of God and neighbor
Earthly possessions are not harmful in themselves. It's our attachment to them that can take us away from love of God and neighbor. Along life's journey we become attached to things, ideas and habits.

Over the years these attachments make us less free, less able to choose the good of others and to choose the way of self-giving love that marks the life of a disciple of Jesus. Attachments bind us to patterns of thought, action and habits that are destructive to our dignity and to our relationship to God and neighbor.
Jem Sullivan writes for Catholic News Service. Dr. Sullivan joined the Pontifical Faculty of the Immaculate Conception in 1999. Presently, she teaches courses on Catholic Education: Teaching and Learning, the Documents of Vatican II, and Christian Art and the New Evangelization. She received her doctorate from The Catholic University of America, Washington, D.C. She has served as catechetical consultant to the Archdiocese of Washington and the Archdiocese for the Military Services.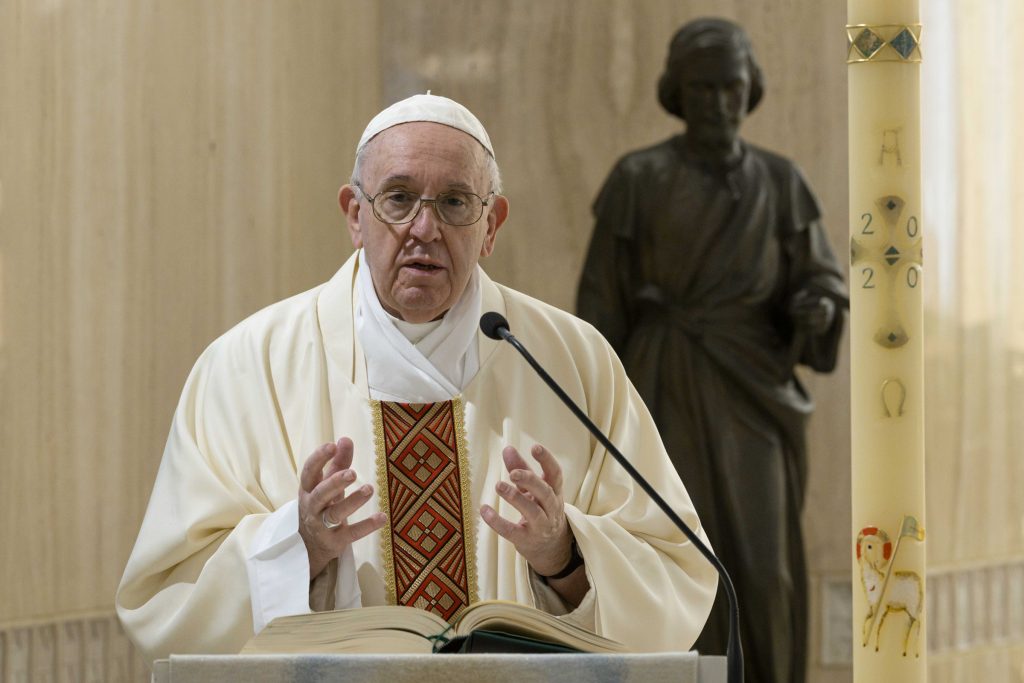 The human heart desires joy. We all desire joy; every family, every people, aspires to happiness. But what is the joy the Christian is called to live out and bear witness to. It is the joy that comes from the closeness of God, from his presence in our life …

Jesus has come to bring joy to all people for all time. It is not just a hopeful joy or a joy postponed until paradise, as if here on earth we are sad but in paradise we will be filled with joy. No! It is not that, but a joy already real and tangible now, because Jesus himself is our joy, and with Jesus joy finds its home, … joy is at home in Jesus.

And our joy is just this: to be his disciples, his friends.
Pope Francis
The Joy of Discipleship, Chapter 5: pp. 78, 79, 89