"I am the Good Shepherd."
This page provides information to help you participate more fully in the communal worship of the Parish and the Church, particularly the Sunday Mass.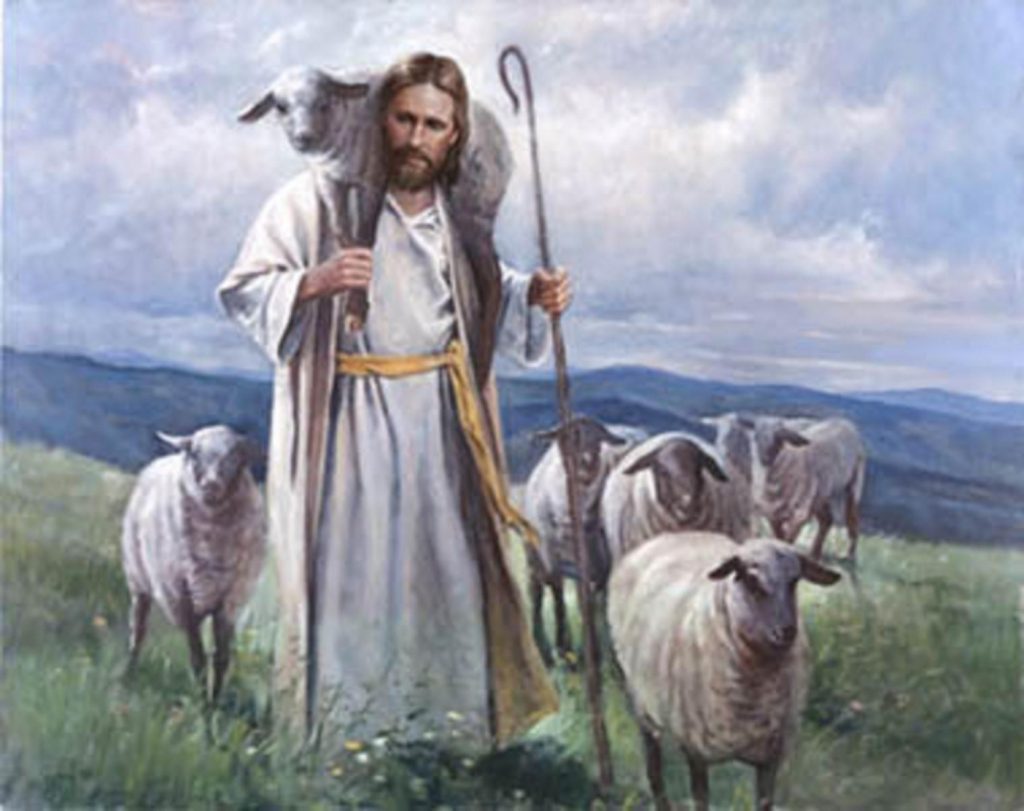 "I am the good shepherd,
and I know mine and mine know me."
This Sunday is the celebration of
the Fourth Sunday of Easter
(Good Shepherd Sunday)
April 25, 2021
Today is the feast of St. Mark which is superseded by the Sunday Liturgy.
You can click below to access some resources to help you pray with, meditate upon, and more fully understand the Sunday Readings.
This Weeks Saints
Read more about the saints here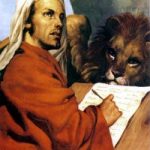 April 25
St. Mark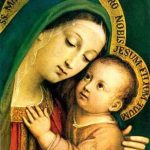 April 26
Our Lady of Good Counsel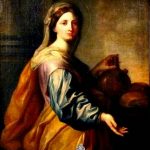 April 27
St. Zita of Lucca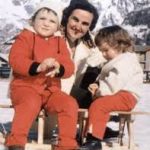 April 28
St. Gianna Beretta Molla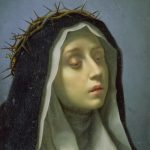 April 29
St. Catherine of Siena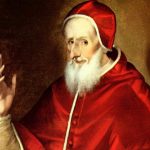 April 30
Pope St. Pius V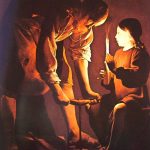 May 1
St. Joseph the Worker
St. Joseph the Worker
May 1
The feast of St. Joseph the Worker was established by Pope Pius XII in 1955 in order to Christianize the concept of labor and give to all workmen a model and a protector. By the daily labor in his shop, offered to God with patience and joy, St. Joseph provided for the necessities of his holy spouse and of the Incarnate Son of God, and thus became an example to all laborers. "Workmen and all those laboring in conditions of poverty will have reasons to rejoice rather than grieve, since they have in common with the Holy Family daily preoccupations and cares"(Leo XIII).
"Saint Joseph was a just man, a tireless worker, the upright guardian of those entrusted to his care. May he always guard, protect and enlighten families."

Pope St. John Paul II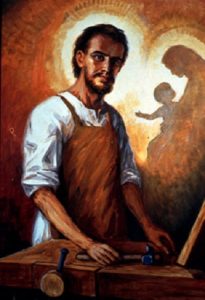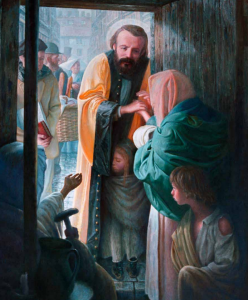 Bl. Frederic Ozanam
September 9
Professor

Frederic Ozanam was born in France in 1813 to Jean and Marie Ozanam, the fifth of 14 children. Only two of his siblings and he survived to adulthood. As a young man, he experienced grave doubts about his faith, but eventually over came them and became a journalist contributing to Catholic periodicals.

He studied law at the Sorbonne in Paris. There, he encountered a culture of materialism that held the Church in open contempt. Frederic gathered around him other students devoted to the Church and formed a discussion group called the "Conference of History," which quickly became a center of lively discussions and debates.

During one of those sessions, a skeptical student asked him, "What is your church doing now? What is she doing for the poor of Paris? Show us your works and we will believe you!" Stung by the question, he realized he needed to ground his beliefs in action. The first thing he and his roommate did was to donate their winter's supply of firewood to a widow whose husband had died of cholera. He founded a Council of Charity dedicated to reaching out to the poorest of the poor in Paris and aiding them.

In 1841, he married Amélie Soulacroix; they had a daughter, Marie. Ozanam became a full professor of foreign literature at the Sorbonne, He led an extremely active life as professor, academic writer, journalist, and as a member of the Council of Charity, now named the Society of St. Vincent de Paul. Having a weak constitution, he fell prey to consumption and died at the age of 40.

By the time of his death, the Society of St. Vincent de Paul consisted of 2,000 members. Today, the work continues in what evolved to be the Society of St. Vincent de Paul, with 800,000 members in some 140 countries worldwide, whose members operate through "conferences". Each conference is composed of Catholic and non-Catholic volunteers who dedicate their time and resources to help those in need in their community.
Knowledge of the poor and needy is not gained by poring over books or in discussions with politicians, but by visiting the slums where they live, sitting by the bedside of the dying, feeling the cold they feel and learning from their lips the causes of their woes.

Bl. Frederic Ozanam
Sunday and daily Masses will be live streamed from St. Ann Church, and can be viewed at 8:30 am Monday through Saturday, and on 10:30 Sunday. Click below to view.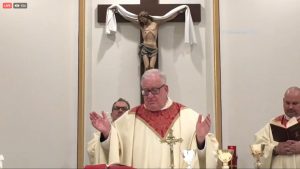 I take a moment to remember
and look forward to Sunday

I think of the place where I will worship on Sunday.
I recall its many aromas
I feel myself within it

I listen
I look

I see
the presider
the readers
the people around me

We will be together, before God, in our faith
About this Sunday
Almighty ever-living God, lead us to a share in the joys of heaven, so that the humble flock may reach where the brave Shepherd has gone before. Who lives and reigns with you in the unity of the Holy Spirit, God, for ever and ever.
Collect prayer for the Fourth Sunday of Easter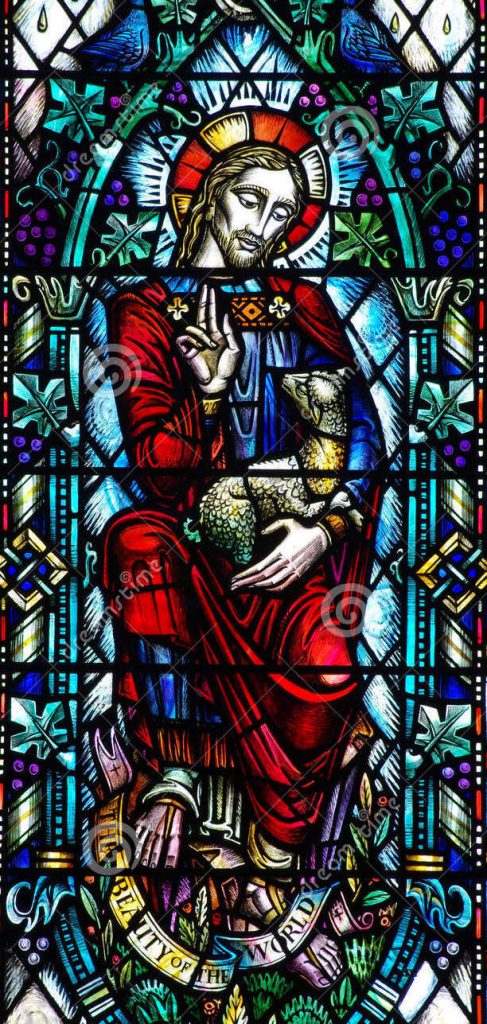 "I lay down my life in order to take it up again. No one takes it from me, but I lay it down on my own."
Lectio Divina
What word or phrase jumps out at you in today's reading?
Imagine yourself being a present during this story. What do you see, hear, smell, taste, feel, etc.? Describe everything in detail.
Imagine that you are one of the people in the reading. What do you feel, think, and do as a response to the events?
What does this reading remind you of in your life at this particular moment?
Breaking Open the Word
The Good Shepherd & His Sheep
"I am the good shepherd,
and I know mine and mine know me"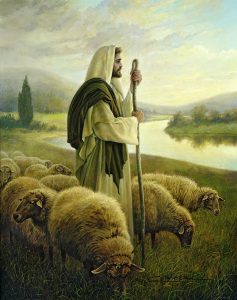 A good shepherd cares about his sheep. The hired one cares about his salary and maybe when he gets off work.

What is wrong with working for hire, and doing your job even if you do not like the sheep you are tending? I imagine that a lot of us are like this about our jobs, out of necessity. We ask, why can't we work simply for gain?
Fr. John Foley, SJ is an American Jesuit priest who is a theologian, professor, author, liturgist, and a composer of Catholic liturgical music, as a member of the St. Louis Jesuits group. Among his compositions are One Bread, One Body, Earthen Vessels, Come to the Water, and The Cry of the Poor. He is the founder and former Director of the Stroble Center for Liturgy at St. Louis University.
The Good Shepherd Is Also Our Judge
We are hirelings if look out for ourselves — our material goods but also their own agenda — more than the sheep. If the wolves of loneliness, hopelessness, and faithlessness are attacking my family and friends, and I spend my time posting about politics and complaining about the failings of Church leaders or over-indulging my hobby, I am acting like a hireling who doesn't care about the sheep he is actually responsible for.

When the wolf comes — the empty lies and vicious values of the world — it is our job to fight for our vulnerable families, to the death.
Tom Hoopes is Writer in Residence and Vice President of College Relations at Benedictine College in Atchison, Kansas, where he teaches in the Journalism and Mass Communication Department. A former reporter in the Washington, D.C., area, he served as press secretary of the U.S. House Ways & Means Committee Chairman and spent 10 years as executive editor of the National Catholic Register newspaper and Faith & Family magazine. He writes weekly for the National Catholic Register and Aleteia, reaching a national and international audience.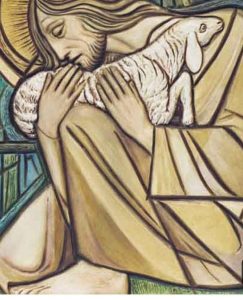 The stone rejected by the builders
Psalm 118, for the 4th Sunday of Easter
Music: Owen Alstott copyright 1977, 1990 OCP
Performed by Chris Brunelle
The spirit propels Christianity forward
In each of today's readings, we are invited to recognize Christ's resurrection not only as the guarantee of our salvation, but also as a reality that transforms how we live and how we serve others every day.

As we continue through the Easter season and near the feast of Pentecost, we can draw on today's readings for important insights about the role of the Holy Spirit in our lives and in the life of the church. Likewise, we can reflect on what belief in the resurrection means in our lives and the importance of Christ's sacrifice for the salvation of all.
Jaime L. Waters teaches Biblical Studies at DePaul University in Chicago. She is an associate professor of Catholic studies and a regular contributor to America magazine,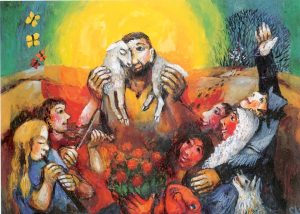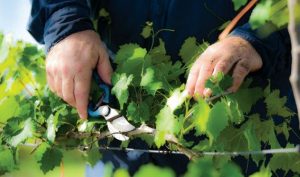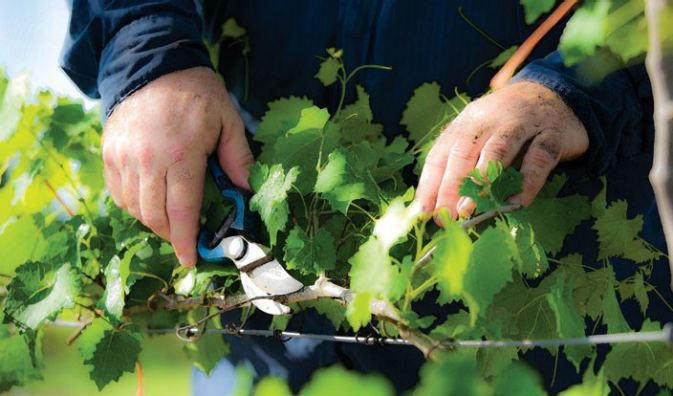 Douglas Sousa, S.T.L.
Staying Connected to One Another in Christ
The fact that we each sprout individually from the vine which is Christ does not mean that we are separated from one another. Jesus connects us not only to himself but to one another. Together we form the one vine which extends its branches throughout the world and bears fruit in love. The woman who folds her hands to pray in Tennessee draws life from the same source as the man who kneels down in Bangladesh. The teenager who visits the sick in Buenos Aires does so with the same love that moves a rich woman to give her coat to a homeless person in Lisbon.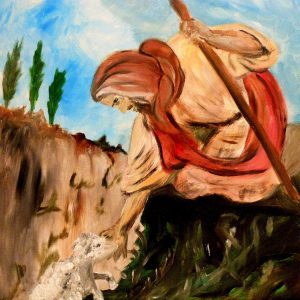 From our first moments, we seek the faces of those we love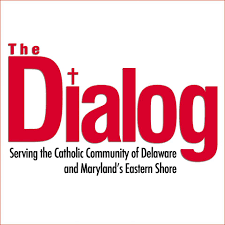 And isn't that what we always are — seekers of the face of a parent, a friend, a lover, the face of someone to help in time of need, someone to understand us, someone to help us stay grounded, to stay on track, someone to play golf with?

And isn't our whole life moving toward a face?
Kevin Perrotta is an award-winning Catholic journalist and a former editor of God's Word Today. He is the editor and an author of the "Six Weeks With the Bible" series, teaches part time at Siena Heights University and leads Holy Land pilgrimages. He has a masters' degree in theology from the St. Paul School of Divinity in St. Paul, Minnesota, and teaches occasionally at Sacred Heart Major Seminary in Detroit. He lives in Ann Arbor, Michigan.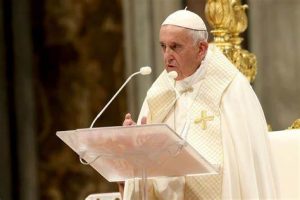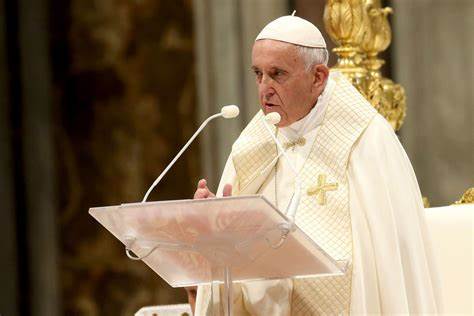 True faith in the incarnate Son of God is inseparable from self-giving, from membership in the com-munity, from service, from reconciliation withothers. The Son of God, by becoming flesh, summoned us to the revolution of tenderness.
Pope Francis, Evangelii Gaudium – page 72