This page provides information to help you participate more fully in the communal worship of the Parish and the Church, particularly the Sunday Mass.
This Sunday is the celebration of the
19th Sunday in Ordinary Time
August 9, 2020
"Take courage, it is I; do not be afraid"
The feast of St. Teresa Benedicta, which is ordinarily celebrated today, is superseded by the Sunday liturgy.
You can click below to access some resources to help you pray with, meditate upon, and more fully understand the Sunday Readings.
This Weeks Saints
Read more about the saints here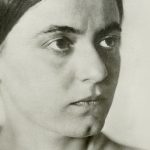 August 9
St. Teresa Benedicta of the Cross (Edith Stein), virgin and martyr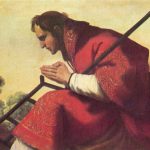 August 10
St. Lawrence of Rome, deacon and martyr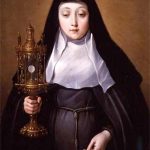 August 11
St. Clare of Assisi, virgin and foundress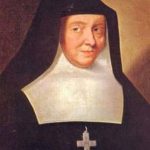 August 12
St. Jane Frances de Chantal, religious and foundress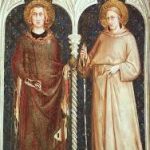 August 13
Sts. Pontian and Hippolytus, martyrs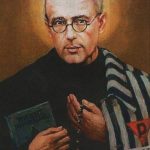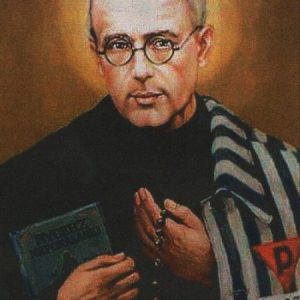 August 14
St. Maximilian Mary Kolbe, priest and martyr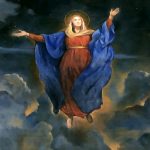 August 15
Solemnity of the Assumption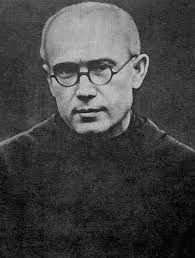 St. Maximilian Mary Kolbe
Priest and martyr
August 14
Raymund Kolbe was born on January 8, 1894, in the Kingdom of Poland, part of the Russian Empire. Much of his life was strongly influenced by a vision he had of the Virgin Mary when he was 12.

"That night I asked the Mother of God what was to become of me. Then she came to me holding two crowns, one white, the other red. She asked me if I was willing to accept either of these crowns. The white one meant that I should persevere in purity, and the red that I should become a martyr. I said that I would accept them both."

One year after his vision, Kolbe and his elder brother, Francis joined the Conventual Franciscans. In 1910, Kolbe was given the religious name Maximilian. He studied in Rome and traveled to Japan and India as a missionary. In 1936, Kolbe's poor health forced him to return home to Poland, and once the WWII invasion by Germany began, he became one of the only brothers to remain in the monastery.

During WWII he welcomed thousands of refugees, especially Jews. On February 17, 1941, the monastery was shut down; Kolbe was arrested by the German Gestapo and taken to the Pawiak prison. Three months later, he was transferred to Auschwitz.

Never abandoning his priesthood, Kolbe was the victim to severe violence and harassment. Toward the end of his second month in Auschwitz, men were chosen to face death by starvation to warn against escapes. Kolbe was not chosen but volunteered to take the place of a man with a family.

It is said during the last days of his life Kolbe led prayers to Our Lady with the prisoners and remained calm. He was the last of the group to remain alive, after two weeks of dehydration and starvation. The guards gave him a lethal injection of carbolic acid. The stories tell that he raised his left arm and calmly awaited death.

St. Maximilian Kolbe died on August 14 and his remains were cremated on August 15, the same day as the Assumption of Mary feast day. He was canonized as a Saint and Martyr of Charity in 1982.
No one in the world can change Truth. What we can do and and should do is to seek truth and to serve it when we have found it. The real conflict is the inner conflict. Beyond armies of occupation and the hetacombs of extermination camps, there are two irreconcilable enemies in the depth of every soul: good and evil, sin and love. And what use are the victories on the battlefield if we are ourselves are defeated in our innermost personal selves?

St. Maximilian Mary Kolbe
St. Maria Goretti
Martyr
July 6
Maria was born on October 16, 1890 in Corinaldo, in the Province of Ancona, then in the Kingdom of Italy. Her family's prospects were so diminished that, at the age of five, her family was forced to give up their farm and work for other farmers. When she was nine, her mother and father moved to Ferriere di Conca in an effort to find better fields to till. They lived in an old barn that they shared with another family, the Serenellis, which included Giovanni Serenelli and his son, Alessandro. Two years into this venture, Maria's father died of malaria. Her mother Assunta continued the backbreaking work and increasingly relied on Maria for help with the other five children.

When her mother broke the news to Maria that her First Communion would have to be put off because there was no time for her to be prepared. Maria was not daunted. She found the time to go to town for catechism lessons, and at twelve she was able to receive our Lord. She became a regular communicant and often was seen with a rosary wrapped about her fingers.

Only a few months later, twenty-year-old Alessandro Serenelli came in from the fields one day and attempted to sexually assault the twelve-year old Maria. Even as Maria fought his advances, her concern was for Alessandro's soul. Despite his choking her, she refused to submit. He stabbed her cruelly with an awl, eleven times. As she tried to reach the door, he stabbed her three more times. She was found still alive, and taken to the hospital The following day, having expressed forgiveness for Alessandro, she succumbed to her injuries.

Alessandro was quickly captured. Subject to life imprisonment, his sentence was commuted to 30 years, due to his age and relative lack of maturity. After three years in prison, he repented after having a dream of Maria giving him a lily of peace that burned his hands. When he was released from prison, he sought and was given forgiveness by Assunta Goretti; they attended mass together the following day. Both he and Assunta attended Maria's canonization proceedings in 1950. He spent the rest of his life as a lay brother of the Capuchin order, dying in 1970.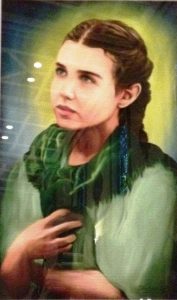 I forgive Alessandro Serenelli … and I want him with me in heaven forever.

St. Maria Goretti
If my daughter can forgive him, who am I to withhold forgiveness.

Assunta Goretti
Sunday and daily Masses will be live streamed from St. Ann Church, and can be viewed at 8:30 am Monday through Saturday, and on 10:30 Sunday. Click below to view.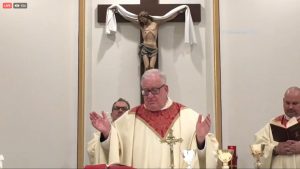 I take a moment to remember
and look forward to Sunday

I think of the place where I will worship on Sunday.
I recall its many aromas
I feel myself within it

I listen
I look

I see
the presider
the readers
the people around me

We will be together, before God, in our faith
About this Sunday
Almighty ever-living God, whom, taught by the Holy Spirit, we dare to call our Father, bring, we pray, to perfection in our hearts the spirit of adoption as your sons and daughters, that we may merit to enter into the inheritance which you have promised. Through our Lord Jesus Christ, your Son, who lives and reigns with you in the unity of the Holy Spirit, one God, for ever and ever.
Collect prayer for the Nineteenth Sunday in Ordinary Time
What verse or image in the readings caught your attention or drew you in. Was there a verse or aspect of the readings that challenged you?
Breaking Open the Word
Jesus walks on the water
During the fourth watch of the night, he came toward them, walking on the sea. When the disciples saw him walking on the sea they were terrified. "It is a ghost," they said, and they cried out in fear. At once [Jesus] spoke to them, "Take courage, it is I; do not be afraid." Peter said to him in reply, "Lord, if it is you, command me to come to you on the water."

He said, "Come." Peter got out of the boat and began to walk on the water toward Jesus.
What situations do you find most threatening to you at this time in your life? What do you fear the most? Do you firmly believe that Jesus calls you to come to him no matter what the danger may be? Do you feel that you have been confirmed in your faith by Jesus himself who has invited you to come to him?
This Sunday, Step Out Into the Storm

"
"It is often noted that the Gospel spells out where Peter goes wrong. "When he saw the wind, he was afraid," and that's when he started to sink. We shouldn't dwell on disaster, either, obsessing about how powerful the enemy is, how dangerous the persecutors are, and how damaged the boat is. We shouldn't spend our time sounding the depths of secularism and measuring the heights of the waves.

"It is time give ourselves to Christ, recklessly, instead."
Tom Hoopes is Writer in Residence and Vice President of College Relations at Benedictine College in Atchison, Kansas, where he teaches in the Journalism and Mass Communication Department. A former reporter in the Washington, D.C., area, he served as press secretary of the U.S. House Ways & Means Committee Chairman and spent 10 years as executive editor of the National Catholic Register newspaper and Faith & Family magazine. He writes weekly for the National Catholic Register and Aleteia, reaching a national and international audience.
What are all the things people hunger for? How can you nourish" others? For what do you hunger? Who is helping to nourish you?
"This Sunday most of us will notice mainly the story of Jesus walking on water, together with Peter sinking into it. But there is another very interesting spiritual dimension that I would like to suggest.

"What do you think was going on in Jesus' own heart and soul during these events?"
Feelings by Fr. John Foley, SJ
Fr. John Foley, SJ is an American Jesuit priest who is a theologian, professor, author, liturgist, and a composer of Catholic liturgical music, as a member of the St. Louis Jesuits group. Among his compositions are One Bread, One Body, Earthen Vessels, Come to the Water, and The Cry of the Poor. He is the founder and former Director of the Stroble Center for Liturgy at St. Louis University.
To experience God, look at the people around you
"Reflecting on the Gospel, we can see ourselves as the disciples who encounter many unexpected and upsetting conditions and seek reassurance from God.

"A direct theophany like Jesus' walking on water is unlikely, so we need to be attuned to the world around us and look for God in the places and people we encounter."
Jaime L. Waters teaches Biblical Studies at DePaul University in Chicago. She is an associate professor of Catholic studies and a regular contributor to America magazine,
How do you recognize God in your midst during moments of crisis?

In what ways does the world affect your life?
Some of us have to find a "great wind," "earthquake," or "fire" in our lives before we look for God. But do you ever take time to listen for the "tiny whispering sound"? If you created a quiet time in your life each day could you do this?
Bishop Barron on Grace
"Elijah is a contemplative who has the eyes to see and the ears to listen. God does not appear in the glory of the world. Rather, he appears in a silent way. Weed out of your heart all of those fears and desires that prevent you from discerning the silent presence of God."
Bishop Robert Barron serves as an auxiliary bishop of the Archdiocese of Los Angeles. He is an author, speaker, theologian, and founder of Word on Fire, a global media ministry. Word on Fire reaches millions of people by utilizing the tools of new media to draw people into or back to the Catholic Faith.
"The message for us is clear: God does not operate in chaos. His movement and healing can only take place in the context of a heart of faith and a willingness to find him in the whispers and the small hidden stuff.

"Much like Elijah, the apostles are given two contrasting moments on which to fix their attention — the wind and waves or the peaceful presence of Christ. When Jesus comes to them, Peter sees the hidden presence of God, like Elijah in the whisper."
Angie Windnagle earned her degree in 2008 from Franciscan University of Steubenville in Catechetics and Theology. In the past, she worked as a full time Youth Director. She now spends her time as creator and author of yellowpelican.net, a space to help support Catholic families; as well as contributing to a number of Catholic online media sources, such as Ignitum Today and LPi.
In the Gospel, Jesus' presence allowed Peter to do something he would never dream of doing. How has Jesus enabled you to do something you otherwise would have been afraid to do?

Can you recall one big stormy event where you felt Jesus' presence?
How is living with a pandemic + environmental crisis + racial problem similar to the raging sea on which Peter was trying to walk toward Jesus? What do you think would have helped Peter to keep walking? Ignore the wind? Keep his eyes on Jesus? What might give you help now?
Nineteenth Sunday in Ordinary Time: Find comfort in the Gospel during crisis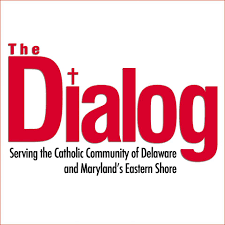 "In this Sunday's Gospel, Jesus calms the windy waves and assures his frightened disciples of his calming presence in their midst. Jesus' words and actions in this Gospel passage are especially relevant as the nation and the world continues to struggle through the effects of a pandemic."
Jem Sullivan writes for Catholic News Service. Dr. Sullivan joined the Pontifical Faculty of the Immaculate Conception in 1999. Presently, she teaches courses on Catholic Education: Teaching and Learning, the Documents of Vatican II, and Christian Art and the New Evangelization. She received her doctorate from The Catholic University of America, Washington, D.C. She has served as catechetical consultant to the Archdiocese of Washington and the Archdiocese for the Military Services.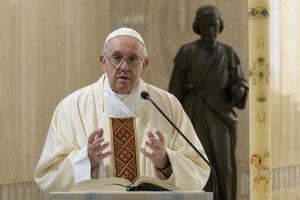 [Here] is an effective image of the Church: a boat which must brave the storms and sometimes seems on the point of capsizing. What saves her is not the skill and courage of her crew members, but faith which allows her to walk, even in the dark, amid hardships. Faith gives us the certainty of Jesus' presence always beside us, of his hand which grasps us to pull us back from danger. We are all on this boat, and we feel secure here despite our limitations and our weaknesses.
Pope Francis on the Angelus, para 4 (Sunday, August 10, 2014)