"The Son of Man did not come to be served but to serve."
This page provides information to help you participate more fully in the communal worship of the Parish and the Church, particularly the Sunday Mass.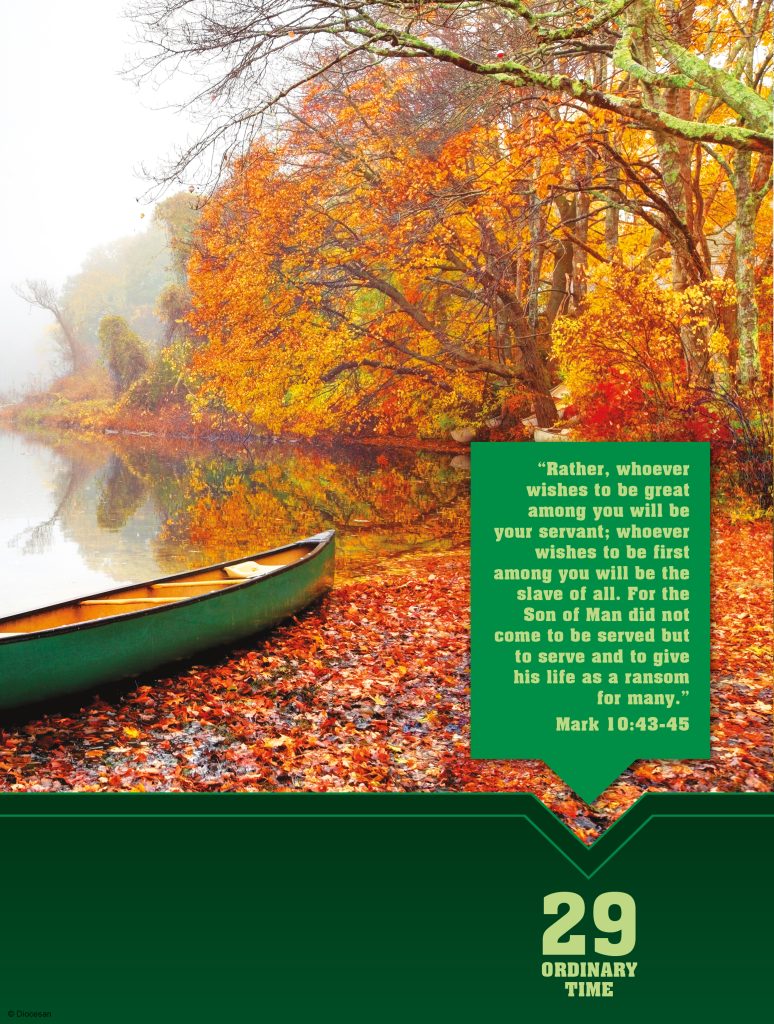 This Sunday is the celebration of the
Twenty-ninth Sunday in Ordinary Time
October 17, 2021
October is Respect Life Month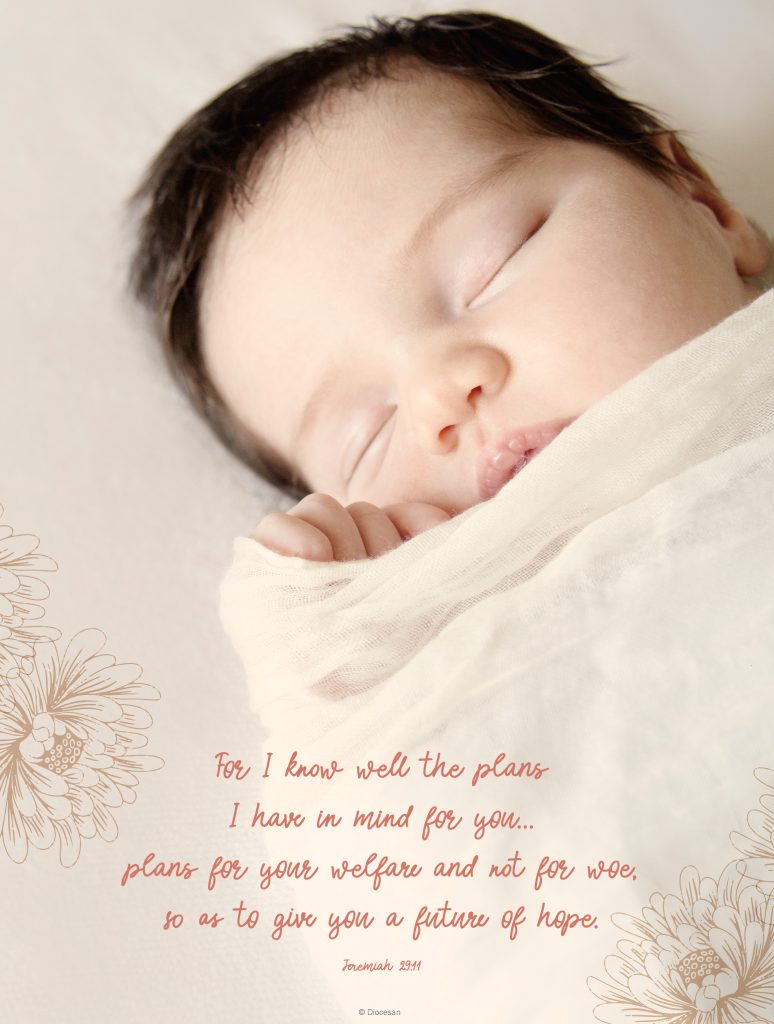 Heavenly Father, the beauty and dignity of human life was the crowning of your creation. You further ennobled that life when your Son became one with us in his incarnation. Help us to realize the sacredness of human life and to respect it from the moment of conception until the last moment at death. Give us courage to speak with truth and love and with conviction in defense of life. Help us to extend the gentle hand of mercy and forgiveness to those who do not reverence your gift of life. To all, grant pardon for the times we have failed to be grateful for your precious gift of life or to respect it in others. We ask this in Jesus' Name. Amen.
October is Domestic Violence Awareness Month
This Weeks Saints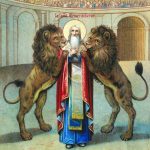 October 17
St. Ignatius of Antioch
October 18
St. Luke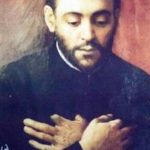 October 19
Sts. John de Brebeuf and Isaac Jogues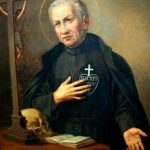 October 20
St. Paul of the Cross
October 21
St. Ursula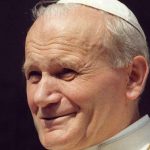 October 22
St. John Paul II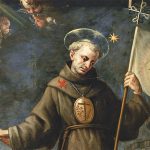 October 23
St. John of Capistrano

Read more about the saints here
Sunday Mass will be live streamed from St. Ann Church, and can be viewed at 10:30 Sunday. Click below to view.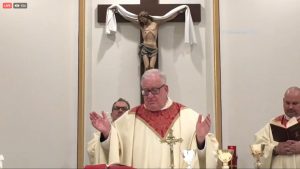 I take a moment to remember
and look forward to Sunday

I think of the place where I will worship on Sunday.
I recall its many aromas
I feel myself within it

I listen
I look

I see
the presider
the readers
the people around me

We will be together, before God, in our faith
Almighty ever-living God, grant that we may always conform our will to yours and serve your majesty in sincerity of heart. Through our Lord Jesus Christ, your Son, who lives and reigns with you in the unity of the Holy Spirit, God, for ever and ever.
Collect prayer for the Twenty-ninth Sunday in Ordinary Time
The Readings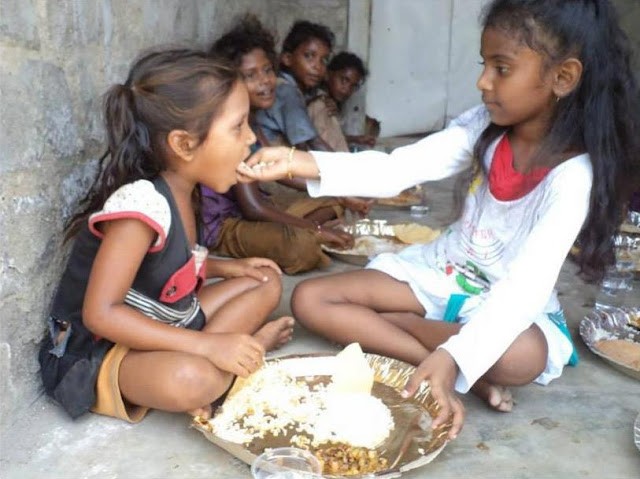 "Whoever wishes to be great among you will be your servant; whoever wishes to be first among you will be the slave of all."
Lectio Divina
What word or phrase jumps out at you in today's reading?
Imagine yourself being a present during this story. What do you see, hear, smell, taste, feel, etc.? Describe everything in detail.
Imagine that you are one of the people in the reading. What do you feel, think, and do as a response to the events?
What does this reading remind you of in your life at this particular moment?
Breaking Open the Word
Twenty-Ninth Sunday of Ordinary Time
In this Encountering the Word video, Jeff Cavins reflects on the readings for the Twenty-Ninth Sunday in Ordinary Time. If you had the opportunity to go to the throne of God, what would be on your mind?
Jeff Cavins is an American Catholic evangelist, author, and biblical scholar. He is the creator of The Great Adventure Bible Study program, and was the founding host of the Television Show "Life on the Rock" on EWTN.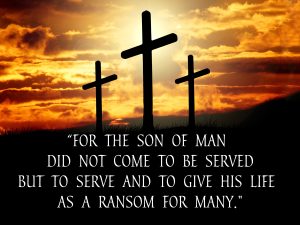 "Grant that in your glory we may sit one at your right and the other at your left."

Not a completely unreasonable request, I suppose. But rude. Moreover, the demand comes immediately—and I mean in the very next line—after he has predicted the passion.

Hearing this, the apostles do what you and I often do.

They change the subject.
Fr. John Foley, SJ is an American Jesuit priest who is a theologian, professor, author, liturgist, and a composer of Catholic liturgical music, as a member of the St. Louis Jesuits group. Among his compositions are One Bread, One Body, Earthen Vessels, Come to the Water, and The Cry of the Poor. He is the founder and former Director of the Stroble Center for Liturgy at St. Louis University.
This Sunday, They Will Only Follow Us if We Suffer
There is an easy way to tell whether or not the Church is following the way of servant leadership and suffering that Jesus describes this Sunday, the 29th Sunday in Ordinary Time, Year B.

Where Christian leadership means serving and suffering, numbers are growing. Where Christian leadership means "lording it over" others, numbers are falling.
In the United States, our numbers are falling. Fast.

We who practice and love our Catholic faith make a critical error when we think that makes us the "betters" of other people.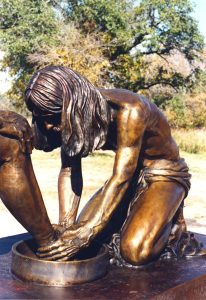 Tom Hoopes is Writer in Residence and Vice President of College Relations at Benedictine College in Atchison, Kansas, where he teaches in the Journalism and Mass Communication Department. A former reporter in the Washington, D.C., area, he served as press secretary of the U.S. House Ways & Means Committee Chairman and spent 10 years as executive editor of the National Catholic Register newspaper and Faith & Family magazine. He writes weekly for the National Catholic Register and Aleteia, reaching a national and international audience.
On Going Through Hell – The Suffering Servant
While there may be some solace in the notion that "misery loves company," I don't want to be miserable. None of us do. But in this hobbled world of broken men and women, our suffering is not something that is completely up to us. We will suffer. Some of us in great ways and some of us in small but, rest assured, we will all suffer.

What is heartening, in fact, about the sufferings of Flannery and Teresa, Paul and God himself is not simply that they suffered as well, but that they transcended their suffering. Heaven is forever and God reigns supreme.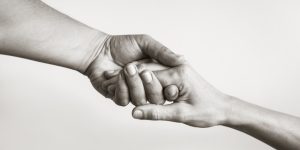 Dr. Tod Worner is a husband, father, practicing internal medicine physician, and the Managing Editor of Evangelization & Culture, the Journal of the Word on Fire Institute. His writing can be found at Word on Fire, Aleteia, National Review, New York Post, and on Twitter @thinkercatholic. He enjoys being constantly outsmarted by his two clever daughters.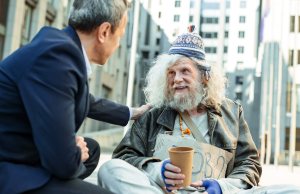 Douglas Sousa, S.T.L. is an author for Liturgical Publications, Inc., and writes reflections on various topics, including reflections on Sunday readings.
Though he was the most powerful man to ever walk the earth, Christ did not become human to dominate others. He came to seek out the sick, the suffering, and the sinners. He came not only to instruct and heal us, but he suffered the cruelest death imaginable to open up heaven to those who would believe. Jesus was not in it for the glory. And anyone who follows him must be willing to live as he lived. To be like our master, we must make ourselves the slaves of others.
Want greatness? Serve the suffering
For Isaiah, the suffering servant may have been a specific person, the prophet himself or the community of Jewish exiles living in Babylon. The prophecy offers hope that those who suffer "shall see his descendants in a long life…[and] shall see the light in fullness of days." It calls on sufferers to be future-oriented and recognize potential relief and positive impacts down the road. Yet we should not take this to mean that people should simply suffer in hopes of eventual favorable outcomes. Scripture also calls on us to relieve suffering, not only cope with it.
Jaime L. Waters teaches Biblical Studies at DePaul University in Chicago. She is an associate professor of Catholic studies and a regular contributor to America magazine.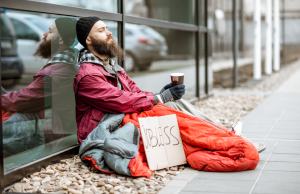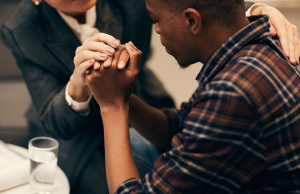 Homily for the Twenty-Ninth Sunday in Ordinary Time, Year B

The true meaning of discipleship, the focus of the Scripture texts this Sunday, is all about seeking the things of God and the will of God, embracing without fear the plan of God, letting go of worldly ambitions, places of honor and glory at home, at work, at home, in community, at school, in the parish, wherever we find ourselves and hopefully humbly serving others however we can, in imitation of the Lord Jesus Christ.

The ways of the world and the way of Jesus are different. We are being called to the way of Jesus, and the ultimate goal is salvation and eternal life, after a life on earth of daily sacrifices and disappointments, setbacks, struggles and temptations. But it is not just about the next life. Even now we are called to the consolation given by the Holy Spirit in this life when we earnestly seek peace and loving service at all costs.
Abbot Christian Leisy, OSB is the spiritual leader of the Abbey of Christ in the Desert near Abiquiu, New Mexico. Abbot Christian has been a monk of Christ in the Desert since 1977 and originally hails from Oregon. He studied formal theology at the Pontifical University of Saint Thomas Aquinas in Rome, completing his S.T.B. (sacred theology degree) in 1988. On August 13, 1988 he was ordained a priest at the Monastery of Christ in the Desert. Before and after studies abroad, Brother Christian served at the Monastery as Guestmaster, Novice Master, Subprior, Prior, Cellarer, teacher, development director, as well as cook, cleaner, Gift Shop Manager, along with various and sundry other tasks as a monk and priest. He was elected by the community of the Monastery to become the Abbot in December 2018.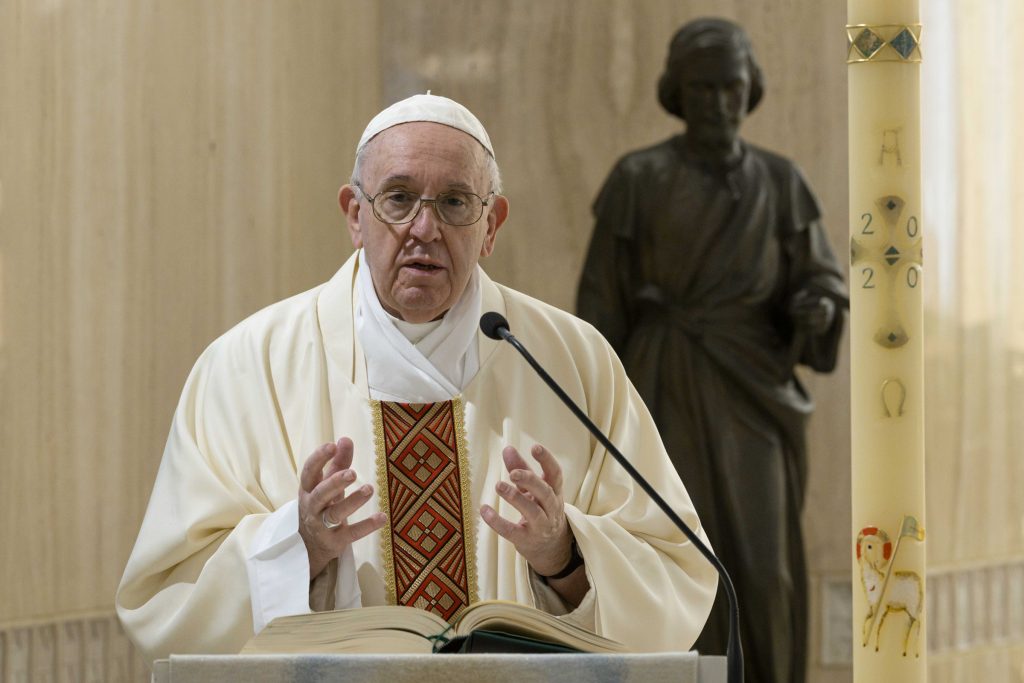 Our fidelity to the Lord depends on our willingness to serve. And we know this often costs, because 'it tastes like a cross.' But, as our care and availability toward others grow, we become freer inside, more like Jesus. The more we serve, the more we are aware of God's presence.

Above all, when we serve those who cannot give anything in return, the poor, embracing their difficulties and needs with tender compassion: and we in turn discover God's love and embrace there.
Pope Francis, Sept 19, 2021