…for I know well the plans I have in mind for you, plans for your welfare and not for woe, so as to give you a future of hope. When you call me, and come and pray to me, I will listen to you.
Jer 29:11-12
St. Ann Parish will re-open for daily mass,
beginning on June 1.
We will begin a reduced Sunday mass schedule
beginning on June 7.

PLEASE NOTE THAT THERE WILL BE RESTRICTIONS
AND SPECIAL PROCEDURES THAT MUST BE FOLLOWED TO ENSURE THE SAFETY OF OUR PARISHIONERS.
Our response to the pandemic:
Live-streamed Services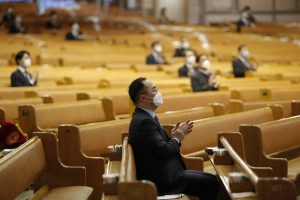 Although we are slowly beginning to open our churches again, attendance at Mass will be limited, so that we can keep within the social distance guidelines. Also, many of our parishioners may feel uncomfortable attending in person, for health reasons.
For those who cannot or choose not to attend in person, we will continue to live stream daily and Sunday mass on this web page, on Facebook, and on the myParish app for the foreseeable future.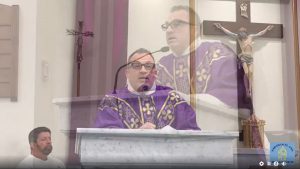 If you'd like to learn more about the place of this Sunday in the church calendar or more about the Sunday readings, we have an online worship aid; just click below.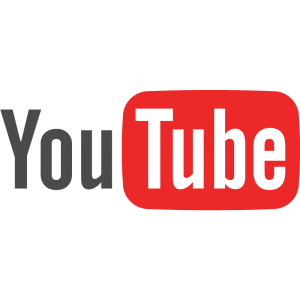 The latest recording of our services are immediately below. In addition, we will be archiving past masses, stations of the cross, and videos of other liturgies on YouTube.

Please go to our YouTube channel and subscribe to it, to be notified when additional content is posted there. You can access our YouTube channel by clicking the icon above.
Photos of our live streamed services can be viewed in our parish photo gallery here.
Daily mass
Dear God, I am humbly in your presence.
Please open my heart and my mind
so that I may dwell
in your Spirit
in the midst of your assembly.
The recording of the June 5 Mass for Friday of the Ninth Week in Ordinary Time can be viewed below.
Below is the Holy Hour and Exposition of the Blessed Sacrament held immediately following daily mass.
The livestream of the June 6 Mass for Saturday of the Ninth Week in Ordinary Time will be shown below, beginning at 8:30 am.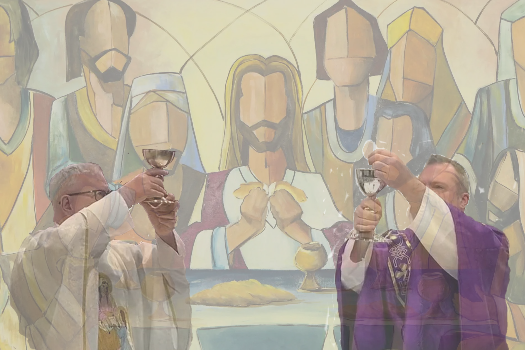 Can you help us continue our work?
Here's why we need your help . . .
. . . and here's how you can help
A few services from other venues are available below.
How do we respond to crises like the present one? We respond as communities of faith have always done: in prayer, in worship, in reflection, but always in community.
Prayer
Prayer of Pope Francis
O Mary,
you always shine on our path
as a sign of salvation and of hope.

We entrust ourselves to you, Health of the Sick, who at the cross took part in Jesus' pain, keeping your faith firm.

You, Salvation of the Roman People, know what we need, and we are sure you will provide so that, as in Cana of Galilee, we may return to joy and to feasting after this time of trial.

Help us, Mother of Divine Love, to conform to the will of the Father and to do as we are told by Jesus, who has taken upon himself our sufferings and carried our sorrows to lead us, through the cross, to the joy of the resurrection. Amen.
Under your protection, we seek refuge, Holy Mother of God. Do not disdain the entreaties of we who are in trial, but deliver us from every danger, O glorious and blessed Virgin.
Prayer to Our Lady of Guadalupe
Holy Virgin of Guadalupe, Queen of the Angels and Mother of the Americas. We fly to you today as your beloved children. We ask you to intercede for us with your Son, as you did at the wedding in Cana.

Pray for us, loving Mother, and gain for our nation and world, and for all our families and loved ones, the protection of your holy angels, that we may be spared the worst of this illness.

For those already afflicted, we ask you to obtain the grace of healing and deliverance. Hear the cries of those who are vulnerable and fearful, wipe away their tears and help them to trust.

In this time of trial and testing, teach all of us in the Church to love one another and to be patient and kind. Help us to bring the peace of Jesus to our land and to our hearts.

We come to you with confidence, knowing that you truly are our compassionate mother, health of the sick and cause of our joy.

Shelter us under the mantle of your protection, keep us in the embrace of your arms, help us always to know the love of your Son, Jesus.

Amen.
Covid-19: A Prayer of Solidarity
For all who have contracted coronavirus,
We pray for care and healing.

For those who are particularly vulnerable,
We pray for safety and protection.

For all who experience fear or anxiety,
We pray for peace of mind and spirit.

For affected families who are facing difficult decisions between food on the table or public safety,
We pray for policies that recognize their plight.

For those who do not have adequate health insurance,
We pray that no family will face financial burdens alone.

For those who are afraid to access care due to immigration status,
We pray for recognition of the God-given dignity of all.

For our brothers and sisters around the world,
We pray for shared solidarity.

For public officials and decisionmakers,
We pray for wisdom and guidance.

Father, during this time may your Church be a sign of hope, comfort and love to all.

Grant peace.
Grant comfort.
Grant healing.
Be with us, Lord.
Amen.
Worship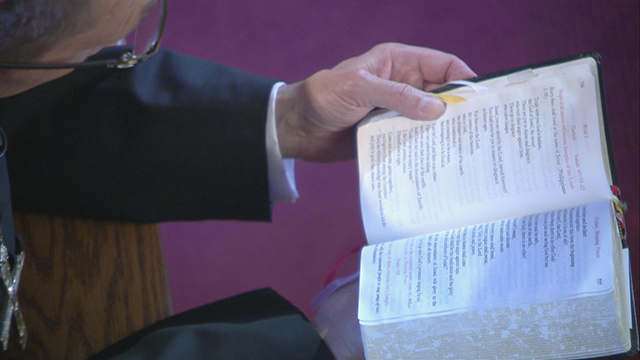 Live stream from the Parish of St. Ann is above, on this page
Reflection
We'll be changing these resources on a regular basis, so check back often!

If you'd like to learn more about the place of this Sunday in the church calendar or more about the Sunday readings, we have an online worship aid; just go here.
"For me, prayer isn't a magic spell meant to heal a patient. It's not even a cheer meant to uplift a patient. Prayer is how we speak the love of God to one another. Ideally, I get to speak this love out loud, through a phone held up to the patient's ear. Sometimes, however, I have to pray outside of their room, which I do with extra conviction, imagining the prayers of my heart wafting into the room, surrounding the patient and resting on their hearts."
Lessons from a hospital chaplain when hope is harder to find
"The Catholic Church has taught us for centuries that we live inevitably and inextricably as persons embedded in communities. We are connected in ways we cannot see, in ways we rarely think about, and in ways sometimes we cannot fathom. We are not disconnected and isolated individuals"
What Thomas Merton can teach us about the coronavirus pandemic
"The best way for a good night's sleep is to reclaim your inner peace and rest with a heart united to God."
Want to sleep peacefully? Pray this prayer of the night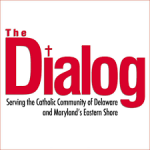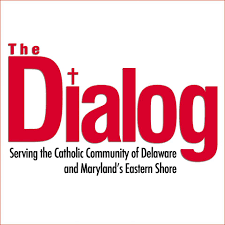 " Their 94-year-old mother was in the emergency room dying and she need to receive the Anointing of the Sick. I hurried to get ready and grabbed my little kit with everything I needed for Anointing and raced to the emergency room. "
Beacons of Light and the Dawn From on High
Father Richard D. Breton, Jr. is a priest of the Diocese of Norwich, Connecticut. He is currently the parochial vicar of St. Andrew Parish in Colchester, Connecticut, and St. Francis of Assisi Parish in Lebanon, Connecticut.
"But if there is a God, I can say, "Don't worry. It will be all right," in the middle of a pandemic, or a battle, or a storm, or as the last thing I ever say, into a ventilator."
It's true: Everything will be all right
Tom Hoopes is writer in residence at Benedictine College in Atchison, Kansas, and author most recently of The Rosary of Saint John Paul II.
"While we are all experiencing quarantine differently, we are all most likely trying to do it on our own, without God. When we take time away from the entertainment which distracts us, we can hear God through his word, and we can respond."
(If you'd like to listen to the songs from Brother Isaiah that Fr. Mark-Mary mentions, you can hear them on the CFRs YouTube Channel here: Little Litany and Paths Unknown. )
Father Mark-Mary was ordained as a Franciscan Friar of the Renewal (CFR) in 2018 and lives at a friary in the Bronx. The mission of the CFRs is to wholeheartedly embrace Jesus through fidelity to the Church and her Sacraments. Paired with their commitment to prayer, contemplation, and study of Sacred Scripture, the CFRs serve those around them, especially the poor, in the footsteps of Christ.