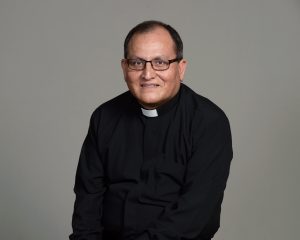 Rev. Johnny Laura-Lazo
Born in Peru on March 2, 1965, Fr. Laura-Lazo has seven brothers and sisters.  After deciding to become a priest, he began seminary studies in Peru.  The Bishop then sent him to Columbia to study Theology.  Ordination was on December 17, 1994, in Huancayo, Peru.
After coming to the United States, he was named a pastor for eight years in different communities in San Francisco.  St. Francis in Salisbury was his next assignment, then St. Elizabeth in Dover and now he ministers to the Spanish-language community at Our Lady of Guadalupe.  He also assists the pastor at St. John the Apostle in Milford.