Our Mission
The Parish of St. Ann is a Roman Catholic community, united by Baptism and fed by the Word and the Eucharist. We worship God, learn and grow, serve our neighbors, rejoice and mourn together. We celebrate God's providence in putting us in this beautiful place and we strive to be people who welcome all.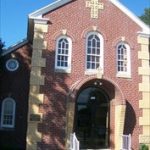 The Roman Catholic Church of St. Ann in Bethany Beach DE was established in 1955 to minister to the growing numbers of Catholic vacationers in the area.  The parish began as a mission to St. Edmond Parish in Rehoboth Beach, but later had its mission status transferred to the charge of St. Michael the Archangel in Georgetown.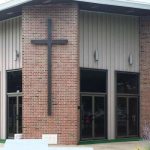 It became a parish in its own right in 1972 with the appointment of Rev. Richard F. Gardiner as the first full-time resident priest.  At that time, new church was constructed which seated approximately 900 people.  The original church was later converted to a social hall, now called Delaney Hall, in honor of a most beloved visiting priest, Fr. James Delaney.
In May 1975, Rev. Phillip P. Sheeky was appointed Pastor, and he served until December 1982. Rev. Roy F. Pollard, Jr. served as Pastor from that point until July 1984 when our longest serving Pastor, Rev. John J. Masterson was appointed.
In 1989, our Religious Education building was constructed to house the religious education classes.  One of Fr. Masterson's final accomplishments was the acquisition of land adjacent to St. Ann Church and the building thereon of our new Rectory in 2000.  Shortly after that project was in process, Fr. Masterson passed away on June 19, 2000.  In his memory, the Religious Education Center was renamed the Fr. John J. Masterson Center.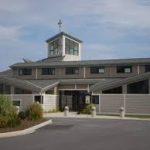 Rev. James Nash was assigned as temporary administrator until  September 2000 when Rev. David F. Kelley was appointed Pastor.  Under Fr. Kelley's guidance, St. Ann continued its growth, leading to the the planning and construction of Our Lady of Guadalupe Mission Church on Rt. 17 in Roxanna.  Fr. Kelley partnered with other area parishes to plan, construct, and sponsor the building and operation of Most Blessed Sacrament School in Ocean Pines, Maryland. The school opened in 2003.
In June 2012, Fr. Kelley was appointed Pastor of St. Joseph Parish in Middletown.  That same year, Fr. John Klevence was appointed Pastor of St. Ann/Our Lady of Guadalupe.  In June of 2013, Fr. Ralph Castelow was appointed to serve as Associate Pastor; he was succeeded by Fr. Lance Martin in August of 2019.
With the closure of Christ Our King church in 2016, St. Ann acquired the Blessed Mother altar from that church, which serves now as the main altar in St. Ann church. The pulpit and Infant of Prague statue from Christ Our King were also relocated there.