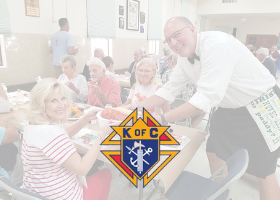 The St. Ann Chapter of the Knights of Columbus meets on the third Thursday of each month at 7 PM in Delaney Hall. Membership is open to all practicing-Catholic men, 18 years of age and older. The Council is charged with supporting all clergy, especially the Pastor in his work. This is done by supporting all Parish activities and organizations when called to do so. The Council is part of an international organization of over 1.8 million members, founded in 1882 by a Catholic priest, Fr. Michael J. McGivney.
Saint Ann – Council 16771
Bethany Beach, DE

Joe Aquilla, Grand Knight
(joe@imspap.com)

Fran Cummings, Deputy Grand Knight
(fxmcummings@comcast.net)
​
State Council – www.delawareknights.org
New & Upcoming
Events

~Fundraiser for the refugees of Ukraine—send
donations to KofC 16771, PO Box 654, Bethany.
Mark Envelope with Memo to Ukraine


~
Continuing Efforts:
~Thank you for your support of our Ukraine drive. We
collected $2,140 to aid those in need.
~Thank you also for your support of our flower sale.
We were able to fill 50 orders.

Upcoming:
~Rib night June 23rd in Delaney Hall. Tickets are
$17.50 each.
~Tootsie Roll Drive in July
Thanks to the efforts of Father Michael J. McGivney, assistant pastor of St. Mary's Church in New Haven and some of his parishioners, the Connecticut state legislature on March 29, 1882, officially chartered the Knights of Columbus as a fraternal benefit society.
The Order is still true to its founding principles of charity, unity and fraternity.
The Knights was formed to render financial aid to members and their families. Mutual aid and assistance are offered to sick, disabled and needy members and their families.
Social and intellectual fellowship is promoted among members and their families through educational, charitable, religious, social welfare, war relief and public relief works.