What is a Saint?
In the Catholic Church, the saints are ordinary people like you and me who made it to heaven. They've done nothing that you and I cannot do, if we persevere in following Jesus Christ and living our lives according to His teaching.
Catholic devotion to the saints is nothing more than respect and admiration for the memory of the deceased heroes of the Church. We honor them as men and women of heroic virtue who can serve as our role models. They were no more perfect than are we; but, at the end of their lives – and hopefully, ours – they received from Our Lord his words, "Well done, good and faithful servant."
We also ask the saints to intercede for us. Have you ever asked anyone to pray for you when you were having a hard time? That is how Catholics "pray to" the saints – we pray with saints, not to them. As James says, "The fervent prayer of a righteous person is very powerful."
Well-known saints like those below often are remembered in a special way on particular days during the year.
January – February – March – April – May – June
July – August – September – October – November – December
Saint of the Week
January 21

Saint Agnes
"Almost nothing is known of this saint except that she was very young—12 or 13—when she was martyred in the last half of the third century. Various modes of death have been suggested—beheading, burning, strangling.
Legend has it that Agnes was a beautiful girl whom many young men wanted to marry. Among those she refused, one reported her to the authorities for being a Christian. She was arrested and confined to a house of prostitution. The legend continues that a man who looked upon her lustfully lost his sight and had it restored by her prayer. Agnes was condemned, executed, and buried near Rome in a catacomb that eventually was named after her. The daughter of Constantine built a basilica in her honor."
Saint Agnes is the Patron Saint of:
Girls
Girl Scouts
---
Reflection
Like that of Maria Goretti in the 20th century, the martyrdom of a virginal young girl made a deep impression on a society enslaved to a materialistic outlook. Also like Agatha, who died in similar circumstances, Agnes is a symbol that holiness does not depend on length of years, experience, or human effort. It is a gift God offers to all.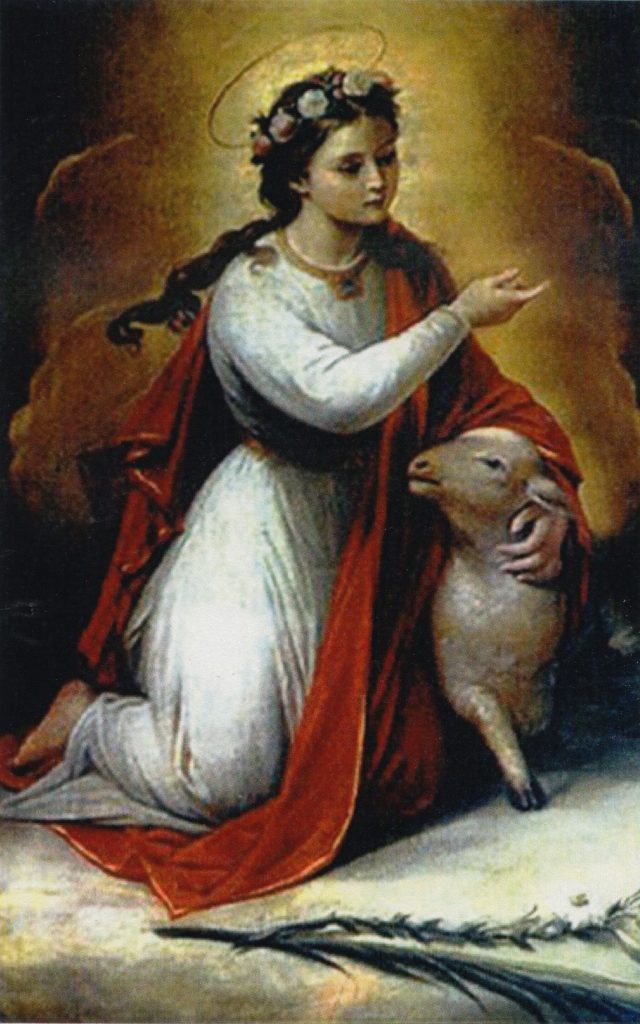 The source for this information is the Saint Agnes | Franciscan Media