What is a Saint?
In the Catholic Church, the saints are ordinary people like you and me who made it to heaven. They've done nothing that you and I cannot do, if we persevere in following Jesus Christ and living our lives according to His teaching.
Catholic devotion to the saints is nothing more than respect and admiration for the memory of the deceased heroes of the Church. We honor them as men and women of heroic virtue who can serve as our role models. They were no more perfect than are we; but, at the end of their lives – and hopefully, ours – they received from Our Lord his words, "Well done, good and faithful servant."
We also ask the saints to intercede for us. Have you ever asked anyone to pray for you when you were having a hard time? That is how Catholics "pray to" the saints – we pray with saints, not to them. As the Letter of James says, "The fervent prayer of a righteous person is very powerful."
Well-known saints like those below often are remembered in a special way on particular days during the year.
January – February – March – April – May – June
July – August – September – October – November – December
This Weeks Saints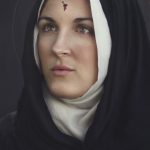 May 22
St. Rita of Cascia
___
National Day of Prayer and Remembrance for Mariners and People of the Sea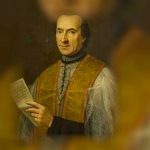 May 23
St. John Baptist de Rossi
___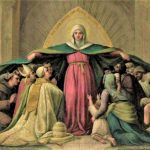 May 24
Mary Mother of the Church
___
World Day of Prayer for the Church in China
May 25
St. Mary Magdalene de Pazzi
___
National and International Missing Children's Day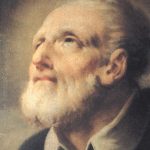 May 26
St Philip Neri
___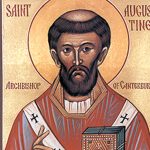 May 27
St. Augustine of Canterbury
___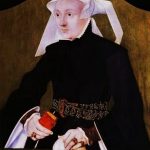 May 28
Bl. Margaret Pole
___


May 22
St. Rita of Cascia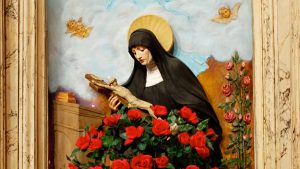 "Be at peace with your own soul, then heaven and earth will be at peace with you."

St. Rita of Cascia
Rita Lotti was born in 1386 in Umbria, Italy. Although attracted to the religious life, her parents betrothed her to Paolo Mancini, an abusive and harsh man who was immersed in the political disputes of the region. Rita endured her husbands cruelty for 18 unhappy years, until he was killed in a brawl with his political opponents. Her twin sons swore to avenge their father, but Rita's prayers and interventions moved them to forgive their father's murder.

She was prevented from joining the religious life by relatives of her husband's murderers, but through her prayerful efforts, the two sides were partially reconciled, allowing her to be admitted to the monastery of Saint Mary Magdalen in Cascia. She lived there for 40 years in prayer, doing works of charity, and working for peace in the region. She received visions and wounds on her forehead which resembled the crown of thorns.

On her deathbed, she asked a visitor from her home town to bring her a rose from her family's estate. It being January, her visitor had no real hope of obtaining a rose; however, arriving at her family's home, he found a single perfect rose blooming on an otherwise bare bush.
May 26
St. Philip Neri
Philip Neri was born in Florence of a poor family of four children. Philip received his early schooling in the humanities from the Dominican order in San Marino. After receiving a vision that was his Christian conversion, he left his family and traveled to Rome, where he initially found employment as a tutor.
As a young man, Philip had two passions in his life: learning and the poor. He studied a multitude of subjects, including philosophy and theology; then, after three years, he sold his books to give money to the poor. For 3 years, Philip lived as a hermit in Rome. But this life became more and more difficult. His cheerful disposition, genuine love for others, and bold spirituality led him to wander the streets of Rome, making acquaintances wherever he went. He was a true evangelist and attracted lay persons from all levels of Roman society, eventually forming a discussion and prayer group with a vocation to tend to the poor. He became friends with both the poor and with those who were well known, including Ignatius of Loyola, Pius V and Charles Borromeo.
Although his desire was become a missionary or to live a solitary hermetical life, he received further visions that compelled him to remain in Rome. He became a priest in 1551 and served the faithful in San Girolamo. He was sought after as a confessor; he had the gift of knowledge of a penitent's sins before the person actually confessed them. He began working with youth, finding safe places for them to play, becoming involved in their lives.
Some of Philip's followers became priests and lived together in community. This was the beginning of the Oratory, the religious institute he founded in 1575. The mission of the Oratory was to live in prayerful community while preaching, teaching, and caring for the poor. They held daily services in the afternoon, consisting of informal talks, and vernacular hymns and prayers.
Philip's advice was sought by many of the prominent figures of his day. He is one of the influential figures of the Counter-Reformation. His work with lay persons was directly counter to the widespread clericalism affecting the Church at that time. He was equally appreciated as an advisor to the rich and famous, converting to personal holiness many of the influential people within the Church itself. He died on the feast of Corpus Christi in in 1595 after hearing confessions.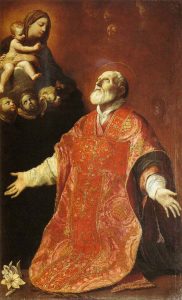 A joyful heart is more easily made perfect than a downcast one.

St. Philip Neri