What is a Saint?
In the Catholic Church, the saints are ordinary people like you and me who made it to heaven. They've done nothing that you and I cannot do, if we persevere in following Jesus Christ and living our lives according to His teaching.
Catholic devotion to the saints is nothing more than respect and admiration for the memory of the deceased heroes of the Church. We honor them as men and women of heroic virtue who can serve as our role models. They were no more perfect than are we; but, at the end of their lives – and hopefully, ours – they received from Our Lord his words, "Well done, good and faithful servant."
We also ask the saints to intercede for us. Have you ever asked anyone to pray for you when you were having a hard time? That is how Catholics "pray to" the saints – we pray with saints, not to them. As the Letter of James says, "The fervent prayer of a righteous person is very powerful."
Well-known saints like those below often are remembered in a special way on particular days during the year.
January – February – March – April – May – June
July – August – September – October – November – December
This Weeks Saints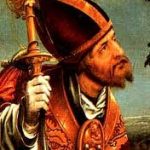 September 25
St. Finbarr
___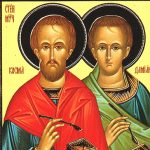 September 26
SS. Cosmos and Damian
___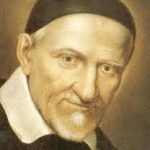 September 27
St. Vincent de Paul
___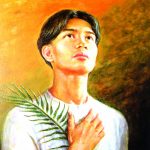 September 28
St Lorenzo de Ruiz of Manila
___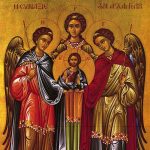 September 29
Feast of the Archangels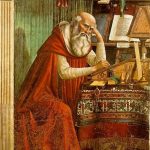 September 30
St. Jerome
___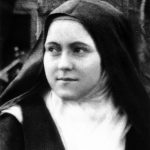 October 1
St. Therese of Lisieux


September 23
St Pio of Pietrelcina
Padre Pio (Francesco Forgione) was born to Giuseppa and Grazio Forgione, in the small farming town of Pietrelcina, Italy on May 25, 1887. At the age of five, he dedicated his life to God. When Francesco was fifteen years old, he was admitted to the novitiate of the Capuchin Order of the Friars Minor. On August 10, 1910, at the age of twenty-three, Padre Pio was ordained to the priesthood.
The celebration of the Holy Mass was for Padre Pio, the center of his spirituality. Due to the long pauses of contemplative silence into which he entered at various parts of the Holy Sacrifice, his Mass could sometimes last several hours. "God knows that I want to say Mass just like any other priest, but I cannot do it."
His day began at 2:30 a.m. when he would rise to begin his prayers and to make his preparation for Mass. He was able to carry on a busy apostolate with only a few hours of sleep each night and an amount of food that was so small (300-400 calories a day) that his fellow priests stated that it was not enough food even to keep a small child alive. Between Mass and confessions, his workday lasted 19 hours. He never read a newspaper or listened to the radio or watched television. Pilgrims began to come to him by the thousands, from every corner of the world
The marks of the stigmata, the wounds of Christ, appeared on Padre Pio's body, on Friday, September 20, 1918, while he was praying before a crucifix and making his thanksgiving after Mass. He was thirty-one years old and became the first stigmatized priest in the history of the Church. With resignation and serenity, he bore the painful wounds in his hands, feet, and side for fifty years.
Serene and well prepared, he surrendered to Sister Death on September 23, 1968, at the age of eighty-one. He died as he had lived, with his Rosary in his hands. His last words were Gesú, Maria – Jesus, Mary – which he repeated over and over until he breathed his last. He had often declared, "After my death, I will do more. My real mission will begin after my death."
Drawing approximately eight million pilgrims each year, San Giovanni Rotondo, where St. Pio lived and is now buried, is second only to the shrine of Our Lady of Guadalupe in Mexico in its number of annual visitors.