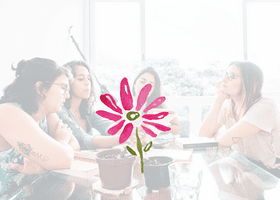 Walking with Purpose is a ministry with the goal of helping all women and girls to encounter Jesus Christ personally, and to make Scripture and the teachings of the Catholic Church relevant and applicable to women.
Walking with Purpose is a national organization that has designed and offered a wide variety of separate study programs for women. In the Parish of St. Ann, these programs are delivered locally by a team of experienced parishioners; for more information, please call Rhonda Tully at (410) 218-8268, or email her here.
Currently, Walking with Purpose at St. Ann Parish is sponsoring the following Bible studies:
Women's Day of Reflection
Walking With Purpose Ministry at St. Ann's is hosting a Women's Day of Reflection on Saturday, September 23rd, from 8:30am to 2:30pm in St. Ann Church & Delaney Hall. The focus is on "EUCHARIST: God's Gift to Us", and will feature a guest presenter Sr. Dede Byrne—Sister, surgeon, soldier.  Mass, adoration, confession, presentations, a continental breakfast, and a catered luncheon are included in the cost of $25.
For additional information, please click here
Touching the Divine
Wednesday mornings and evenings
More information to follow