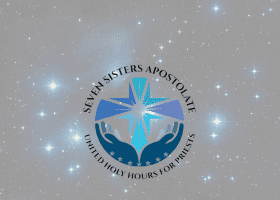 Do you have the gift of intercessory prayer? If so, consider becoming a member of the Seven Sisters Apostolate.
This ministry consists of a group of women who pray for our priests each week. Each member is assigned a particular day of the week when one hour of intercessory prayer is offered for a specific priest, ideally in front of the Blessed Sacrament. On any given week, the hour of prayer can be shifted within the specified day to the convenience of the intercessor.
Materials are available to support the hour of prayer. Accommodations are allowed for homebound intercessors and for those who occasionally are unable to be in Church for their hour.
There are no periodic meetings. The commitment to pray lasts for one year and those who wish to continue for an additional year may meet to say a prayer of commitment together.
If you feel a call to this spiritual work of mercy, please contact Mary Alice Mauser at 302-616-3549 or mam@fred-mauser.com for more information.