Like most religions, Catholicism has specific prayers that believers say at certain times or on certain occasions. Vocal prayer is an important part of Catholic tradition. It underlines the fact that the Incarnation of God's Son joined both the spiritual and physical and showed us the way to holiness in both parts of our human nature, joined together. "Vocal prayer is an essential element of the Christian life. To his disciples, drawn by their Master's silent prayer, Jesus teaches a vocal prayer, the Our Father." (CCC 2700) When we pray to God vocally, we acknowledge that we are both physical and spiritual beings, and that both parts can and should give praise to God.
The prayers on this page are a part of the beauty of the Catholic faith tradition. They are drawn from Scripture, from the insights of the saints, and ultimately, from the Holy Spirit. "Through a living transmission (Sacred Tradition) within 'the believing and praying Church,' the Holy Spirit teaches the children of God how to pray," (CCC 2650), because by ourselves, "we do not know how to pray as we should, but the Spirit Himself intercedes for us." (Romans 8:26)
These prayers can instruct us, guide us, and our hearts to the graces which God continually invites us to share with him. Reciting a prayer, however, is not the same as praying. In order for these words to become true prayer, they must not only use the breath of our lungs, but also the breath of the Spirit that lives within us.
Do you have a favorite prayer that you'd like included here? Send it to us by clicking below. We can't promise to include it, but we'd like to take a look and see if we can fit it in.


The month of June is traditionally dedicated to the Sacred Heart of Jesus
Pope's prayer intention
for June 2023

Each year, the Holy Father asks for our prayers for a specific intention each month. You are invited to answer the Holy Father's request and to join with many people worldwide in praying for this intention each month.
For the abolition of torture
We pray that the international community may commit in a concrete way to ensuring the abolition of torture and guarantee support to victims and their families.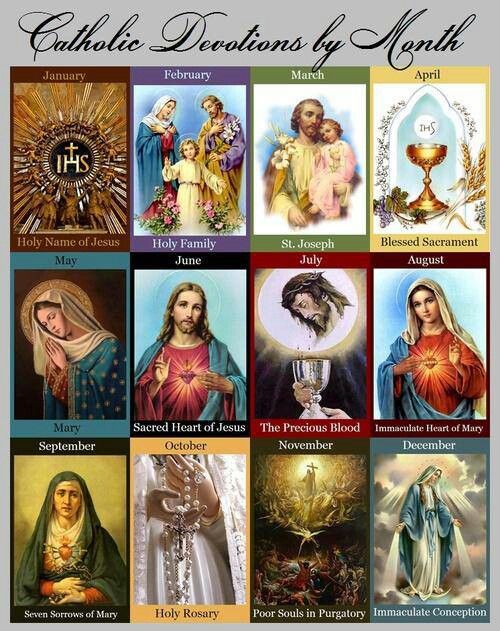 Seasonal Prayers for the Summer and Ordinary Time
(Summer, Father's Day, Independence Day, Feast of the Assumptiom)
Links to seasonal novenas can be found on the page containing the Schedule of Services.
"By awesome deeds you answer us with righteousness, O God of our salvation, the hope of all the ends of the earth and of the farthest seas; the one who by his strength established the mountains, being girded with might; who stills the roaring of the seas, the roaring of their waves, the tumult of the peoples."

(Psalm 65:5-7)

Giving Thanks For Summer
Father, Creator of all, thank You for summer!
Thank you for the warmth of the sun
and the increased daylight.
Thank You for the beauty I see all around me
and for the opportunity to be outside and enjoy Your creation.
Thank You for the increased time I have to be with my friends and family,
and for the more casual pace of the summer season.
Draw me closer to You this summer.
Teach me how I can pray
no matter where I am or what I am doing.
Warm my soul with the awareness of Your presence
and light my path with Your Word and Counsel.
As I enjoy Your creation, create in me
a pure heart and a hunger and a thirst for You.
Author Unknown
Prayer for a summer day
Long warm days…
The pace of life slows…
A time for picnics and rest in the shade…
Lord,
help me to rest a while
in the cooling shade of your presence.
Slow down my restless heart
and fill me with gentle compassion
for all your people.
Amen.
From www.beliefnet.com – author unknown
Simple Gifts
The smell of the bush after some rain,
the desert in flower on a red plain,
the coming of sleep after much pain;
For gifts simple and profound,
we thank you, loving Friend.
The sound of waves along the shore,
the children's laugher as they explore,
the promise of love for evermore:
For gifts simple and profound,
we thank you, loving Friend.
The sight of black swans on a calm lake,
the taste of summer in a fruit cake,
travelling by faith after a mistake:
For gifts simple and profound,
we thank you, loving Friend.
The scent of green grass from the cut lawn,
the pure-white blossom on a rough thorn,
the return of hope with a new dawn:
For gifts simple and profound,
we thank you, loving Friend.
The fragrance of bread just freshly made,
the brimming cup sipped in the shade,
the pardon of debts never repaid:
For gifts simple and profound,
we thank you, loving Friend.

written by Bruce Prewer, in More Australian Psalms.
Copyright ©B.D. Prewer & Open Book Publishers.
Summer Travel Prayer
Loving and merciful God, you have commissioned your angels to guide and protect us. Command them to be with us from our leaving until our return; keep us safe from all injury, accident or malice and sin. Through Jesus Christ, our Lord,
Author Unknown
Bless Our Fathers
Heavenly Father,
Today we ask You to bless our earthly fathers
for the many times they reflected the love, strength, generosity, wisdom and mercy that You exemplify in Your relationship with us, Your children.
We honor our fathers for putting our needs above their own convenience and comfort;
for teaching us to show courage and determination in the face of adversity;
for challenging us to move beyond self-limiting boundaries;
for modeling the qualities that would turn us into responsible, principled, caring adults.
Not all our fathers lived up to these ideals.
Give them the grace to acknowledge and learn from their mistakes.
Give us the grace to extend to them the same forgiveness that you offer us all.
Help us to resist the urge to stay stuck in past bitterness,
instead, moving forward with humility and peace of heart.
We ask your blessing on those men who served
as father figures in our lives
when our biological fathers weren't able to do so.
May the love and selflessness they showed us
be returned to them in all their relationships,
and help them to know that their influence
has changed us for the better.
Give new and future fathers the guidance they need
to raise happy and holy children,
grounded in a love for God and other people –
and remind these fathers that treating their wives
with dignity, compassion and respect is
one of the greatest gifts they can give their children.
We pray that our fathers who have passed into the next life
have been welcomed into Your loving embrace,
and that our family will one be day be reunited in your heavenly kingdom.
In union with St. Joseph,
whom you entrusted with Your Son,
we ask Your generous blessings today and every day.
Amen.
Tony Rossi
Summer Blessing for Families
May we make our homes places of relaxation,
joy, love, peace and safety.
May we be generous and considerate,
not thinking only about ourselves,
but helping others enjoy the blessings of the summertime.
Lord God, Creator of all things,
guide our steps and strengthen our hearts
during these months of summer and vacation days.
Grant us refreshment of mind and body.
May we constantly strive to make a meaningful difference
in the lives of our loved ones and in the world around us
as we enjoy the warm days of summertime.
The Catholic Review
For Our Country on the 4th of July
Almighty God,
Ruler of all the peoples of the earth,
forgive our shortcomings as a nation,
purify our hearts to see and love the truth, give wisdom to our leaders,
and steadfastness to our people,
and bring us at last
to that fair city of peace whose foundations are mercy,
justice, and goodwill,
of which you are the designer and builder;
through your Son, Jesus Christ our Lord.
Woodrow Wilson
Summer Heat
God, as the heat of summer intensifies, we pray for those without air conditioning or electricity, clean water, and health care.
For all of our neighbours in "survival mode", give them the communities and resources to not only survive, but to thrive this summer.
And Lord, remind us to give you a drink when we see you thirsty.
Amen
from Sojourners website
Prayer for the Feast of the Assumption
Immaculate Virgin, Mother of Jesus and our Mother,
we believe in your triumphant assumption into heaven
where the angels and saints acclaim you as Queen.
We join them in praising you and bless the Lord
who raised you above all creatures.
With them we offer you our devotion and love.
We are confident that you watch over our daily efforts and needs,
and we take comfort from the faith in the coming resurrection.
We look to you, our life, our sweetness, and our hope.
After this earthly life, show us Jesus,
the blest fruit of your womb,
O kind, O loving, O sweet virgin Mary.
Missionary Society of St. Columban

For those who practice the Catholic faith, the following prayers are important in and of themselves. And, while this list is certainly not an exhaustive one, it will illustrate the different kinds of Catholic prayers that help to form the treasury of prayers in the Church.
The Sign of the Cross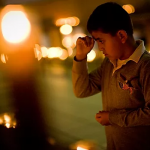 In the name of the Father, and of the Son, and of the Holy Spirit. Amen
Our Father (Lord's Prayer)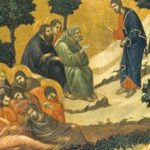 Our Father, who art in heaven,
hallowed be Thy name;
Thy kingdom come;
Thy will be done on earth as it is in heaven.
Give us this day our daily bread;
and forgive us our trespasses
as we forgive those who trespass against us;
and lead us not into temptation,
but deliver us from evil.
Amen.
Hail Mary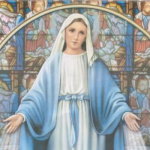 Hail Mary, full of grace!
The Lord is with thee.
Blessed art thou among women,
and blessed is
the fruit of thy womb, Jesus.
Holy Mary, Mother of God,
pray for us sinners,
now and at the hour
of our death.
Amen.
Glory Be (Doxology)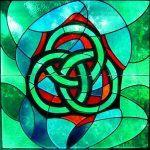 Glory be to the Father,
and to the Son,
and to the Holy Spirit.
As it was in the beginning,
is now and ever shall be,
world without end.
Amen.
Apostle's Creed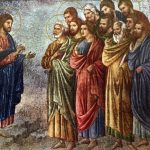 I believe in God, the Father almighty,
creator of heaven and earth.
I believe in Jesus Christ, His only Son, our Lord.
He was conceived by the power of the Holy Spirit
and born of the Virgin Mary.
He suffered under Pontius Pilate,
was crucified, died, and was buried.
He descended to the dead.
On the third day he rose again.
He ascended into heaven,
and is seated at the right hand of the Father.
He will come again to judge the living and the dead.
I believe in the Holy Spirit,
the holy catholic Church,
the communion of saints,
the forgiveness of sins,
the resurrection of the body,
and the life everlasting.
Amen.
Nicene Creed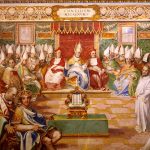 I believe in one God,
the Father almighty,
maker of heaven and earth,
of all things visible and invisible.
I believe in one Lord Jesus Christ,
the Only Begotten Son of God,
born of the Father before all ages.
God from God, Light from Light,
true God from true God,
begotten, not made, consubstantial with the Father;
through him all things were made.
For us men and for our salvation
he came down from heaven,
and by the Holy Spirit was incarnate of the Virgin Mary,
and became man.
For our sake he was crucified under Pontius Pilate,
he suffered death and was buried,
and rose again on the third day
in accordance with the Scriptures.
He ascended into heaven
and is seated at the right hand of the Father.
He will come again in glory
to judge the living and the dead
and his kingdom will have no end.
I believe in the Holy Spirit, the Lord, the giver of life,
who proceeds from the Father and the Son,
who with the Father and the Son is adored and glorified,
who has spoken through the prophets.
I believe in one, holy, catholic and apostolic Church.
I confess one Baptism for the forgiveness of sins
and I look forward to the resurrection of the dead
and the life of the world to come.
Amen.
Anima Christi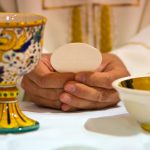 Soul of Christ, make me holy
Body of Christ, be my salvation
Blood of Christ, let me drink your wine
Water flowing from the side of Christ, wash me clean
Passion of Christ, strengthen me
Kind Jesus, hear my prayer
Hide me within your wounds
And keep me close to you
Defend me from the evil enemy
And call me at the hour of my death
To the fellowship of your saints
That I might sing your praise with them
for all eternity. Amen.
Divine Praises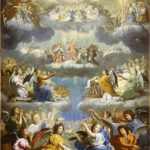 Blessed be God.
Blessed be His Holy Name.
Blessed be Jesus Christ, true God and true Man.
Blessed be the Name of Jesus.
Blessed be His Most Sacred Heart.
Blessed be His Most Precious Blood.
Blessed be Jesus in the Most Holy Sacrament of the Altar.
Blessed be the Holy Spirit, the Paraclete.
Blessed be the great Mother of God, Mary most Holy.
Blessed be her Holy and Immaculate Conception.
Blessed be her Glorious Assumption.
Blessed be the Name of Mary, Virgin and Mother.
Blessed be St. Joseph, her most chaste spouse.
Blessed be God in His Angels and in His Saints.
Act of Contrition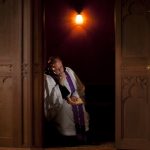 O my God, I am heartily sorry for having offended Thee, and I detest all my sins because of Thy just punishments, but most of all because they offend Thee, my God, Who art all-good and deserving of all my love. I firmly resolve, with the help of Thy grace, to sin no more and to avoid the near occasions of sin.
(You can find alternate versions of the Act of Contrition here)
Prayers to the Holy Spirit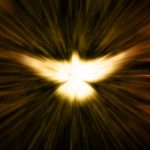 Come Holy Spirit
Come Holy Spirit, fill the hearts of your faithful and kindle in them the fire of your love. Send forth your Spirit and they shall be created. And You shall renew the face of the earth.
O, God, who by the light of the Holy Spirit, did instruct the hearts of the faithful, grant that by the same Holy Spirit we may be truly wise and ever enjoy His consolations, Through Christ Our Lord, Amen.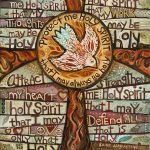 St. Augustine's Prayer to the Holy Spirit

Breathe into me, Holy Spirit,
that my thoughts may all be holy.
Move in me, Holy Spirit,
that my work, too, may be holy.
Attract my heart, Holy Spirit,
that I may love only what is holy.
Strengthen me, Holy Spirit,
that I may defend all that is holy.
Protect me, Holy Spirit,
that I may always be holy.
Acts of Faith, Hope, and Love
Act of Faith
O my God, I firmly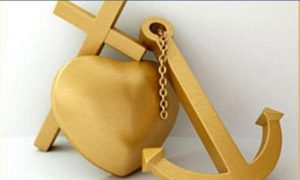 believe that you are one God in three divine Persons, Father, Son, and Holy Spirit. I believe that your divine Son became man and died for our sins, and that he will come to judge the living and the dead. I believe these and all the truths which the holy Catholic Church teaches, because you have revealed them, who can neither deceive nor be deceived. Amen.
Act of Hope
O my God, relying on your infinite mercy and promises, I hope to obtain pardon of my sins, the help of your grace, and life everlasting, through the merits of Jesus Christ, my Lord and Redeemer. Amen.
Act of Love
O my God, I love you above all things with my whole heart and soul, because you are all good and worthy of all my love. I love my neighbor as myself for the love of you. I forgive all who have injured me and I ask pardon of those whom I have injured. Amen.
Praying the Rosary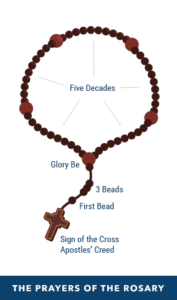 Make the Sign of the Cross.
Holding the Crucifix, say the Apostles' Creed.
On the first bead, say an Our Father.
Say one Hail Mary on each of the next three beads.
Say the Glory Be
For each of the five decades, announce the Mystery (perhaps followed by a brief reading from Scripture) then say the Our Father.
While fingering each of the ten beads of the decade, next say ten Hail Marys while meditating on the Mystery. Then say a Glory Be.
(After finishing each decade, some say the following prayer requested by the Blessed Virgin Mary at Fatima: O my Jesus, forgive us our sins, save us from the fires of hell; lead all souls to Heaven, especially those who have most need of your mercy.)
After saying the five decades, say the Hail, Holy Queen, followed by this dialogue and prayer:
V. Pray for us, O holy Mother of God.
R. That we may be made worthy of the promises of Christ.
Let us pray: O God, whose Only Begotten Son, by his life, Death, and Resurrection, has purchased for us the rewards of eternal life, grant, we beseech thee, that while meditating on these mysteries of the most holy Rosary of the Blessed Virgin Mary, we may imitate what they contain and obtain what they promise, through the same Christ our Lord. Amen.
(A prayer to St. Joseph may also follow.) Conclude the Rosary with the Sign of the Cross.
Prayers to Mary
Memorare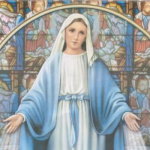 Remember,
O most gracious Virgin Mary,
that never was it known
that anyone who fled to thy protection,
implored thy help,
or sought thine intercession
was left unaided.
Inspired by this confidence,
I fly unto thee,
O Virgin of virgins, my mother;
to thee do I come,
before thee I stand,
sinful and sorrowful.
O Mother of the Word Incarnate,
despise not my petitions,
but in thy mercy
hear and answer me.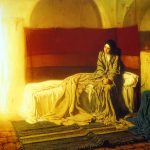 The Angelus
V – The Angel of the Lord declared unto Mary.
R – And she conceived by the Holy Spirit.
(Hail Mary….)
V – Behold the handmaid of the Lord.
R – Be it done unto me according to thy word.
(Hail Mary….)
V – And the Word was made Flesh.
R – And dwelt among us.
(Hail Mary….)
V – Pray for us, O Holy Mother of God.
R – That we may be made worthy of the promises of Christ.
Let us pray:
Pour forth, we beseech Thee, O Lord, Thy grace into our hearts;
that, we to whom the Incarnation of Christ, Thy Son,
was made known by the message of an Angel,
may by His Passion and Cross,
be brought to the glory of His Resurrection
through the same Christ our Lord.
Amen.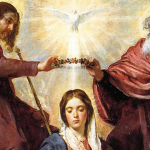 Hail Holy Queen
Hail, holy Queen, Mother of mercy, hail, our life, our sweetness and our hope. To thee do we cry, poor banished children of Eve: to thee do we send up our sighs, mourning and weeping in this vale of tears. Turn then, most gracious Advocate, thine eyes of mercy toward us, and after this our exile, show unto us the blessed fruit of thy womb, Jesus, O merciful, O loving, O sweet Virgin Mary! Amen.
Prayer to Mary, Undoer of Knots
Mother of fair love, I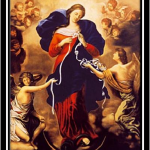 look to you.
Take into your hands the ribbon of my life,
and see the snarl of knots that keeps me bound
to sin, anxiety, and hopelessness.
I beg you, Mother, by your powerful intercession
and long fingers of love and grace,
undo the knots in my heart and in my life.
Free me to love as Christ loves.
Mary, Undoer of Knots, pray for us.
Prayers to and of the Saints
Prayer to St. Anthony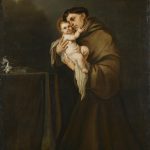 O Holy St. Anthony, gentlest of Saints, your love for God and Charity for His creatures, made you worthy, when on earth, to possess miraculous powers. Encouraged by this thought, I implore you to obtain for me (request). O gentle and loving St. Anthony, whose heart was ever full of human sympathy, whisper my petition into the ears of the sweet Infant Jesus, who loved to be folded in your arms; and the gratitude of my heart will ever be yours. Amen.
The St. Francis Prayer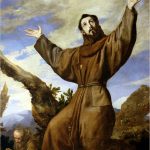 Lord, make me an instrument of Your peace. Where there is hatred, let me sow love; where there is injury, pardon; where there is doubt, faith; where there is despair, hope; where there is darkness, light; where there is sadness, joy.
O, Divine Master, grant that I may not so much seek to be consoled as to console; to be understood as to understand; to be loved as to love; For it is in giving that we receive; it is in pardoning that we are pardoned; it is in dying that we are born again to eternal life.
Guardian Angel Prayer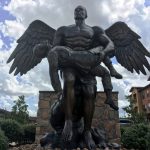 Angel of God
My guardian dear
To Whom His love
Commits me here
Ever this day
Be at my side
To light and guard
To rule and guide. Amen
Prayer to St. Michael

Holy Michael, the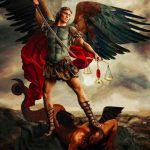 Archangel, defend us in battle. Be our safeguard against the wickedness and snares of the devil. May God rebuke him, we humbly pray; and do you, O Prince of the heavenly host, by the power of God cast into hell Satan and all the evil spirits who wander through the world seeking the ruin of souls.
Amen.

Prayer for Our Families
Prayer for our family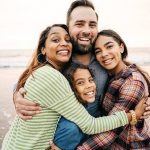 We bless your name, O Lord,
for sending your own incarnate Son,
to become part of a family,
so that, as he lived its life,
he would experience its worries and its joys.
We ask you, Lord,
to protect and watch over this family,
so that in the strength of your grace
its members may enjoy prosperity,
possess the priceless gift of your peace,
and, as the Church alive in the home,
bear witness in this world to your glory.
We ask this thought Christ our Lord.
Amen.
Prayer for a marriage
Heavenly Father, we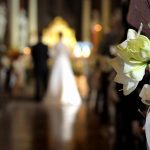 come before you to thank you for all you have done and continue to do in our lives and marriage. Lord, we come before you on this day, Father, asking for a stronger bond of unity in our marriage covenant.
Lord, we pray that you will give us the power to be a united front for you. Letting nothing come between us.
Assist us, God, to identify and work through everything that is not pleasing to you. So we can continually attain higher levels of unity in our marriage spiritually, physically, and mentally.
Father, we are thankful and happy to see the work of your hands. As we try our best to find your grace daily. We love you and thank you for all of these things.
In Jesus' name we pray. Amen!"
Prayer for a child
Heavenly Father, I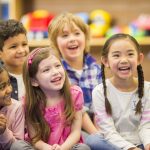 thank you that all good gifts come from you. I thank you that I can trust you for the future of my family. Please guide my child in every step they take. I pray they would know your provision and protection. Make steady their steps I pray. Amen

A Prayer in Gratitude for Our Mothers
Good and Gentle God,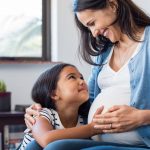 we pray in gratitude for our mothers and for all the women of theory who have joined with you in the wonder of bringing forth new life. You who became human through a woman, grant to all mothers the courage they need to face the uncertain future that life with children always brings.
Give them the strength to live and to be loved in return, not perfectly, but humanly.
Give them the faithful support of husband, family and friends as they care for the physical and spiritual growth of their children.
Give them joy and delight in their children to sustain them through the trials of motherhood. Most of all, give them the wisdom to turn to you for help when they need it most.
– Author Unknown
A Prayer for Fathers
Heavenly Father,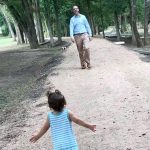 you entrusted your Son Jesus,
the child of Mary,
to the care of Joseph, an earthly father.
Bless all fathers
as they care for their families.
Give them strength and wisdom,
tenderness and patience;
support them in the work they have to do,
protecting those who look to them,
as we look to you for love and salvation,
through Jesus Christ our rock and defender.
Amen.
– Author Unknown
Prayers for Healing
St. Ignatius of Loyola's Prayer Against Depression
O Christ Jesus,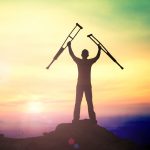 When all is darkness
And we feel our weakness and helplessness,
Give us the sense of Your Presence,
Your Love and Your Strength.
Help us to have perfect trust
In Your protecting love
And strengthening power,
So that nothing may frighten or worry us,
For, living close to You,
We shall see Your Hand,
Your Purpose, Your will through all things.
Amen.
Prayers for the Departed
Prayer for All the Souls of the Dead
O God, You willed that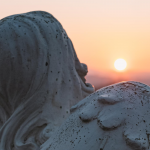 Your Only Begotten
Son, having conquered death, should pass into
the realm of heaven. I pray that all Your
faithful departed servants, who have left
this earthly life, may join Your Son, our Lord
Jesus Christ, and gaze eternally on You,
their Creator and Redeemer, in heaven.
Amen!
Prayer for the Dead

Loving God our Father,
Your power brings us to life.
Your care guides our lives,
and by Your command we return to the dust from which we came.
Father, those who pass on still live in Your presence,
their lives are changed but do not end.
I plead in hope for my family,
relatives and friends,
and for all the dead known only to You.
Prayers during the day
Morning Prayer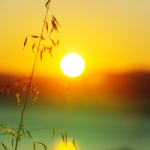 O Jesus through the most pure Heart of Mary, I offer You all my prayers, works, joys and suffering of this day, for all the intentions of Your Sacred Heart, in union with the Holy Sacrifice of the Mass throughout the world, in reparation for my sins, and in particular for the intentions of the Holy Father the Pope. Amen.
Evening Prayer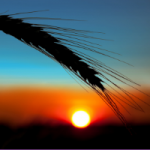 Protect us, Lord, as we stay awake; watch over us as we sleep, that awake, we may keep watch with Christ, and asleep, rest in his peace.

Prayer before meals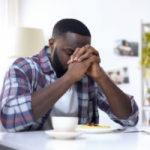 Bless us, O Lord
And these Thy gifts,
Which we are about to receive
From Thy bounty,
Through Christ our Lord.
Amen.
Prayer after meals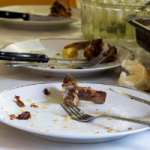 We give Thee thanks, Almighty God, for all thy benefits,
Who livest and reignest, world without end.
Amen.
Prayer for peace at work
Lord,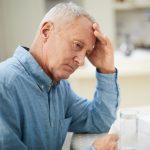 May your love overcome my resentment
May your strength overcome my exhaustion
May your truth overcome deceit
May your hope overcome apathy
May your light overcome darkness
May your wisdom overcome confusion
May your peace overcome my stress
So that I might rise up with a new heart,
With rest and balance
With transformed thoughts
To face the challenges afresh
And bring the beautiful fragrance of your kingdom
Into my workplace.
Amen.
Short prayers when time is limited
1. Lord Jesus Christ,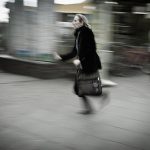 Son of God, have mercy on me, a sinner.
2. Sacred Heart of Jesus, I trust in Thee.
3. Jesus, Mary, and Joseph, I give you my heart and my soul.
4. Come, Holy Spirit, fill the hearts of Thy faithful, and enkindle in them the fire of Thy love.
5. My God, and my all!
6. Jesus, my God, I love Thee above all things.
7. Eucharistic Heart of Jesus, on fire with love of us, inflame our hearts with love of Thee.
8. Jesus, meek and humble of heart, make my heart like unto thine.
9. Blessed be God.
10. Heart of Jesus burning with love of us, inflame our hearts with love of Thee.