"By the sacred anointing of the sick and the prayer of the priests the whole Church commends those who are ill to the suffering and glorified Lord, that he may raise them up and save them. And indeed she exhorts them to contribute to the good of the People of God by freely uniting themselves to the Passion and death of Christ."

CCC 1499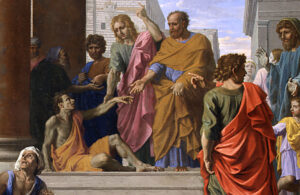 We read about the sacrament of the Anointing of the Sick in the Epistle of St. James: "Is anyone among you sick? Let him bring in the presbyters [priests] of the Church, and let them pray over him, anointing him with oil in the name of the Lord. And the prayer of faith will save the sick man, and the Lord will raise him up, and if he be in sins, they shall be forgiven him." (James 5:14-15)
As described in the Gospel of Mark (6:12-13), the apostles were sent forth and "anointed with oil many sick people, and healed them." Just as in apostolic times, the sacrament of the Anointing of the Sick strengthens us in sickness.
But the healing grace of the sacrament is directed primarily at our spiritual selves: Its grace comforts us in our sufferings and enables us to face our mortality unafraid, with the utmost trust in God's care for us. It chiefly aids us in embracing God's will without fear or anxiety. Although it is possible that the sacrament can confer physical healing, it does so only when God judges it to be expedient for the soul's salvation.
The sacrament conveys peace and fortitude and lessens anxiety and discouragement. For this reason, the Church recommends that it be administered not only to those who are close to death, but to any who suffer from physical, mental, or spiritual illness. Jesus, God's Suffering Servant, is always ready to take up our infirmities and bear our diseases.