April 4
St. Isidore of Seville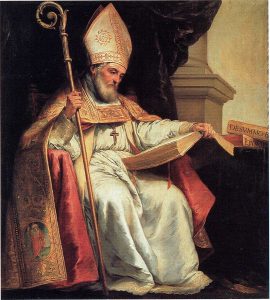 Isidore was born in a 6th century Spain which was split between Catholic Spaniards and Arian Visigoths. He came from a pious family (three of his siblings were also saints) and assisted his brother St. Leander in converting the Arian Goths to Catholicism and reuniting the country. He succeeded his brother Leander as Archbishop of Seville.
Isidore was originally a poor student, but at an early age he gave his issue over to God. He subsequently developed into an amazing scholar, and is still known as "The Schoolmaster of the Middle Ages". He was a prolific author, writing a Rule for religious orders, a dictionary, a history of Goths, a history of the world, and an encyclopedia which was used for 900 years. He founded numerous schools and seminaries, and was responsible for introducing Aristotelian philosophy to Spain. His liturgical and theological writings caused him to be named a Doctor of the Church; he is sometimes referred to as the patron saint of computer users and the Internet.


April 11
St. Stanislaus of Cracow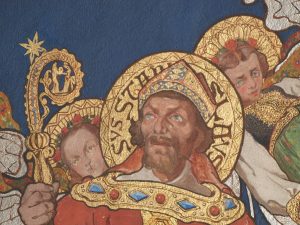 Stanislaus was born of Polish nobility near the city of Cracow. After the death of his parents, he distributed his inheritance to the poor and was ordained as a priest. He was elected bishop of Cracow in 1072 and the example of his devout life and his preaching led to the conversion of many of his penitents. He was a vociferous critic of sinful living, criticizing peasants and royalty equally. He confronted King Boleslaus the Cruel over his seizure of church lands, his unjust wars and his immoral living. Although Boleslaus initially repented, his backsliding brought intense criticism from Stanislaus, despite charges of treason and numerous death threats. When Stanislaus finally excommunicated him, an enraged Boleslaus murdered him with his own hands at the altar as he said mass.
With John the Baptist, Thomas More, Thomas Becket, and Oscar Romero in their own times, Stanislaus showed the prophetic courage required to stand against the excesses of those in power.


April 16
St. Bernadette Soubirous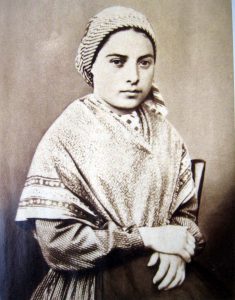 Bernadette Soubirous was born in 1844, the oldest child of an extremely poor miller. She was a poor student and her health was fragile when, at the age of 14, a young lady appeared to Bernadette. The lady instructed Bernadette to return to the grotto, where she appeared to the young peasant girl a total of 18 times. At one of these times, the lady instructed Bernadette to dig in a certain spot where a spring streamed forth. Almost immediately cures were reported by those who drank there.
During the apparition on March 25, the lady identified herself as the Immaculate Conception. Having only a very rudimentary knowledge of her faith, she did not understand the term, but reported it to her parish priest. Bernadette reported the desire of the lady that a chapel should be built at the grotto. In 1862 Church authorities confirmed the authenticity of the apparitions and authorized the worship of Our Lady of Lourdes.
During her life, Bernadette was hounded by the public until at last she fled to a hospice school of an order of nuns. Five years later, she joined the Sisters of Charity in Nevers where she served as sacristan and infirmarian until her death from tuberculosis in 1879, at the age of 35.


April 25
St. Mark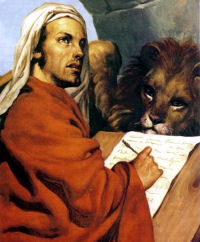 Like one of the other Gospel writers (Luke), St. Mark was not one of the original 12 apostles. We can't be sure whether or not he ever encountered Jesus personally. But what we are certain of is that he was a missionary companion of his cousin, St. Barnabas and St. Paul, and a close friend of St. Peter, who called him "my son". When Saint Peter escaped from prison, he went to the home of Mark's mother.
Mark's Gospel is the oldest and shortest of the four Gospels. Mark's Gospel was probably written between 60 and 70 A.D., and was based upon the teachings of St. Peter. It is believed Mark provided both Luke and Matthew with basic sources for their Gospel's. He is held to be the first bishop of Alexandria, Egypt; and is claimed as its patron by the city of Venice.


April 28
St. Gianna Beretta Molla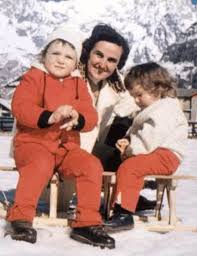 Gianna Beretta was born near Milan in 1922, the tenth of thirteen children. Growing up, she became a devout and prayerful young woman, active in the Society of St. Vincent de Paul and the Catholic Action movement. She studied medicine in university, with a specialty in pediatrics, and opened he own medical practice in 1949.
Gianna met Pietro Molla, who worked in her office, and in 1955 the two were married. The couple had three children, and, sadly, suffered two miscarriages. Early during her 6th pregnancy, doctors discovered a large ovarian cyst. She allowed her surgeon to remove the tumor itself, but refused an abortion and a hysterectomy which were necessary to save her life, but which would have ended the life of her child.
On April 21, 1962, her daughter Gianna Emanuela Molla was successfully delivered by Caesarean section. A week later, Gianna Beretta died from complications. She was canonized in 1994 during a ceremony attended by her husband and her children. Today, her daughter Gianna Emanuela Molla is a physician herself, and involved in the pro-life movement.