August 10
St. Lawrence of Rome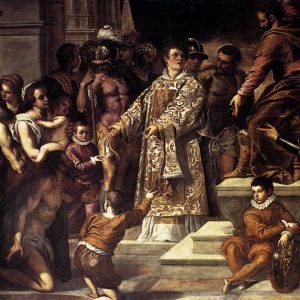 Deacon Lawrence was one of seven deacons in Rome who were in charge of giving help to the poor and the needy. At that time, in the third century, the emperor Valerian began a great persecution of Roman Christians, decreeing that all bishops, priests, and deacons were to be arrested and executed. When the bishop of Rome Pope St. Sixtus was arrested and condemned to death, Lawrence followed him weeping, "Father, where are you going without your deacon?"
Before this, Lawrence correctly perceived the avaricious nature of Emperor Valerian. The members of the Christian community had unswervingly obeyed the Gospel message by supporting the poor and needy of the city. Unbeknownst to the authorities, Lawrence began distributing to the poor of Rome the remaining money and treasures of the church and of its members who had been arrested.
When he himself was arrested, Valerian offered him clemency if he would bring to Valerian all of the fabled gold and silver treasures of the Church. At the end of the three days that Lawrence had requested to do this, Lawrence brought before him all the poor and needy of Rome, saying, "Here is the church's treasure!"
For his witness, he was ordered to be burned on a grating over a slow fire. Tradition holds that the execution of this lowly deacon sparked massive conversions to the Christian faith, so impressed were the residents of Rome with Lawrence's living witness to the message of Jesus to recognize Him in the poor of the world.


August 14
St. Maximilian Kolbe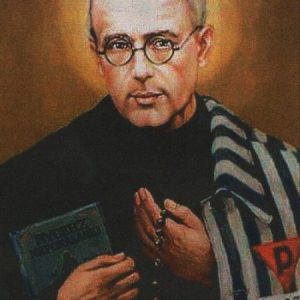 St. Maximilian Kolbe was born in Poland in 1894 and at about the age of 10 had a vision of the Virgin Mary. She offered him a white crown and a red crown, representing purity and martyrdom. He chose both, a foreshadowing of his life to come. In 1910, he joined the Conventual Franciscan Order. He studied in Rome and traveled to Japan and India as a missionary, but poor health forced him to return to Poland in 1936. During WWII he welcomed thousands of refugees, including over 2,000 Jews, and aided them in escaping the mounting tyranny.
Kolbe's monastery served as a publishing house for anti-Nazi pamphlets and tracts. Because of this and his good works, he himself was arrested by the Nazis in 1941 and was taken to the Auschwitz concentration camp. After a prisoner escaped toward the end of his second month in the camp, ten inmates were chosen at random for execution. He offered his life for that of one of the prisoners and was condemned to a slow death in a starvation bunker. Kolbe led the condemned in prayers and songs to Our Lady for two weeks, calming and comforting his fellows.
Kolbe was the last of the prisoners to remain alive after two weeks. On August 14, 1941, he was given a lethal injection of carbolic acid. He was canonized as a Saint and Martyr of Charity in 1982.


August 28
St. Augustine of Hippo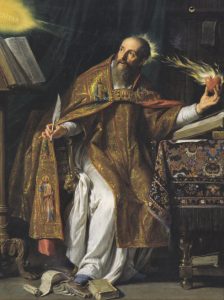 Saint Augustine of Hippo (born Aurelius Augustinus on November 13, 354 in Numidia) is considered to be the patron saint of brewers, because of his famous conversion from a life of parties, drunkenness, and wicked living. Through the prayers of his mother St. Monica and the influence of St. Ambrose, he finally became convinced of the truth of Christianity. He was baptized, became a priest, and became the bishop of Hippo from 396 to 430. He is considered one of the Latin Fathers of the Church and one of the most significant Christian thinkers since St. Paul. Augustine's adaptation of classical thought to Christian teaching created a theological system of great power and lasting influence. His most important writings include his Confessions (c. 400) and The City of God (c. 413–426), laid the foundation for much of medieval and modern Christian Memorial of thought. He died on August 28, 430 AD.
"What does love look like? It has the hands to help others. It has the feet to hasten to the poor and needy. It has eyes to see misery and want. It has the ears to hear the sighs and sorrows of men. That is what love looks like. "
—–Saint Augustine


August 29
St. Jeanne Jugan
Jeanne Jugan was born in Brittany, the sixth of eight children. Her father, a poor Breton fisherman, was lost at sea when she was four. Her mother took odd jobs to keep her children fed. Because of the persecutions that occurred during the French Revolution, she taught them the faith secretly.

Jeanne grew up working as a shepherdess and a maid. She took a job as a kitchen maid in the home of a devout Catholic, the Viscountess de la Choue, who took Jeanne with her when she visited the poor. Twice a young man proposed marriage, but she declined his offers, telling her mother, "God wants me for himself. He is keeping me for a work which is not yet founded." She took jobs as a nurse, servant, and companion.

At forty-seven, Jeanne was living in an apartment with two other women. In the winter of 1839, she found Anne Chauvin, an old blind woman, on her step. She tucked the woman into her own bed and slept in the attic. From this time, the elderly poor became the center of her concern. Within two years, she had found the means to begin a twelve bed shelter and hospital for them; a year later, she found an unused building which she used to accommodate forty elderly in need. People called her and the women who joined her the "Little Sisters of the Poor." Jeanne became "Mary of the Cross."

Within a few years, a priest who was helping Jeanne lead the new community inexplicably removed her from her post and sent her to beg for the sisters. A few years after that, Jeanne was told to retire to the motherhouse, where she dwelt for twenty-seven years in obscurity. Although the younger sisters did not know she was their foundress, she taught them, nevertheless: "The poor are our Lord." Jeanne died at eighty-six. Today her sisters serve in thirty-one countries.
"Be kind, especially with the infirm. Love them well … Oh yes! Be kind. It is a great grace God is giving you. In serving the aged, it is he himself whom you are serving."

St. Jeanne Jugan