January 4
St. Elizabeth Ann Seton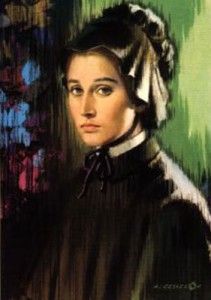 Privileged daughter, New York socialite, devoted wife, loving mother, convert, catechist, educator, foundress, and tireless servant of God. – Elizabeth Ann Bayley Seton was the first native born American to be canonized by the Catholic Church.
She was born two years before the American Revolution, grew up in the society of upper class New York City, and married a wealthy importer, William Seton. Upon the failure of her husband's business and his death from tuberculosis, she converted to Catholicism, alienating many of her Episcopalian friends and family. She established a religious community that became the first congregation of religious sisters to be founded in the United States, and its school was the first free Catholic school in America. This modest beginning marked the start of the Catholic parochial school system in the United States. The congregation was initially called the Sisters of Charity of St. Joseph's; today, six separate religious congregations trace their roots to the beginnings of the Sisters of Charity in Emmitsburg, MD. By 1830, the Sisters were running orphanages and schools as far west as Cincinnati and New Orleans and had established the first hospital west of the Mississippi in St. Louis.
She died of tuberculosis on January 4, 1821, at the age of 46, five years after losing her youngest daughter to the same disease.


January 17
St. Anthony of Egypt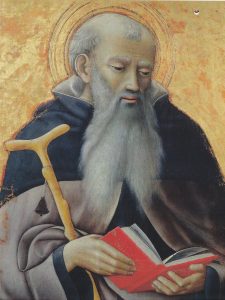 St. Anthony of Egypt (also known as St. Anthony the Abbot) was born around 251 AD. As a young man, Anthony was captivated by Jesus's message, "Go, sell what you have, and give to [the] poor. " Following the death of his parents when he was about 20, Anthony insured that his sister completed her education, then he sold his house, furniture, and the land he owned, gave the proceeds to the poor, and began a life of self-denial. At age 35 he moved to the desert to live alone.
Would-be students and admirers were drawn to him, and at age 54 he founded a monastery on the Nile. His example of modesty and courtesy led many to take up the monastic life, and to follow his unassuming ways. At 60, he hoped to be a martyr in the renewed Roman persecution of 311, fearlessly exposing himself to danger while giving moral and material support to those in prison. Famously, Anthony is said to have faced a series of supernatural temptations during his pilgrimage to the desert, enduring to his death at the age of 105.


January 21
St. Agnes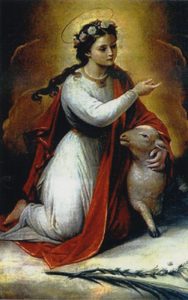 Almost nothing is known of this saint except that she was very young—12 or 13—when she was martyred in the last half of the third century. Agnes was said to be the foster-sister of another holy woman, Saint Emerentiana. Agnes was a beautiful girl whom many young men wanted to marry. Among those she refused, one reported her to the authorities for being a Christian. She was ordered to sacrifice to pagan gods and lose her virginity. Legend has it that she was confined to a house of prostitution so that she would be forced to lose her virginity. When one of the frequenters of the house looked upon her lustfully, he lost his sight but had it restored by her prayer. Agnes was condemned, executed, and buried near Rome in a catacomb that eventually was named after her.
To this day, two spotless lambs are blessed at her church in Rome, Italy on her feast day, and then their wool is woven into the palliums (bands of white wool) which the pope confers on archbishops as symbol of their jurisdiction.


January 25
Conversion of St. Paul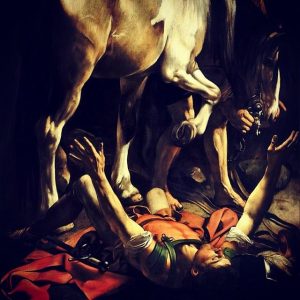 Saul of Tarsus (also known by his Greek name "Paul") was a religious zealot, charged by the Jewish high priest with a mission to arrest followers of Jesus in Damascus, to bind them, and to bring them to Jerusalem for trial. His entire life was forged by his experience on his way to Damascus to make those arrests. He was stuck blind by a great light, from which emanated the accusation, "Saul, Saul, why do you persecute me?" He became a faithful follower of Jesus and supporter of his church. He became the great Apostle to the Gentiles, making three missionary journeys which brought him to the great centers of Asia Minor and southern Europe, and made many converts. He authored many of the books of the New Testament; in one of his letters to the early Christian community in Galatia, he summed up his life aspiration as, "God forbid that I should glory, save in the cross of our Lord Jesus Christ, by whom the world is crucified unto me, and I unto the world."