July 6
St. Maria Goretti
Maria was born on October 16, 1890 in Corinaldo, in the Province of Ancona, then in the Kingdom of Italy. Her family's prospects were so diminished that, at the age of five, her family was forced to give up their farm and work for other farmers. When she was nine, her mother and father moved to Ferriere di Conca in an effort to find better fields to till. They lived in an old barn that they shared with another family, the Serenellis, which included Giovanni Serenelli and his son, Alessandro. Two years into this venture, Maria's father died of malaria. Her mother Assunta continued the backbreaking work and increasingly relied on Maria for help with the other five children.

When her mother broke the news to Maria that her First Communion would have to be put off because there was no time for her to be prepared. Maria was not daunted. She found the time to go to town for catechism lessons, and at twelve she was able to receive our Lord. She became a regular communicant and often was seen with a rosary wrapped about her fingers.

Only a few months later, twenty-year-old Alessandro Serenelli came in from the fields one day and attempted to sexually assault the twelve-year old Maria. Even as Maria fought his advances, her concern was for Alessandro's soul. Despite his choking her, she refused to submit. He stabbed her cruelly with an awl, eleven times. As she tried to reach the door, he stabbed her three more times. She was found still alive, and taken to the hospital The following day, having expressed forgiveness for Alessandro and stating that she wanted to have him in Heaven with her, she succumbed to her injuries.

Alessandro was quickly captured. Subject to life imprisonment, his sentence was commted to 30 years, due to his age and relative lack of maturity. After three years in prison, he repented after a dream of Maria giving him a lily of peace that burned his hands. When he was released from prison, he sought and was given forgiveness by Assunta Goretti; they attended mass together the following day. Both he and Assunta attended Maria's canonization proceedings in 1950. He spent the rest of his life as a lay brother of the Capuchin order, dying in 1970.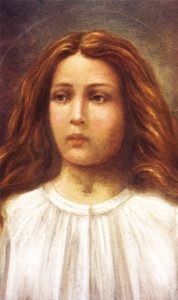 July 11
St. Benedict of Nursia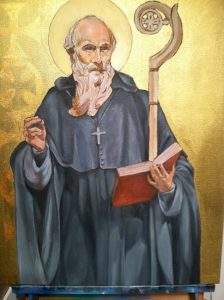 St. Benedict was born into a noble Roman family at Nursia in Umbria in about 480; his twin sister was St. Scholastica. He was sent to Rome to be educated, but was confounded by the apathetic attitude of his fellow students. He fled to live a solitary life at Subiaco as a hermit. After living in a cave in the mountains for two years as a hermit, he had acquired such a reputation that disciples came in numbers to join him and important Roman families entrusted him with the education of their children. Some monks asked him to be their leader, but were so resentful of his discipline that they tried to poison him; Benedict blessed the cup of poison and it shattered.
He returned to his cave, but soon after, more followers begged him for his leadership. In the beginning he founded twelve small monasteries where monks lived in groups of twelve. . He reformed monastic life, by applying a strict discipline to those who followed him. Under his guidance, as abbot, the monks vowed to seek God and devoted themselves to work and prayer.
A few years later St. Benedict left the district of Subiaco to found the great abbey of Monte Cassino on the heights of Campania, north of Naples. There he wrote his Rule in which are wonderfully combined the Roman genius and the monastic wisdom of the Christian East. The Rule became the engine that completely reformed monastic life at that time. and through the Middle Ages. It prescribed a life of liturgical prayer, study, manual labor, and living together in community under a common abbot. The rule is still observed by two great monastic orders: The Benedictines themselves and the Cistercians.
St. Benedict died in 547, just a few days after his twin sister, St. Scholastica.


July 14
St. Kateri Tekakwitha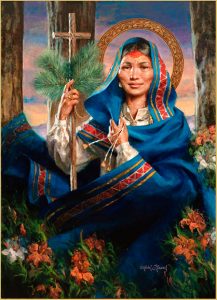 St. Kateri Tekakwitha, born in 1656, is the first Native American to be recognized as a saint by the Catholic Church. Her mother was an Algonquin, who was captured by the Mohawks and who took a Mohawk chief for her husband.
At the age of four, her entire family died of smallpox. She herself survived and was adopted by her uncle, but was terribly scarred and nearly blinded by the disease. When her adoptive parents arranged a husband for her, she refused to marry. At age 19, she converted to Catholicism, taking a vow of chastity and pledging to marry only Jesus Christ. She was viciously persecuted by her tribe and fled to a Christian community near Montreal.
Kateri was very devout and prayed for the conversion of her fellow Mohawks. According to the Jesuit missionaries that served the community where Kateri lived, she often fasted and when she would eat, she would taint her food to diminish its flavor. Always sickly, she sadly died only five years after her conversion. Admired for her piety and austere lifestyle, she became known as the "Lily of the Mohawks." Her grave became a pilgrimage site for Native Americans and French settlers.


July 22
St. Mary Magdalene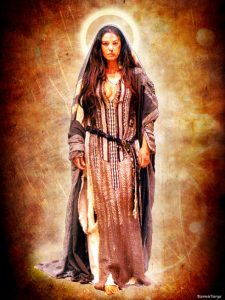 Mary of Magdala was neither a prostitute nor – certainly not – the wife of the Lord. She was simply the woman possessed by seven demons who was rescued by Jesus and who followed him faithfully for the rest of her life. Angels were the messengers of the Incarnation; God granted this woman, one of us, to be the messenger of the Resurrection. She followed Him during His ministry, to the cross and to the empty tomb: She has always been the example of great love and great forgiveness, one of those close to Jesus who grasped the truth of God's love for human beings and spent her life bearing witness to that love.






July 31
St. Ignatius Loyola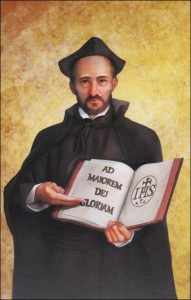 St. Ignatius Loyola was born in 1491, one of 13 children of a family of minor nobility in northern Spain. As a young man, Ignatius Loyola was inflamed by the ideals of courtly love and knighthood and dreamed of doing great deeds.
But in 1521 Ignatius was gravely wounded in a battle with the French. While recuperating, Ignatius Loyola experienced a conversion. Reading the lives of Jesus and the saints made Ignatius happy and aroused desires to do great things. Ignatius realized that these feelings were clues to God's direction for him.
Over the years, Ignatius became expert in the art of spiritual direction. He collected his insights, prayers, and suggestions in his book the Spiritual Exercises, one of the most influential books on the spiritual life ever is written. With a small group of friends, Ignatius Loyola founded the Society of Jesus or the Jesuits. Ignatius conceived the Jesuits as "contemplatives in action." This also describes the many Christians who have been touched by Ignatian spirituality.