May 1
St. Joseph the Worker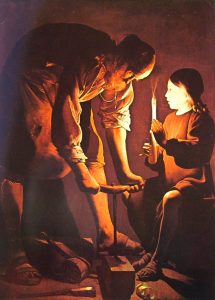 The feast of St. Joseph the Worker was established by Pope Pius XII in 1955 in order to Christianize the concept of labor and give to all workmen a model and a protector. By the daily labor in his shop, offered to God with patience and joy, St. Joseph provided for the necessities of his holy spouse and of the Incarnate Son of God, and thus became an example to all laborers. "Workmen and all those laboring in conditions of poverty will have reasons to rejoice rather than grieve, since they have in common with the Holy Family daily preoccupations and cares"(Leo XIII).


May 10
St. Damien de Veuster of Moloka'i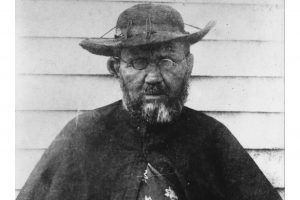 Jozef De Veuster grew up in rural Belgium, the youngest of seven children. Three of his older siblings had taken religious vows and inspired Jozef to do the same. He joined the Congregation of the Sacred Hearts of Jesus and Mary and took the religious name Damien. At the age of 20, while still a seminarian in France, Damien de Veuster volunteered for mission work. His wish was granted and he was assigned to Hawaii, where he was ordained.
Two years later in 1866, the government of Hawaii established a leper colony on Molokai. It was believed at that time that the disease was highly contagious; so, victims of the disease were forced into quarantine, suffering the worst of conditions and living in complete anarchy. Fr. Damien made the tri[ to Molokai where he provided the missing leadership for the colony. He organized services, such as medical care and burial of the dead, as well as building houses, schools, and eventually a church, St. Philomena. Becoming attached to the people of the colony, he asked permission to stay there, which was granted.
In 1885, Fr. Damien contracted leprosy himself. Until he died four years later, he continued his ministry, despite his body being severely crippled by the disease. When Hawaii became a state in 1959, it selected Damien as one of its two representatives in the Statuary Hall at the US Capitol. The day of his passing, April 15, is a statewide holiday in Hawaii.


May 13
St. Julian of Norwich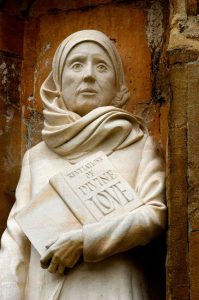 We know almost nothing of the early life of Julian of Norwich; we don't even know her birth name, as she took her religious name from St. Julian Church in Norwich. She was living as a recluse when in 1373, she received a series of 16 visions of Jesus Christ. Julian of Norwich opted for a life as an anchorite. Similar to hermits, anchorites lived alone in prayer and contemplation; unlike hermits, anchorites took a vow to live out their lives in one place. Julian lived in a cell built into the side of St. Julian Church, a cell with no door and only one small window.
For twenty years she lived there, meditating on her visions. Around 1390 she began writing a book on those meditations called Revelations of Divine Love. She completed it twenty to thirty years later. She is known to us through that book, which was one of the great classics of the spiritual life, and the first book written in English by a woman to have survived to this day. Despite her desire for isolation, the book became known throughout Europe and her counsel was widely sought.


May 22
St. Rita of Cascia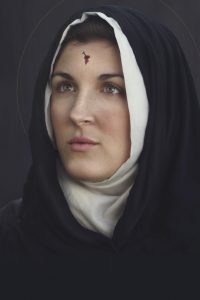 Rita Lotti was born in 1386 in Umbria, Italy. Although attracted to the religious life, her parents betrothed her to Paolo Mancini, an abusive and harsh man who was immersed in the political disputes of the region. Rita endured her husbands cruelty for 18 unhappy years, until he was killed in a brawl with his political opponents. Her twin sons swore to avenge their father, but Rita's prayers and interventions moved them to forgive their father's murder.
She was prevented from joining the religious life by relatives of her husband's murderers, but through her prayerful efforts, the two sides were partially reconciled, allowing her to be admitted to the monastery of Saint Mary Magdalen in Cascia. She lived there for 40 years in prayer, doing works of charity, and working for peace in the region. She received visions and wounds on her forehead which resembled the crown of thorns.
On her deathbed, she asked a visitor from her home town to bring her a rose from her family's estate. It being January, her visitor had no real hope of obtaining a rose; however, arriving at her family's home, he found a single perfect rose blooming on an otherwise bare bush.