November 3
St. Martin de Porres
Today the Church celebrates the optional memorial of St. Martin de Porres, religious, who lived a life of fasting, prayer and penance as a Dominican lay brother.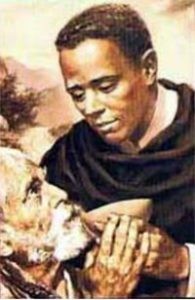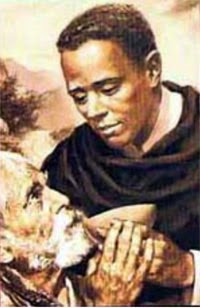 He was born into poverty, the son of a freedwoman of Panama and a Spanish grandee of Lima, Peru. His parents never married; Martin inherited the features and dark complexion of his mother, and for that reason, his father eventually turned the boy out of his house. His mother apprenticed him to a barber-surgeon, where he learned how to cut hair, draw blood, care for wounds, and administer medicines. At 15, he joined the Dominicans as a lay brother and was put in charge of the infirmary of a friary in Lima. His days were filled with nursing the sick and caring for the poor. Soon he was caring for the sick of the city and the slaves brought to Peru from Africa — not to mention the animals with which he is often pictured. Although he had no formal training, he was often consulted on theological questions by great churchmen of his day. He is unofficially called the patron of social justice.
November 13
St. Frances Xavier Cabrini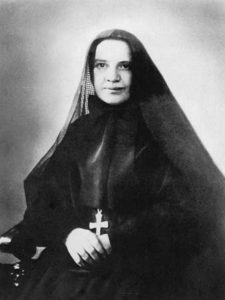 Frances Xavier Cabrini was the first United States citizen to be canonized. Maria Francesca Cabrini was born on July 15, 1850 in Sant' Angelo Lodigiano, Lombardy, Italy. She was the youngest of thirteen children, and only three of her siblings lived into adulthood. She was born two months premature, causing her to live most of her life in a fragile and delicate state of health.
She was attracted to religious life at a very early age, and was trained to be a teacher at a school run by the Daughters of the Sacred Heart. Because of her health, she was refused admission to the religious order which had educated her. She was asked to teach at an orphanage in Cadagono, Italy. She taught there for six years, gradually gathering a community of religious-minded women around her. She became Mother Cabrini after taking her final vows in 1877.
When the orphanage closed in 1880, she was asked by her bishop to found the Missionary Sisters of the Sacred Heart. Pope Leo XIII then sent her to minister to the many Italian emigrants in America. She traveled with six sisters to New York City and established schools, hospitals, and orphanages there. She became an American citizen in 1909 and eventually traveled to Europe, Central and South America and throughout the United States. She made 23 trans-Atlantic crossings and established 67 institutions: schools, hospitals and orphanages. In 35 years, Frances Xavier Cabrini founded 67 institutions dedicated to caring for the poor, the abandoned, the uneducated and the sick.
November 23
Bl. Miguel Pro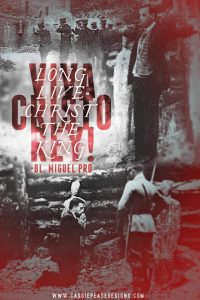 Inspired by the example of his older sister, who joined a cloistered order, Miguel Agustin Pro joined the Jesuit order as a novice in Mexico in 1909. He was later ordained in Belgium in 1925, and the next year was sent to Mexico City by his Order. Shortly after he returned, the Mexican president Calles banned all public worship. Since he was not known as a priest, he began to secretly minister to the people, celebrating Mass, hearing confessions, and helping the poor. When a bomb was thrown at President Calles from a car formerly owned by one of his two brothers, all three brothers were arrested. Without a trial, the two older brothers were sentenced to death by a firing squad. Calles made the execution public, hoping to show the brothers dying as cowards. But Padre Pro refused the blindfold and welcomed the bullets with his arms extended in the form of a cross, a crucifix in one hand and a rosary in the other. He forgave his executioners and, before he was shot, cried outng out, "Viva Cristo Rey!"After his death, thousands of Mexicans defied the government by lining the streets as Padre Pro was carried to his gravesite.
November 30
St. Andrew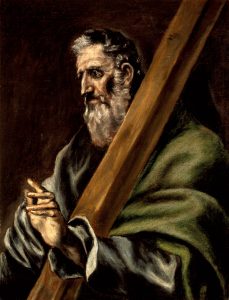 Andrew was the brother of St. Peter and, with his younger brother Peter, was called by Jesus to become a "fishers of men" and apostles. In early tradition, Andrew is said to have been born around 6 BC in a town called Bethsaida on the Sea of Galilee. Both he and his brother were fishermen on that sea. As with most of the apostles, little is said of him in the Gospels.
After the crucifixion and resurrection of Jesus, Andrew is said to have preached in Scythia and Thrace, along the shores of the Black Sea and the Dnieper River; he is honored today as the patron saint of the church in Ukraine. Andrew was martyred in Achaea, on the Greek peninsula. He was tied to an "X" shaped cross in the city of Patras, from which he preached for two days before succumbing.