October 1
St. Thérèse of Lisieux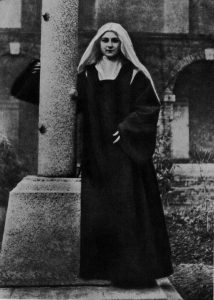 Francoise-Marie Therese Martin was born to pious middle-class French parents, Louis, and Zelie Martin, in 1873. When only four, she lost her mother, and Therese and her four sisters moved to Lisieux with their father. At the age of fourteen, she sought a papal dispensation to join the Carmel of Lisieux; she joined a year later and took her vows at age 17, assuming the name Therese of the Child Jesus and the Holy Face. She is better known to us as "The Little Flower."
Her prioress, recognizing her deep spirituality, instructed her to write her memoirs at age 22, later collected into one of the classic works of Catholic spirituality, The Story of a Soul. Challenged by the austerities of life as a Carmelite and by her own devotion, she succumbed to tuberculosis in 1897, at age 24. She defined her path to God and holiness as The Little Way, which consisted of child-like love and trust in God. For her writings that provide a "luminous expression of her knowledge of the mystery of the kingdom and of her personal experience of grace,"(Pope John Paul II – Divini Amoris Scientia), she deservedly was named as a Doctor of the Church.
October 15
St. Teresa of Avila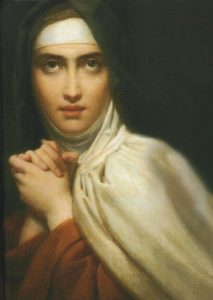 "Let nothing disturb you, Let nothing frighten you, all things are passing away:
God never changes. Patience obtains all things; whoever has God lacks nothing;
God alone suffices." — St. Teresa of Avila
Born in 1515, Teresa Sanchez Cepeda Davila y Ahumada was crippled by disease in her youth but was miraculously cured through the intercession of St. Joseph. She was attracted to the religious life and, despite her father's objections, she joined the Carmelites at age 17. Despite being a contemplative and being in chronically poor health, she spent much of her time and energy seeking to reform herself and the Carmelites, to lead them back to the full observance of the primitive Rule. She founded several additional Carmelite houses, despite fierce opposition from local officials and churchmen.
Teresa was both mystic and reformer, contemplative and woman of action, a totally human and font of sanctity for her sisters and for the world. Her writings, especially the Way of Perfection and The Interior Castle, have helped generations of believers. With St. Catherine of Siena, she was one of the first women to be honored as a Doctor of the Church.
October 22
Pope St. John Paul II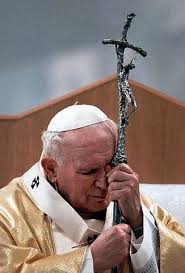 Born in Wadowice, Poland, in 1920 Karol Jozef Wojtyla felt his call to the priesthood early in life. He attended the University of Krakow, but when it was closed by the Nazis in 1939, he became a laborer in a stone quarry. In 1942, he shifted his education to secretly preparing for the priesthood. He studied theology in Rome after the war and returned to Poland as a teacher. Communist officials, judging him a harmless intellectual, permitted his elevation as a bishop. Always an outdoorsman, he learned of this while kayaking!
He was elected as pope, and was invested on October 22, 1978; at 58, the youngest in 150 years, and the first non-Italian in 455 years. John Paul II was the most traveled pope in history, having visited nearly every country in the world which would receive him. As the Vicar of Christ, he consecrated each place that he visited the Blessed Virgin Mary. He was an outspoken opponent of apartheid, abortion, capital punishment, and the Iraq war. He promoted ecumenical and interfaith initiatives. One of the most well-remembered photos of John Paul II's pontificate was his one-on-one conversation in 1983, with Mehmet Ali Agca, who had attempted to assassinate him two years earlier.
In the last years of his life, he suffered from Parkinson's disease and osteoarthritis, finally succumbing in 2005.