September 5
St. Teresa of Calcutta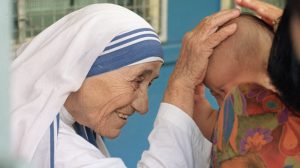 Gonxha Agnes Bojaxhiu was born to Albanian parents in Skopje, Macedonia on August 26, 1910. In high school, she joined a Catholic sodality and showed a strong interest in foreign missions. At age 18, she entered the Loreto Sisters of Dublin.
n 1929, she left her home and traveled to the Darjeeling India novitiate of her order, and took the religious name, Teresa, after St. Therese of Lisieux. After years of teaching high school, she had a mystical experience in which she was called to "follow Christ into the slums to serve him among the poorest of the poor."After receiving permission to leave her order, she took a nursing course and returned to Calcutta, India to begin her mission. Gathering volunteers around her, she formed the Missionaries of Charity. For over 40 years, until her death in 1997, she served the poorest of her neighbors through hostels for the dying, caring for lepers, and tending orphans, the abandoned, and the elderly poor; for the unwanted, the unloved, and the uncared for.
"We think sometimes that poverty is only being hungry, naked and homeless. The poverty of being unwanted, unloved and uncared for is the greatest poverty. We must start in our own homes to remedy this kind of poverty." –Mother Teresa


September 15
Our Lady of Sorrows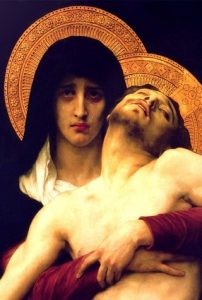 The Feast of Our Lady of Sorrows is one of several times during the year when Catholics pause to contemplate the role of the mother of Jesus in our faith history. Through her, our Salvation entered the world and was made flesh. This feast recalls especially the prophecy of Simeon's in Luke's Gospel, "This child [Jesus] is destined to be the downfall and the rise of many in Israel, a sign that will be opposed and you yourself shall be pierced with a sword so that the thoughts of many hearts may be laid bare (Luke 2:34-35). Many early Church writers interpreted the sword as Mary's sorrows, especially as she saw Jesus die on the cross.
The Seven Sorrows of Mary are events in the life of the Blessed Virgin Mary that are a popular devotion They represent the participation of Mary in the life of her son, at those moments when she united herself, with a maternal heart, to His sacrifice. They are:
1. The Prophecy of Simeon. (Luke 2:34–35)
2. The escape and Flight into Egypt. (Matthew 2:13)
3. The Loss of the Child Jesus in the Temple of Jerusalem. (Luke 2:43–45)
4. The Meeting of Mary and Jesus on the Via Dolorosa.
5. The Crucifixion of Jesus on Mount Calvary. (John 19:25)
6. The Piercing of the Side of Jesus with a spear, and His Descent from the Cross. (Matthew 27:57–59)
7. The Burial of Jesus by Joseph of Arimathea. (John 19:40–42)


September 23
St Pio of Pietrelcina
Padre Pio (Francesco Forgione) was born to Giuseppa and Grazio Forgione, in the small farming town of Pietrelcina, Italy on May 25, 1887. At the age of five, he dedicated his life to God. When Francesco was fifteen years old, he was admitted to the novitiate of the Capuchin Order of the Friars Minor. On August 10, 1910, at the age of twenty-three, Padre Pio was ordained to the priesthood.
The celebration of the Holy Mass was for Padre Pio, the center of his spirituality. Due to the long pauses of contemplative silence into which he entered at various parts of the Holy Sacrifice, his Mass could sometimes last several hours. "God knows that I want to say Mass just like any other priest, but I cannot do it."
His day began at 2:30 a.m. when he would rise to begin his prayers and to make his preparation for Mass. He was able to carry on a busy apostolate with only a few hours of sleep each night and an amount of food that was so small (300-400 calories a day) that his fellow priests stated that it was not enough food even to keep a small child alive. Between Mass and confessions, his workday lasted 19 hours. He never read a newspaper or listened to the radio or watched television. Pilgrims began to come to him by the thousands, from every corner of the world
The marks of the stigmata, the wounds of Christ, appeared on Padre Pio's body, on Friday, September 20, 1918, while he was praying before a crucifix and making his thanksgiving after Mass. He was thirty-one years old and became the first stigmatized priest in the history of the Church. With resignation and serenity, he bore the painful wounds in his hands, feet, and side for fifty years.
Serene and well prepared, he surrendered to Sister Death on September 23, 1968, at the age of eighty-one. He died as he had lived, with his Rosary in his hands. His last words were Gesú, Maria – Jesus, Mary – which he repeated over and over until he breathed his last. He had often declared, "After my death, I will do more. My real mission will begin after my death."
Drawing approximately eight million pilgrims each year, San Giovanni Rotondo, where St. Pio lived and is now buried, is second only to the shrine of Our Lady of Guadalupe in Mexico in its number of annual visitors.


September 27
St Vincent de Paul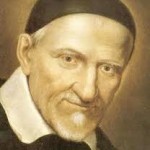 Vincent de Paul was born into a French peasant family on April 24, 1581. He was ordained a priest at 19 and completed his theological studies 4 years later. Using his status as a priest to escape the dull village life of southern France, Vincent went to Paris in 1608. But, in Paris, Vincent came under the influence of a wise spiritual guide who gradually caused him to see that helping others was more important than helping himself. After working for some time in Paris among imprisoned galley-slaves, he influenced a number of young men, some of the priests, to join him in forming a religious group to be called the Congregation of the Mission. Vincent and his friends worked with the poor people of the countryside near Paris, helping them obtain food and clothing and teaching them about Christ.
Vincent was a man of action rather than of theory. The religious spirit he communicated was simple, practical and straightforward. He looked to Christ as his leader and tried to translate the Gospel message into concrete results. He died on Sept. 27, 1660. Pope Leo XIII made him the patron of all charitable societies. Outstanding among these, of course, is the Society of St. Vincent de Paul, founded in 1833 by his admirer Blessed Frédéric Ozanam.