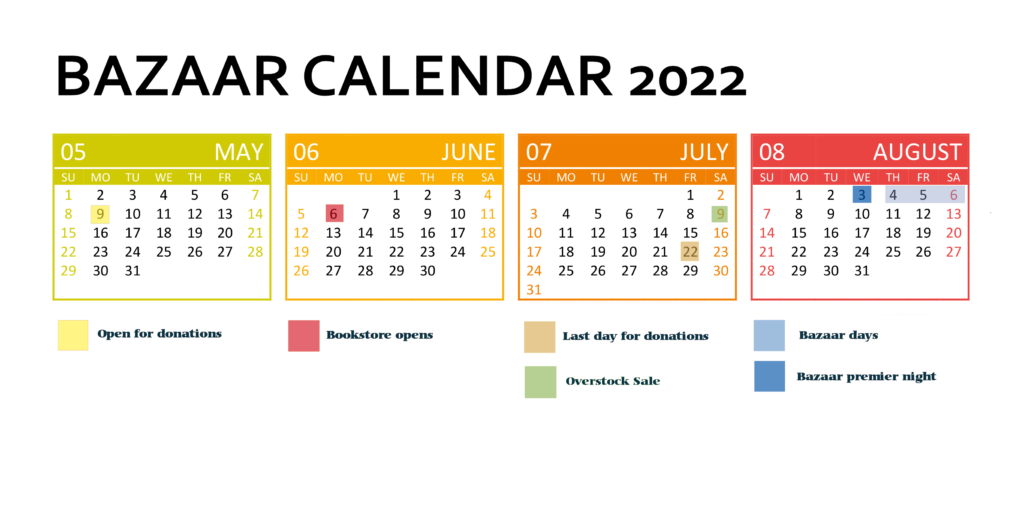 Bazaar Dates
Overstock Sale
Saturday, July 9
9:00 a.m. – 12 noon
Premier Night- $5 donation
Wednesday, August 3
3:00 p.m. – 7:00 p.m.
Thursday, August 4
9:30 a.m. – 5:00 p.m.
Friday August 5
9:30 a.m. – 5:00 p.m.
Saturday August 6
9:30 a.m. – 12:30 p.m.
Book Sale
Book Store Opens
Monday, June 6
9:00 a.m. – 11:00 a.m.
continues through the Bazaar in the Masterson Center
Great selection of gently used books including newly released books, classics, fiction, non-fiction, children's, young adult's, politics, history, how-to, travel, biographies, sports, art and spiritual titles. Also included are gently used DVDs and CDs at unbeatable prices.
Stop by early and often as new books arrive daily
Donations
Donation drop off
Monday, May 9 through Friday, July 22
8:00 a.m. – 10:30 a.m. Daily except Sundays.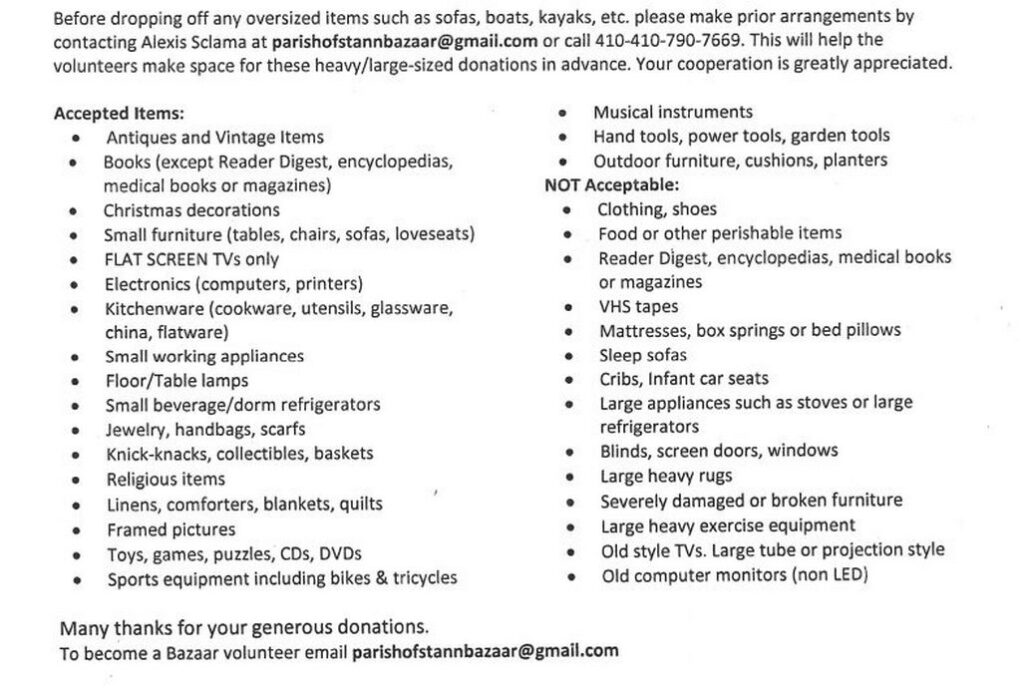 Organizational meetings and information
Return Your 2023 Holly Kia Sorento or $10.000 CASH Raffle Tickets
If you received raffle tickets in the mail in early Spring, now is the time to return the stubs with your donation of $5 each, 3 for $10, 6 for $20, 12 for $30, 24 for $50.
They can be mailed in, given to the sellers before/after weekend Masses, or dropped in the "Drop Box" on the church office porch any time.
Please also return all unsold strips of raffle tickets to the church office so that we can use them instead of ordering more. THANK YOU!