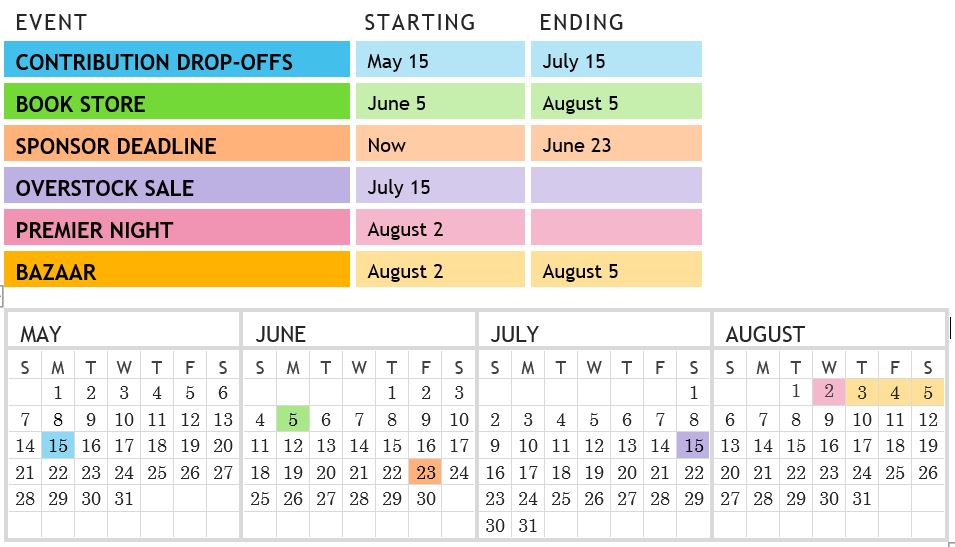 Bazaar Dates
August 2 – August 5
Premier Night Wednesday, August 2, 3:00 p.m. – 7:00 p.m.
($5 donation)
Thursday, August 3, 9:30 a.m. – 4:00 p.m.
Friday, August 4, 9:30 a.m. – 5:00 p.m.
Saturday, August 5, 9:30 a.m. – 12:30 p.m.
Raffles
• Quilt Raffle – 12:15, Masterson Center
• Wicker Raffle – 11:45, Masterson Center
• Silent Auction Closing – 12:30, Masterson Center
• Car Raffle – 6 p.m., Bethany Boardwalk
Book Sale
Book Store Opens: Monday, June 5
9:00 a.m. – 11:00 a.m.
continues through the Bazaar in the Masterson Center
Great selection of gently used books including newly released books, classics, fiction, non-fiction, children's, young adult's, politics, history, how-to, travel, biographies, sports, art and spiritual titles. Also included are gently used DVDs and CDs at unbeatable prices.
Stop by early and often as new books arrive daily
Overstock Sale
Saturday July 15, 9:30 am – noon
Sponsor deadline
Program submission deadline for donors and sponsors
Friday, June 23
Donations
Donation drop off: May 15 through July 15
8:00 AM to 11:00 AM
Except Sundays, Memorial Day & July 4
Please do not leave anything outside the garage area
If donating oversized items such as sofas, boats, kayaks, etc., prior arrangements must be made. This will help our volunteers make space for these heavy/large-sized donations in advance. St. Vincent de Paul Society may be able to assist you with large donated items if you are unable to fit them in your vehicle. To make necessary arrangements for pick up or if you have any questions, please contact parishofstannbazaar@gmail.com or call 410-790-7669.

All donations must be clean and in working order. Due to our limited storage space, items may be turned away at the discretion of the committee at time of delivery.
Items Accepted
Items Not Accepted
• Bicycles & Tricycles, Ride-on Toys
• Boats, Kayaks, Canoes
• Books (No Readers Digest, encyclopedias, text books, magazines)
• Christmas Nativities, Angels, Snowmen
• Flat Screen TVs
• Floor and Table Lamps
• Garden Tools
• Grills
• Golf Bags and Clubs
• Hand Bags
• Hand Power Tools
• Hand Tools
• Jewelry, Knick-knacks, Baskets
• Kitchenware
• Lawn furniture
• Linens
• Luggage with wheels
• Port-a Cribs
• Small dorm/beverage size refrigerators
• Small Area Rugs
• Small working appliances
• Tablecloths, Placemats
• Toys, Games, Puzzles
• Travel Bags
• Bed frames or Headboards
• Bed Pillows
• Box Springs or Mattresses
• Ceiling fans
• Ceiling mounted light fixtures
• China Cabinets
• Christmas Cards/Gift Wrap
• Christmas Trees/Garland
• Clothing/Footwear
• Cribs
• Curtains/Rods/Blinds
• Doors/Windows
• Entertainment consoles
• Footwear
• Glass top tables
• Infant car seats
• Large appliances
• Large Area Rugs (9'x12′ or larger)
• Mattresses
• Old computer/ monitors
• Old style TVs
• Oversized Exercise Equipment
• Silver Plated serving pieces
• Sleep & Sectional Sofas
• VHS tapes
• Wall or Floor Mirrors
Organizational meetings and information
Start your ovens!
Now is the best time to start baking and freezing your baked goods for our Bazaar Bake Sale. Baked goods may be dropped off on Wednesday, August 2 and Thursday, August 3 at 8:00 am in the Masterson Center Conference Room. The bake sale will take place on August 3 – August 6 during Bazaar hours. Cakes, pies, breads, brownies, cookies, cupcakes, homemade fudge, candy and more! For more information, contact Teena at 503-507-2673 or Suzanne at 302-245-0319. (Note: There will be no bake sale during the Bazaar Overstock Sale on July 15th.)