And I heard a loud voice from the throne saying, "Behold, the dwelling place of God is with man. He will dwell with them, and they will be his people, and God himself will be with them as their God."
Revelation 21:3 "
Where is God? When we look for Him, where is He to be found?
As Christians, we believe that God is the Creator, the one who made all that we see around us. We also believe that He is a God that is intimately involved with us and our salvation, that he sent His very Son to become one of us. He must care for us, He must be available to us. If this is so, how then do we approach Him? Where do we meet Him?
The Catholic Church provides a diversity of ways to encounter God. We can encounter God through Scripture, through the Tradition and teaching of our Church, in the assembly of the faithful, in prayer, in the person of those to whom we minister, and through the sacraments, to name but a few.
As a part of that Catholic Church, the Parish of St. Ann encourages all of its parishioners to seek God, in these ways and others.
Encounter God through Scripture
Parish Scripture Study
Bible Study – Wednesday: Meets from 9:30 to 11 AM in the Masterson Center Room #7, weekly from September until mid-May. Each session begins with song and prayer. Using study guides and videos, one book of the Bible is studied at a time.  Participants discuss how it relates to their lives today.  For more information, contact Fran Slahetka at 302-537-5363.
Bible Study – Thursday: Meets at 7 PM in the Masterson Center. Informal group studying scripture using workbooks and videos. For additional information, please call Linda Magarelli at 302-245-3135.
Bible Study – Friday: Meets from 9:30 to 11:00 AM in the Conference Room of the Masterson Center. All are welcome to this enriching series.  For more information, please call Deacon Dennis Hayden at 302-539-0106 or Tim Linehan at 302-829-1046.
Online Resources
Encounter God through Prayer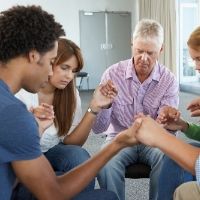 Prayer Group – "The Living Waters" Prayer Group meets weekly on Tuesday at 9:30 AM in the Masterson Center Conference Room.  All are invited to join fellow parishioners for a time of prayer and praise, a teaching and faith sharing. Call Cas Chodnicki 302-537-7831 or Deacon Dennis Hayden 302-539-0106 or Sheila & Jim Buffler 267-280-2363 for additional information.
Online Resources
There's a good list of Catholic prayers and novenas here
Encounter God through Worship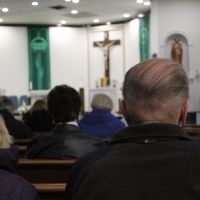 Worship is integral to our lives as Christians.  As a Christ centered parish community, our worship and service is open to all.  We invite you to be with us in both body and spirit. Please join us at any of our Masses, faith-based liturgies and activities; click here for a schedule.
Attending Mass on Sunday and holy days of obligation  is not always possible for all members of the community. Some people have been hospitalized, home-bound, or imprisoned and do not have the opportunity to be physically present with a regular worshiping community. While a televised Mass is never a substitute for the Sunday Mass celebrated within a parish faith community, it can still bring the Lord's healing and comfort to those who cannot physically participate. Some links to televised Sunday masses are included below:
8:00 AM Sunday on EWTN, from the EWTN Chapel and offered by the Franciscan Missionaries of the Eternal Word (rebroadcasts at noon)
10:30 AM Sunday from the National Shrine, on Washington DC WDCW-50 (youTube channel https://www.youtube.com/user/marysshrine)
Various times from Archdiocese of Baltimore parishes; list at https://www.archbalt.org/online-mass/
5:30 AM Archdiocese of Philadelphia Television Mass on WPVI-TV.
Also, links to the following masses (streaming and recorded) are available at http://www.catholictv.org/shows/santa-misa
Pope Francis | Daily Mass
CatholicTV Mass (daily)
National Shrine Sunday Mass
Notre Dame Sunday Mass
La Santa Misa
Encounter God through Sacrament
The seven sacraments are a fundamental part of the Catholic faith.  During His public life, Jesus fashioned the seven sacraments and entrusted them to His church as one means of conveying God's saving grace to us.   The purpose of the sacraments is to make people holy.  You can read about the sacraments here.
If you are interested in receiving a sacrament, you may need some preparation; information about preparing for the sacraments is here.
Encounter God through Community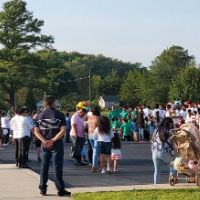 The purpose of church is not just to learn about God, but to encounter him.  Its members believe the Catholic Church to be not simply an organization, but an organism.  It is the Body of Christ, and its members are members of that body. That's why it's not really surprising that we can encounter God through our interactions with others in the Church community.  Jesus himself told us that "where two or three are gathered in my name, there am I among them."  It's hard to live as a Christian without community.
One of the best ways to experience God's love is through His people, His Church. St. Ann Parish offers many opportunities to create community, to meet on a regular basis to do the Lord's work while being supported by other members of the Parish. Join us in one of our many community groups, and grow in faith among your brothers and sisters.  You can find out what opportunities are available here.
Encounter God through Service
In the story of the Good Samaritan, Jesus combined a model of God's love for us with the command to "Go and do likewise." Like the Samaritan, each one of us—as a follower of Jesus—is called to be a neighbor to others. By being of service to them, we show the face of Jesus Christ to them.  But in serving them we also encounter Christ ourselves, "Amen, I say to you, whatever you did for one of these least brothers of mine, you did for me".
St. Ann Parish accepts this mission to respond to the needs of those who are in physical, emotional, or spiritual need. It provides many opportunities to encounter the face of Jesus in the poor, the suffering, the neglected.  Please consider working with us in our mission of charity, in one of the numerous facets of our discipleship.  You can find out about opportunities to serve here on our website.
At St. Ann Parish, we serve.