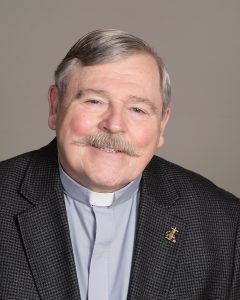 Deacon Michael Malecki
Deacon Mike comes to Delaware from Sparta, New Jersey and the Diocese of Paterson.  Mike is a retired human resources executive and a former adjunct professor in the undergraduate and graduate programs at Felician and Centenary Colleges.  Pat, his wife, is retired from working on parish staff and from the administration for a division of Paterson's Catholic Charities. They have a daughter and two grandchildren living in Texas and a married son and grandson living in New Jersey.
Mike was ordained to the Permanent Diaconate in May 2005.  He served as a deacon at Saint Kateri Tekakwitha Parish in Sparta, NJ and later at Our Lady of the Valley Parish in Wayne, NJ.  His ministries have included: support to the various parish committees, liturgies, weddings, funerals, wake services, and preparation for engaged couples.